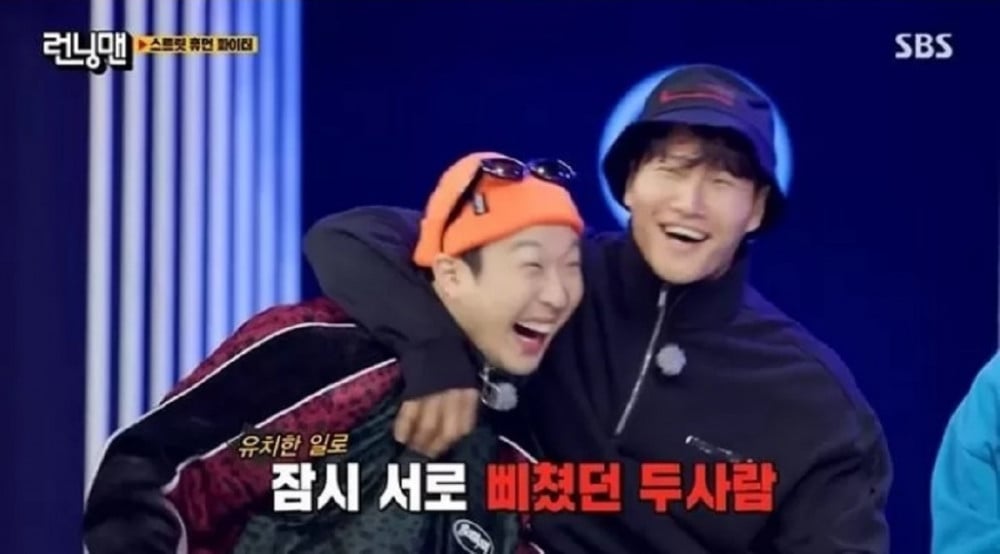 Kim Jong Kook and HaHa shared a few funny and 'real' episodes from recording 'Running Man' together.
On the latest installment of the SBS program, the cast members honestly confessed that they sometimes get into disputes as human beings. In the episode, the dancers from 'Street Woman Fighter' appeared as guests and remarked that they "do not get into fights as people expect them to, off-screen."
Meanwhile, when Kim Jong Kook commented that the 'Running Man' team is "quite similar," MC Yoo Jae Suk responded: "But there were times when some people actually got into fights."
To this remark, Jeon So Min shared: "Weren't some things bad between Kim Jong Kook oppa and HaHa oppa last week?"
Unable to deny the fact, Kim Jong Kook said: "Well, I wouldn't say it was a dispute but HaHa was basically getting reprimanded by me." The two men quickly put their arms around each other's shoulders and acknowledged that the members sometimes fight, but that those moments get edited out.
Ji Suk Jin also admitted that there were times when he thought he would "never see HaHa again," due to some disputes.
What do you think of this atmosphere in 'Running Man'?