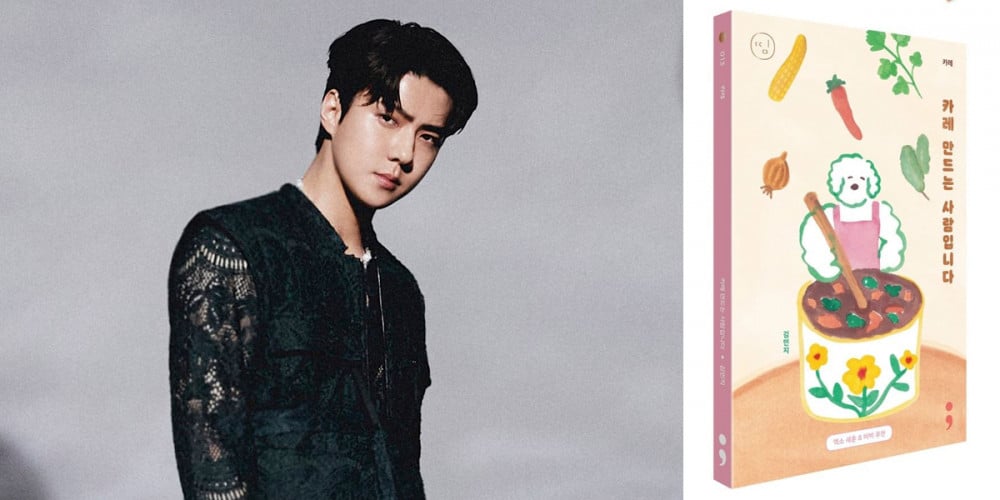 EXO's Sehun personally took part in penning an introduction to an essay published by his longtime fan!
Published back on November 11, the essay 'Curry: I Am A Person Who Makes Curry' is an autobiographical work by Kim Min Ji, founder and owner of one of the hottest curry joints in Korea right now, located in Seongbuk-dong. The essay details Kim Min Ji's mission to find her own unique curry recipes, starting with her humble beginnings as the chef of a pop-up stand in Mangwon-dong. One of the most popular menu items which garnered attention at this Mangwon-dong stand was a curry dish inspired by Kim Min Ji's favorite idol, EXO's Sehun!
Named the 'ViVi Curry', the rice which accompanied the curry dish took on the form of a poodle resembling Sehun's beloved dog, ViVi. It's also the reason why some of Kim Min Ji's most frequent customers are EXO-Ls!
And now, Kim Min Ji's dedication to her curry art has even moved her favorite K-Pop idol.
Sehun's written introduction for Kim Min Ji's 'Curry: I Am A Person Who Makes Curry', can be found below.
"When I first heard that this book was going to be published, I laughed. What would be the topic of a book about 'ViVi Curry'? But once I read to the last page, I changed my mind entirely. I deeply felt each letter and word written by the curry shop owner, who was my fan. It is truly astounding and inspiring, and in a sense, I am proud and honored. One day, I will take ViVi there to try the 'ViVi Curry'. Well, ViVi can't eat curry, but hopefully they will give me an apple? Good for you, ViVi. It seems she is a bigger fan of you than she is of me. Let's go. Let's show up out of nowhere. Or if I'm not allowed inside, I'll at least have the car pulled up in front."
Are you feeling hungry for some curry?