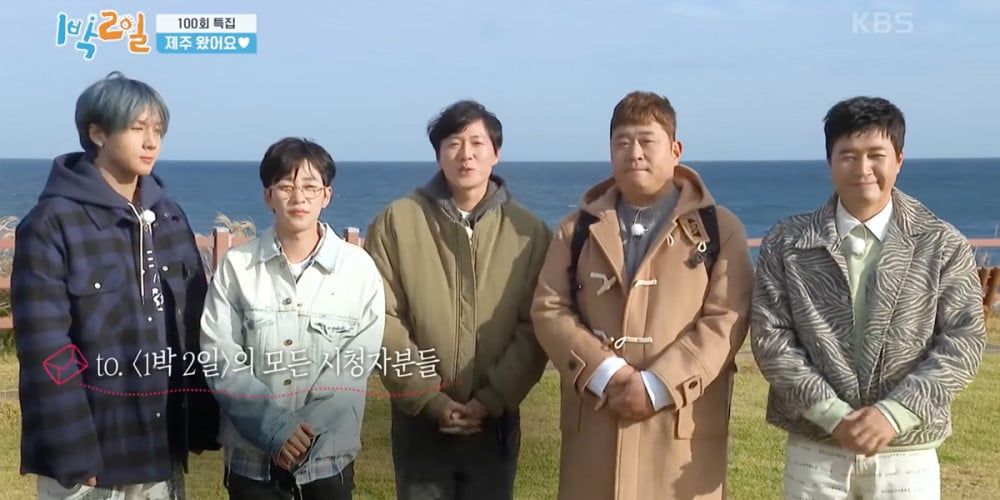 Chief producer Lee Hwang Sun of KBS's variety division has issued a response to requests from some '1 Night, 2 Days' viewers via the program's online community board, requesting that actor Kim Seon Ho be reinstated as a member of the series.
Back on November 7, KBS2's '1 Night, 2 Days' season 4 began airing its 100th episode special, the first episode filmed with 5-cast members. During the opening sequence for this episode, the cast members delivered a message to viewers, in light of the season's 100th episode as well as recent events.
Cast members Yeon Jung Hoon and Moon Se Yoon spoke up on behalf of the crew and said, "It feels like it was only recently that we kicked off season 4 in the midst of so many worries and concerns, but suddenly, we have already arrived at our 100th episode. It was all thanks to the love and support from our viewers. It's true that we have undergone some changes. However, we promise that we will continue to do our best each day to repay your love on '1 Night, 2 Days', and so today, like any other day, we plan to have a great time and deliver entertainment to our viewers. Thank you!"
Soon after the November 7 broadcast of '1 Night, 2 Days' season 4, Lee Hwang Sun CP of KBS also spoke out regarding the member changes to the popular Sunday afternoon program.
Lee CP revealed,
"First, we would like to thank all of our viewers who love '1 Night, 2 Days', and who spoke up with various suggestions for the betterment of the show.
Back on October 20, KBS confirmed that cast member Kim Seon Ho has decided to leave '1 Night, 2 Days'.
This conclusion was reached based on mutual agreement between the two parties.
The production staff also feels regretful that viewers can no longer watch the great teamwork that the 6 cast members have built up over the past 2 years.
However, the cast and crew will continue to do our best to bring you a great program.
Once again, we would like to thank you all for your suggestions."