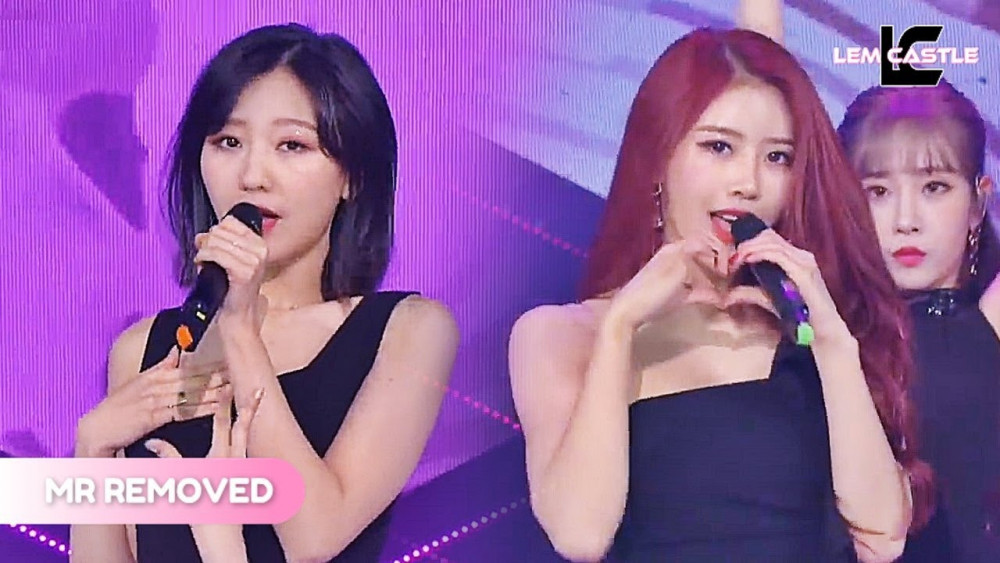 One way to tell if a K-pop group is really talented or not is by taking a look at their "MR Removed" performances. Most K-pop groups typically perform their song with an AR backtrack supporting their vocals, as most songs have a very challenging choreography or lots of motion. This makes the song easier to sing with a backup vocal holding their support.

Fans and K-netizens, however, have complained about the recent increase of AR support on music show performances, claiming that singers should have the basic ability to "sing." Though there are many conversations regarding the whole issue, many K-pop groups have been praised and criticized for their MR Removed clips, which illustrate only the performance's raw vocal. Many YouTubers use their various software to remove the AR of the audio, making it clear to hear only the live vocals.
Check out some of these legendary "MR removed" performances from girl groups that genuinely showcased their musical ability! Let us know what you think.
Mamamoo - Egotistic
Mamamoo is already known for their insane talent, but this song really demonstrated how AMAZING these ladies are. Korean netizens are saying that it sounds identical to the soundtrack. I mean, it's not hard to believe -- Mamamoo has deemed themselves one of the most talented K-pop groups since their debut in 2014. Does anybody disagree?
Girls' Generation - Lion Heart
This was astonishing to see when they were promoting this track. Anyone can say that the choreography for Lion Heart was not as extreme as Girls Generations' other tracks; however, that does not mean they would automatically just be PERFECT for a live performance. These eight ladies disagreed -- they showcased an absolutely stunning LIVE performance that it was almost scary. They aren't the nation's girl group for no reason.
Lovelyz - 1cm
Lovelyz is famous for having a completely LIVE concert with a full band. Their nickname is also called "Live-lyz" because that's how good they are when singing live. This performance was no different. How stable they are during this performance is absolutely crazy. This isn't technically an MR removed performance, but it's just as equivalent, so why not? And who doesn't love a little Lovelyz?
Twice - Alcohol-Free
After being the target of attack when it comes to MR removed videos, TWICE was able to see some light as they received plenty of praise for their stable live vocals when they were promoting their most recent track, "Alcohol-Free." I mean, the way they're singing the song so comfortably is what was so astonishing. These soon-to-be seven-year veterans told the world that they do not play around when it comes to singing live.
Brave Girls - Rollin
Wow, Brave Girls belatedly received attention in the K-pop industry thanks to the YouTube algorithm (and the fact that the song is a bop itself), but look at how GREAT they are when singing live. I mean, this is what we call real undeserved attention. Everyone is so glad Brave Girls is finally belatedly receiving their spotlight because this would have literally been purely wasted talent.
GFriend - Fever
Though these ladies are no longer a group, the charm about GFriend was their growth in vocals throughout the year. In the beginning, we saw main vocalist Yuju & lead vocalist Eunha taking a good chunk of the line distributions. However, as the years progressed, the sub vocalists became as good as main vocalists, and we were able to see some extremely fair line distributions. And, of course, the MR removed was solid. GFriend was definitely passionate about growing, and the results were seen in their hard-working performances!

What did you think? K-pop groups always seem to be in some hot trouble because of these controversial videos, but we often forget to praise and compliment the performances that really do deserve it. Instead of having a stereotype that K-pop groups are "not as talented," maybe it's time we look deep into the industry and reconsider that many idol group members are indeed highly talented.
What was your favorite MR removed performance? Any song that's not listed on here? Let us know in the comments below.