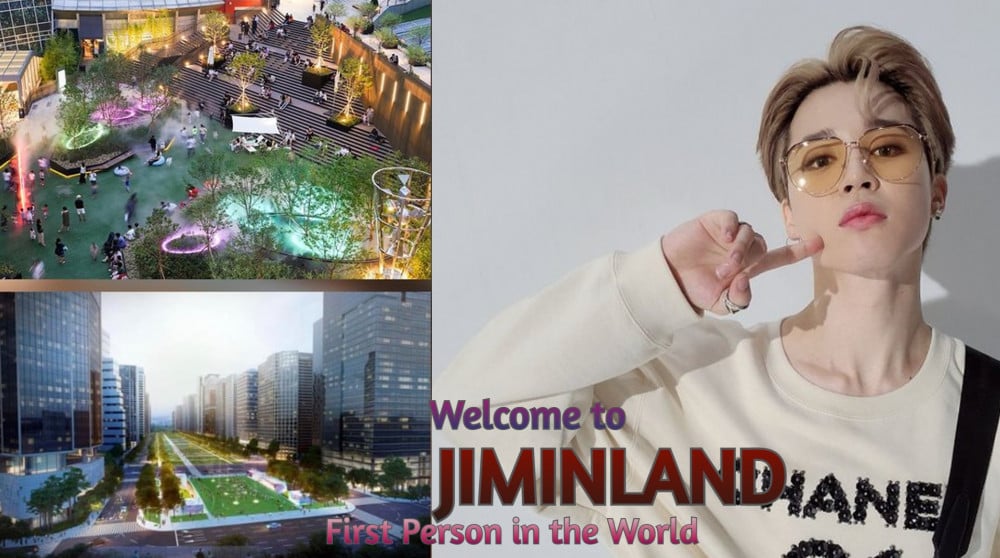 Jimin gets his very own 'JIMINLAND' for his 27th birthday celebrations, thanks to his Chinese fanbase PARKJIMINBAR. As announced by the fanbase, Jimin would be the first person in the world to have such a birthday support project. Mainly, the project includes the creation of 15 giant lights with the image of Jimin's classical dance as iconic buildings. It also has a moon-shaped flower wall and a large doll, among other things, all coming together to create 'JIMINLAND.'
The fanbase collaborated with the Yongsan IPark Mall in South Korea to secure the grounds for the creation of this project, the first time in the world for anyone to pull this off. The Yongsan IPark Mall sits on an area of 335,147 square meters, and it is among the most famous buildings in Seoul. The vast area allows for a sizeable project for a better experience. Jimin is the first idol in the world to have 15 giant lights created in the image of his classical dance as iconic buildings.
IPark is the largest city duty-free shop in the world and therefore houses some of the most important business districts. Not only is it the most luxurious place in Seoul, but any tourist visiting South Korea has it on his/her list of places to visit. Heavy investments were made to have a Jimin-themed celebratory project run through such districts, owing to the project's publicity. Even better is the fact that the project is just near HYBE in Yongsan, with high traffic volume to boost advertising. Thus, the location of the project facilitated huge publicity and also the chance for Jimin to easily see it.
Some project features include a giant custom birthday doll with a birthday cake model, a massive moon birthday theme flower wall, ground decorations with colorful luminous balls and feather balloons with Jimin's photos, a giant three-dimensional luminous character 'HAPPY JIMIN DAY,' which complements the dance lights, a customized Jimin cardboard cut-out, and giant glowing blessing lights, three custom Jimin birthday-themed cafes, The Garden street covering the main road is filled with Jimin's birthday street flags, four customized super-large Jimin veneer banners in the core area, and playing Jimin's solo songs in The Garden to enhance the atmosphere.
All the details make it such an exquisite creation to communicate the love his fans have for him.

Being located in Yongsan District, an area of hot publicity, the negotiation process with the relevant bodies was not easy, considering the fact that no one has done such a project for an idol before. In the end, Jimin's remarkable influence in his hometown and his national recognition, coupled with Jimin's high status and popularity along with that of his group, made it possible to secure the opportunity for him. This is one of the birthday support projects that will be remembered for a long time.



Here are some videos and images from JIMINLAND as posted by fans who visited the venue.
The same fanbase was arranged for a Yunika Vision AD in Shinjuku, Japan, and here is footage of the ad after it started running.

Still, in Japan, another fan organized for a 'Jimin Truck' in honor of Jiminday. The truck went around playing Jimin's solo songs, Filter, Lie, and Serendipity, along with other BTS songs. One fan spotted the truck around Fukushima, Japan, and posted a clip, where it can be seen that the truck attracted lots of attention from the public, as some even stopped to take photos and videos.
Japanese fans even had a fireworks display to celebrate Jimin's birthday and so many other video ads. Jimin's promotion in Japan was in full gear for his birthday.
As various fanbases and fans have been coming up with some of the most unique and historical projects to celebrate Jimin's birthday, some of the projects have attracted attention from different institutions. One project ended up being displayed on the exterior walls of Boris Yeltsin Presidential Center, one of the best museums in Europe.
Other fans made a video compilation of different ARMYs from different places in the world, all wishing Jimin a Happy Birthday.
The donations have not stopped either, as there is no end to Jimin's kindness. Another donation was made by @jmnsource in Jimin's name, to support organizations that handle children with cleft lip/palate, promote the education of the marginalized groups, and provide pandemic relief to those in need.
Fans in Myanmar donated toward an organization that supports and provides care to children affected by HIV/AIDS.
Nigerian fans donated towards the support of a patient with leg cancer who needed surgery.
There have been countless donation projects by Jimin's fans for his birthday. His kind, empathetic, and pure heart has had a massive influence on his fans.
Jimin's fanbase in Austria organized a birthday congratulatory newspaper ad, which is the first time an idol has been featured in a newspaper for a birthday. Jimin has been making history all over the world with all the support projects from his fans, who will stop at nothing to show their love for him, even when it involves doing something for the first time in history. He is well-loved all around the globe.
As earlier announced, Nigerian fans had another project for LED ads, and the fanbase posted video footage of the ads running in the Novare Mall, with the ads intended to run from 12th to 13th of October.
Egyptian fans gathered at the Ebru cafe in Alexandria, Egypt, for Jimin's birthday celebrations. The celebrations included singing and the distribution of gifts.
Here are other video ads by different fans.
The Jimtober atmosphere has been electrifying, to say the least. It shows how much love Jimin has from around the world for the amazing artist and life-changing human that he is.
Happy Jimtober.