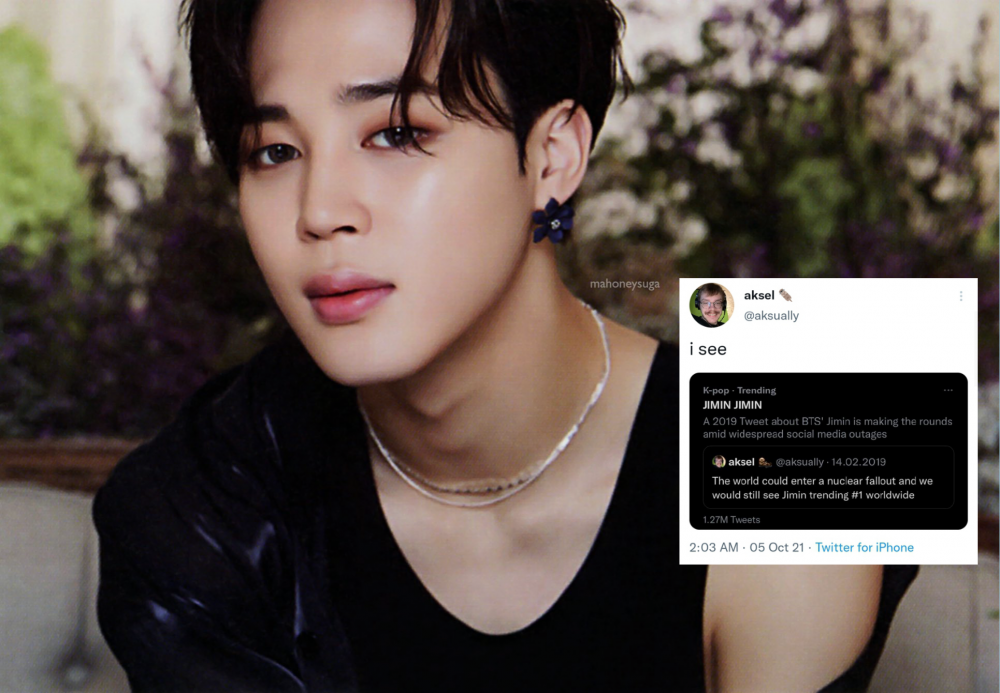 A Twitter user in 2019 once said that the word could enter a nuclear fallout, and we would still see Jimin trending at #1 Worldwide. This could not be further from the truth as the idol has always shown his popularity even in the unlikeliest of times.
On the 4-5th of October, the world was plunged into darkness because several social media platforms faced a sudden outage hampering communications. The platforms affected include Facebook, Instagram, Gmail, TikTok, Snapchat, and Whatsapp, but Twitter and other platforms were unaffected.
In the midst of this chaos and meltdown, everyone flocked to Twitter to air out their frustrations and confirm the meltdown. This, in turn, became an opportunity for Jimin's popularity to shine as many reminisced how Jimin usually trends even in the midst of calamities. Within no time, he took over the Twitter trends with 'JIMIN JIMIN' as fans, Twitter users, verified accounts and personalities like Makell Bird, Buzzfeed Kpop, Bandwagon Asia, Nancy Polanco, Edward Barsamian, WHO Social Media & Media Monitoring Head Sari Setiogi Griberg and more took to Twitter to further discuss this phenomenon and how it related to Jimin's impact.

JIMIN JIMIN trended worldwide at #1, amassing over 1.5 Million mentions and still counting. The description for it read as follows, "A 2019 tweet about BTS' Jimin is making the rounds amid the widespread social media outages." This happened in over 76 countries, including the United States, United Kingdom, South Korea, Azerbaijan, Costa Rica, The Czech Republic, South Africa, and more, with a total of more than 77 keywords.

Jimin is known as the Trending Emperor and was given this name by MTV News. This is attributed to his explosive popularity and effect like a wave that spreads over the world whenever he does something or even when he does not. Jimin, who has been popular since his High School days, is known as the Face of BTS & K-POP, King of K-POP, Global It Boy, and was recently named Korea's Frontman. As such occasional acts of popularity continue to occur, it is evident that Jimin lives up to these titles even as more titles spring up.