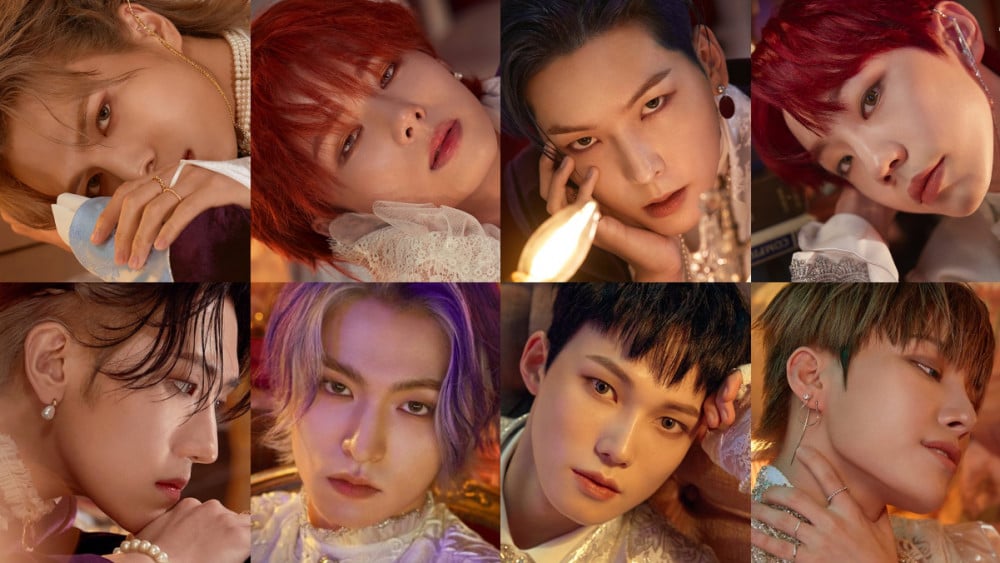 'Princely rookies' E'LAST are back with new music! On September 29 KST, the E Entertainment rookie boy group returned to their fans, known as 'ELRING,' with their first single album 'Dark Dream.' The new release marks their first comeback as a full eight-member group since their debut mini album 'Day Dream' dropped back in June of last year, as member Wonjun took a break from group activities for a role in the children's program 'Live Show Tok! Tok! Boni Hani.' Compared to previous releases, 'Dark Dream' shows fans the members' more mature, sophisticated side, incorporating an 'unfortunate fate' as a theme.
To promote the new album, E'LAST members Rano, Wonhyuk, Choi In, Seungyeob, and Romin talked to AllKPop about their comeback, recent reality program 'E'LAST Superhero,' and their future aspirations as a group.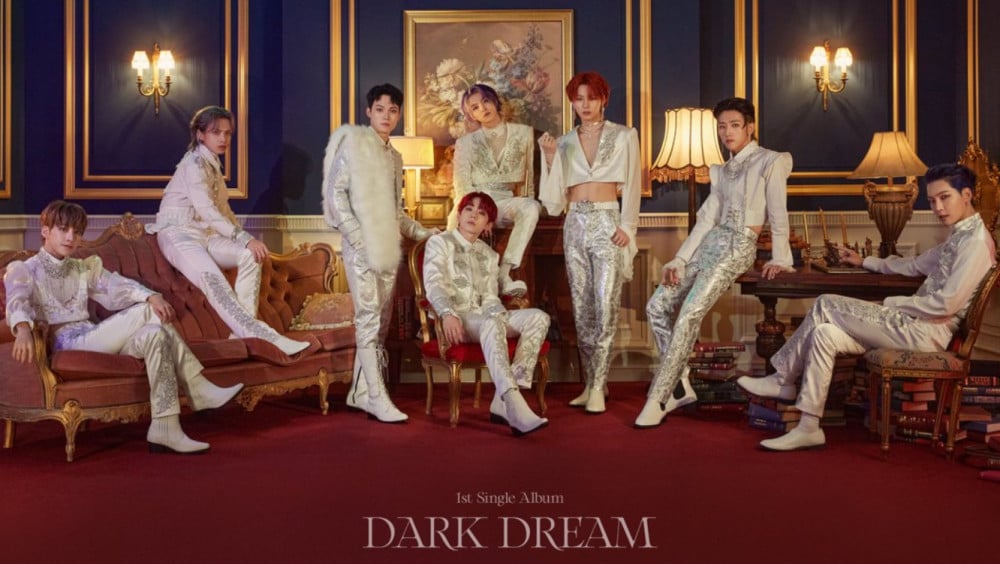 AllKPop: It's been a while since E'LAST was able to promote as a full group. How does it feel to be promoting with all eight members again?
Rano: I think we shine even brighter when all eight of us are together. We're so happy to be able to promote as eight again, and I think our activities will be even more meaningful now that all of us can greet our fans with a cool image. Please look forward to the return of '8'LAST'!
AKP: 'Dark Dream' is E'LAST's third release since debut, following mini albums 'Day Dream' and 'Awake.' Can you let us know a little more about the album?
Romin: I think this album is one where you can sense all eight members' energy. We prepared it with every member anticipating being able to return to new promotions together after ten months of television shows, OSTs, and unit activities.

'Day Dream' dealt with the start of a conflict between four of us, while 'Awake' followed the theme of awakening. Through 'Dark Dream,' fans will experience a story dealing with the fate of wanting to be with someone but not being able to.
AKP: Which member do you think suits the mood of this comeback the best?
Wonhyuk: Probably Rano – His comeback hairstyle and overall vibe during the single's killing part really go well with the concept.
AKP: If you had to pick a favorite song on the album, which one would you pick and why?
Wonhyuk: "Dark Dream" is, of course, #0 [even better than #1], but if I chose another one, it would be a song titled "To Lie," which Wonjun and I personally wrote the lyrics for! I'm probably more attached to it because I participated in making it myself, but I think it's even better because it's a fresh and cute type of song that we haven't tried often!
Rano: Our B-side tracks are also great, but I'm partial to "Dark Dream." I think I'm even more attached to it because I'm in charge of the "Dark Dream" killing part. [laughs]
Choi In: "Dark Dream"! The reason is there are a lot of members that kill that performance. I think it's a song that shows off E'LAST's charms most passionately, so I think "Dark Dream" is the best!
Seungyeob: All of our songs are good, but if I chose just once, I'm partial to our B-side track "Muse." Should I call it a unique and sexy song with an R&B feel that E'LAST hadn't attempted before? I personally enjoy the soulful track "Muse."
AKP: Was there a visual or conceptual element you focused on the most while preparing for this comeback? Do you have any special memories relating to it?
Wonhyuk: You can see we've upgraded to the next level for this concept. Some members in particular worked really hard on their ab muscles for the concept's cropped outfits. Out of these members, Wonjun particularly did ab workouts a lot. He never missed a day, and right after practicing with the rest of the team, he'd go to do his ab exercises. So you're going to be able to see his great ab muscles in the music video. We also paid a lot of attention to hair and wardrobe – implementing luxury outfits and props so we could show a 'princely E'LAST' image.
AKP: What do you think is E'LAST's biggest strength as a group?
Seungyeop: As you might be able to tell just by looking at our group, we're 'well-rounded concept idols' who continue to greet fans with dreamy and sentimental concepts. You're able to take in our melody lines and the meaningful lyrics, which are set against expressive orchestral music and dramatic song composition. The members of our vocal line, in particular, also have unique vocal tones that really go well together.


AKP: E'LAST recently wrapped up the reality show 'E'LAST Superhero,' where the group was able to show their variety show talent to fans. Is there anything you want to say about having starred in your own show?
Rano: The taping of the show was only two days and one night, but the members really enjoyed themselves filming it. It was a great experience. It was even better because we were all together. We know each other really well, but it was a new experience seeing each other through an edited, broadcasted program like 'E'LAST Superhero.'
AKP: Do you have a favorite memory from shooting the show?
Seungyeop: We were only able to shoot the program over two days and one night due to COVID-19, so every moment was precious as it went by quickly. It was a lot of fun because the members took the missions really seriously and each of our true personalities came out.
Wonhyuk: The most memorable part for me was when I intercepted Choi In's hidden mission, then Yejun intercepted it, and it kept cycling.
Choi In: What I'll remember the most is when I thought that I would succeed at the water mission, but I failed at the long jump and disappeared into the water.
AKP: What other variety show would you want to be on in the future? Also, is there any particular member you think would be really good on one?
Rano: We're prepared to appear on any variety, but we particularly want to go on 'Knowing Bros.' As for which member would do well on variety shows, each member was able to show a little bit of their variety talent on 'E'LAST Superhero,' but I would probably choose Romin and Yejun, who surprised the other members with their variety skills the most.


AKP: What would you like to be able to show your fans through this comeback?
Rano: My goal and aspiration is to use this promotion as a stepping stone to further promote E'LAST to K-Pop fans and also make ELRING happier if even just a little.
Choi In: As we created a lot of content both within and outside our company prior to this comeback, my goal for this comeback is to strengthen awareness of us not only in Korea but overseas as well, using these promotions as a stepping stone!
Romin: I want us to be able to gain more recognition and participate in photoshoots, advertisements, and end-of-the-year award shows!
Wonhyuk: I hope we are able to see better results through this comeback compared to our last album, like on music charts and at end-of-the-year award shows, and I want us to become a group that ELRING can be even prouder of! We'll show an awesome image so that we're able to gain even more ELRING!
AKP: There are a lot of different titles for K-Pop groups out there – for example, 'beast-dols' or 'monster rookies.' What would you like E'LAST to be known as? Also, do you have any particular goal for this comeback?
Choi In: "E'LAST works really hard." "The members do a great job decorating the stage with their respective personal colors." That's the feedback we'd like to receive. This comeback around, we want to be able to receive a title like 'silk idols,' 'fragrance idols,' 'well-rounded concept idols,' 'well-greeting idols.' As for comeback goals, we'd like to try for a music show #1!

AKP: Lastly, we'd like to talk about your future promotions. Up until now, E'LAST hasn't been able to promote overseas due to the COVID-19 pandemic. Once you're able to promote abroad, which country would you like to travel to first?
Wonhyuk: Japan! There are some fans in Japan who have been giving me love since I appeared on a survival program, and I'd like to be able to go there and see them in person as quickly as possible!
Rano: Japan. I've wanted to travel to Japan ever since I was young. Starting with Japan, I visit ELRING all over the world so that we can pay back the love and support they have given E'LAST ever since the days of Wonhyuk and Wonjun's survival program appearance.
Choi In: Personally, I also want to go to Japan first! Among places in Japan, I especially want to go to Akihabara as I love Japanese animation!
Seungyeop: I want to be able to go to each and every country, but if I could go anywhere right now, it would also be Japan. I've wanted to go to Japan all my life, and I'd love to be able hold an E'LAST concert in Tokyo. I want to be able to meet ELRING all around the world as soon as we can.