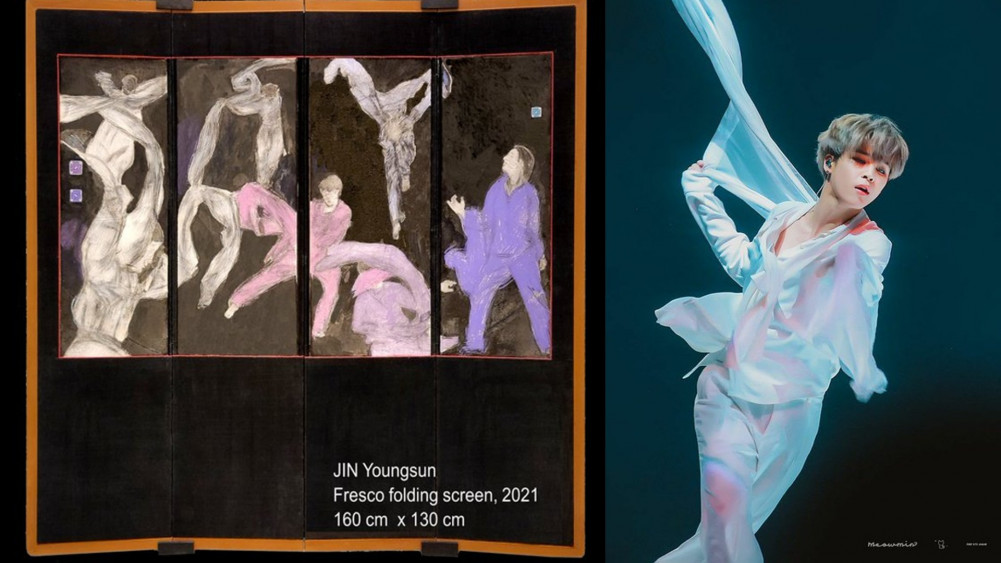 Jimin has made a name for himself in different fields. Much as he is a dancer and a singer in terms of his official career, he has also become a household name in other significant fields such as business, fashion, and arts and culture.
In business, having ranked first in brand reputation for individual boy group members for 33 consecutive months and 35 months overall as of September 2021, he has become a dream brand ambassador for many brands as he has been seen to sell out various items, ranging from clothing, footwear, jewelry, and cosmetics, to mention a few. A leading fashion magazine in South Korea even named him as the reason why BTS became Louis Vuitton's global brand ambassadors, due to his brand power.
In fashion, given that he has caused various luxurious fashion items from different brands to sell out, and he is known for his jaw-dropping outfits, Jimin has been named among the best dressed male idols by various reputable magazines such as VOGUE, GQ, and ELLE among others. He was also named as a 'model and muse' by the Business of Fashion (BoF) Class of 2019. The BoF500 consists of a group of individuals that are considered to shape the global fashion industry via the business of fashion.
In arts and culture, Jimin has become a muse for various artists both in South Korea and around the globe. He has also become a source of inspiration for various art pieces by different artists. Inspiration can be from his mere visuals, or sometimes it is derived from his performances on stage. He is considered one of the best dancers in the K-pop industry due to his beautiful body lines and delicate but powerful and elegant moves. Such art pieces of him as a muse or as an inspiration for the work, have been seen in different art galleries and museums around the world, a show of his mark and status in the art world.
On September 11, yet another art piece inspired by Jimin was unveiled to the world. Jin Young-Sun, an Honorary Professor of Seoul National University, exhibited a fresco painting inspired by Jimin's 2019 Melon Music Award's "I Need You" solo performance at the Alumni exhibition of SNU Villa D'Art. The period of display of this piece would be up until September 17 at the Hangaram Arts Center Museum of the Seoul Arts Center. The professor broke the news on Twitter, captioning it as "Re-discovery of Korean culture and art: with Salpuri-chum, Jimin shows a combination of the highest culture and maximum entertainment." Notably, Salpuri-chum is a traditional dance performed by Koreans, believed to expel evil spirits.
This is not the first time Jimin has inspired an art piece that ended up being displayed in an art exhibition. Another artist, Goheon Kim Ho-Sung, made an art piece inspired by Jimin's fan dance performed at the 2018 Melon Music Awards. The work was made and displayed in 2019 at his 'Fun & Fan' exhibition, which was held at the Insa Art Plaza. Other art pieces that were on display included those of prominent individuals such as Hollywood actor Scarlett Johansson known for her role in highly popular movies such as the 'Avengers' and 'Black Widow,' among others. Scarlett was listed as the highest-paid actress in the world in 2018 and 2019 and has been featured on the Forbes Celebrity 100 list multiple times. Another art piece was that of South Korea's current president, President Moon Jae-in.
As seen, Jimin's performances on stage are always breathtaking and a sight to behold, enough for them to inspire artworks. His movements are pure art, that anyone would watch all day and still remain captivated. In fact, his solo stages at the Melon Music Awards (MMA) shows drew so much public interest that the award show used them in a video advertisement of the show for the 2020 awards, which was to give highlights of the show's history.
Moreover, Jimin received an Appreciation Plaque for his fan dance performed at the 2018 MMAs. In awarding Jimin with this appreciation plaque, the 'Kim Baek Bong Fan Dance Conservation Society' stated that "By having re-interpreted the beautiful Korean fan dance in a unique way, you have made a great contribution in raising the status and aesthetic value of the Korean fan dance globally."
Furthermore, the Ministry of Culture, Sports, and Tourism of South Korea published a magazine where they used JImin's photo from his fan dance on the cover.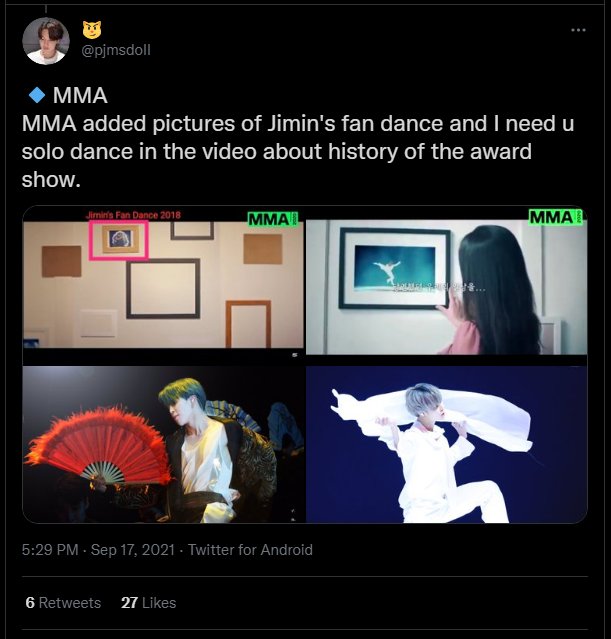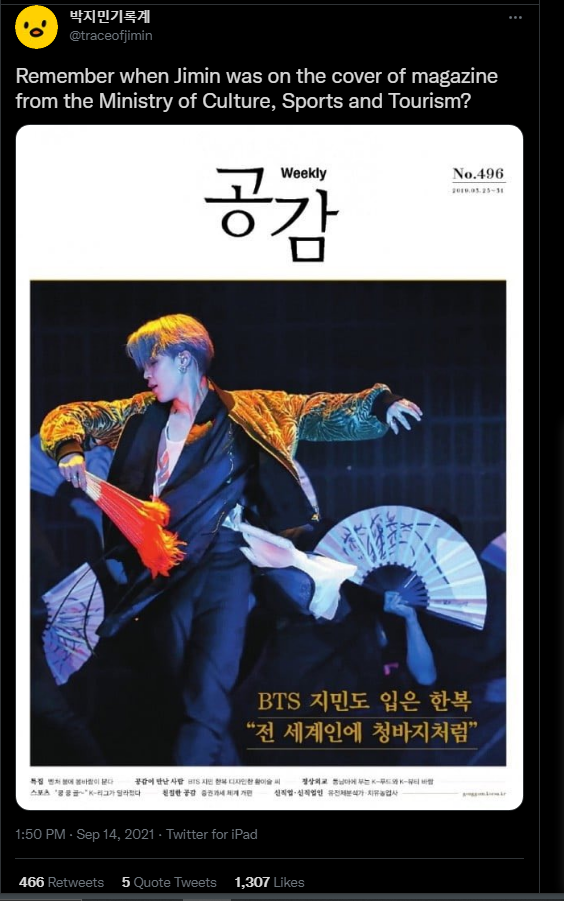 Jimin's also appears and gets mentioned a lot in the art world on a global scene. Fans are known to make video edits of Jimin's stage performances to showcase his skill and talent, and they post these edits on various social media platforms. The edits show his captivating moves, beautiful body lines, his expressiveness, and so much more. Jimin creates art, and he is art in itself.
On September 12, Rishi Dev, an Indian actor, Youtuber, and singer, shared one such edit on his Instagram stories, with the caption "Such an amazing edit."
Jimin's portrait has also appeared among portraits of several high-profile celebrities on the global scene, who are considered icons in their respective fields. These portraits were on display for sale, and some recognized portraits included those of Karl Lagerfield, a former Creative Director of the French luxury fashion brand, Chanel. There was also Bob Marley, who used to be a Jamaican singer, songwriter, and musician, considered to be one of the pioneers of reggae music. Another one is Mohamed Salah, an Egyptian professional footballer currently playing for Liverpool FC. He is regarded as one of the best players in the world, well known for his finishing, dribbling, and speed. Another professional footballer appearing is Lionel Messi, currently playing for PSG and captains Argentina's national team. He is often considered the best player in the world and widely regarded as one of the greatest players of all time. For Jimin's portrait to be displayed alongside those of such individuals, is a clear demonstration of his influence.


Several global artists have made art pieces with Jimin as a muse, with some displaying them in different art galleries.
James Jean, a famous American-Taiwanese visual artist, previously created artwork inspired by Jimin, which he named "Champignon," and explained it as "the beginning of life force (Mushroom)." The piece was a representation of Jimin's ability to add extra color to BTS's songs and performances. He also liked Jimin's post of 'Black Swan' on Instagram. Black Swan is known as Jimin's song due to its contemporary roots, which is a specialty of Jimin in dance. Consequently, Jimin took charge of this performance and even did a solo dance.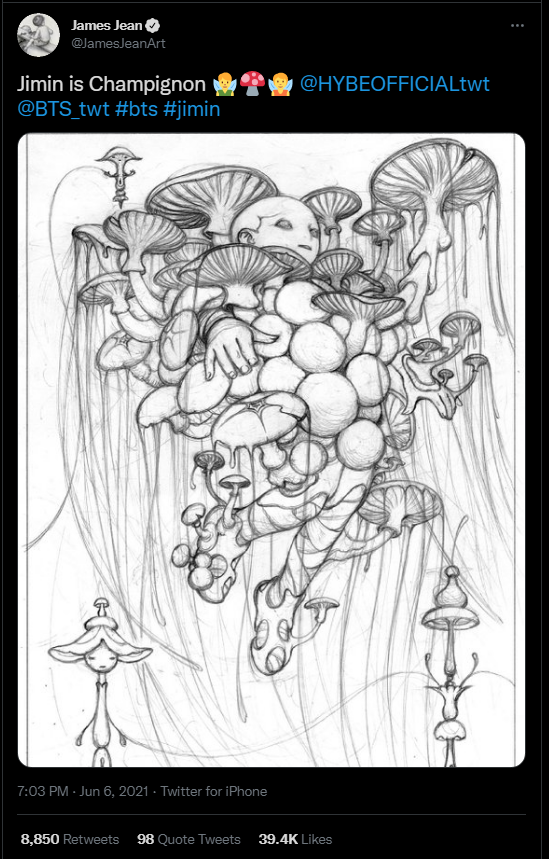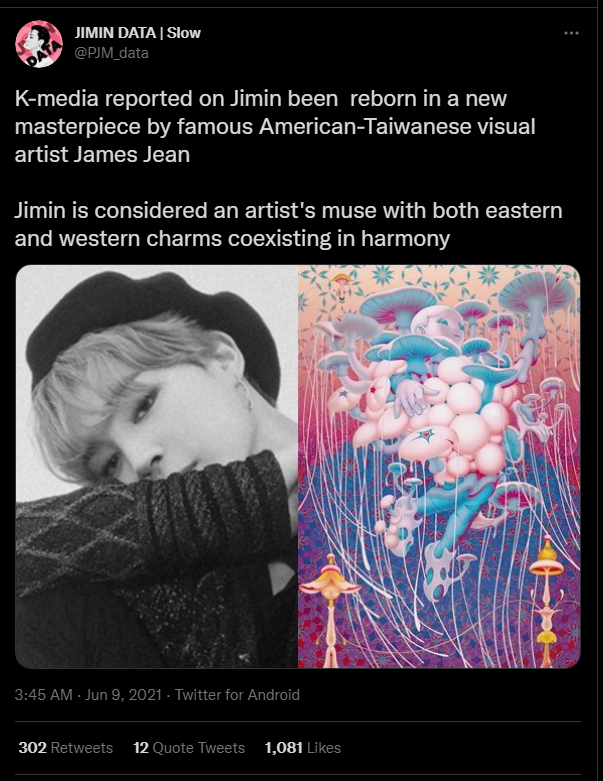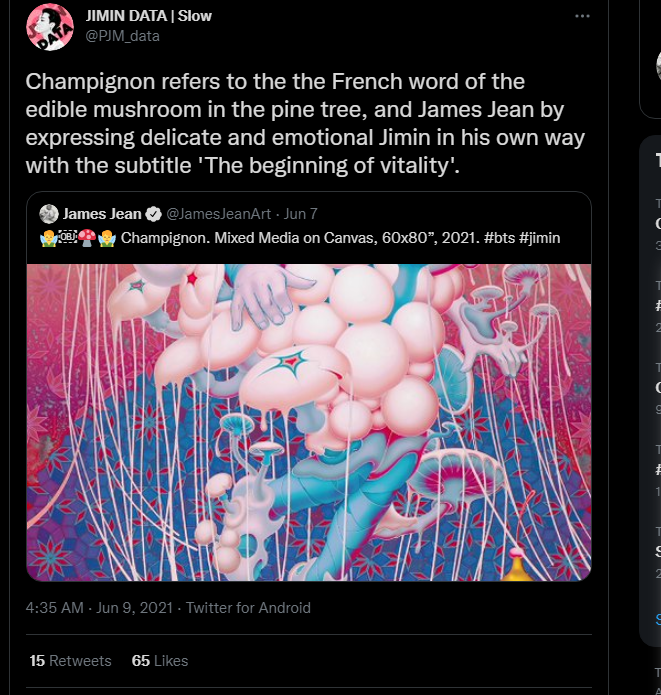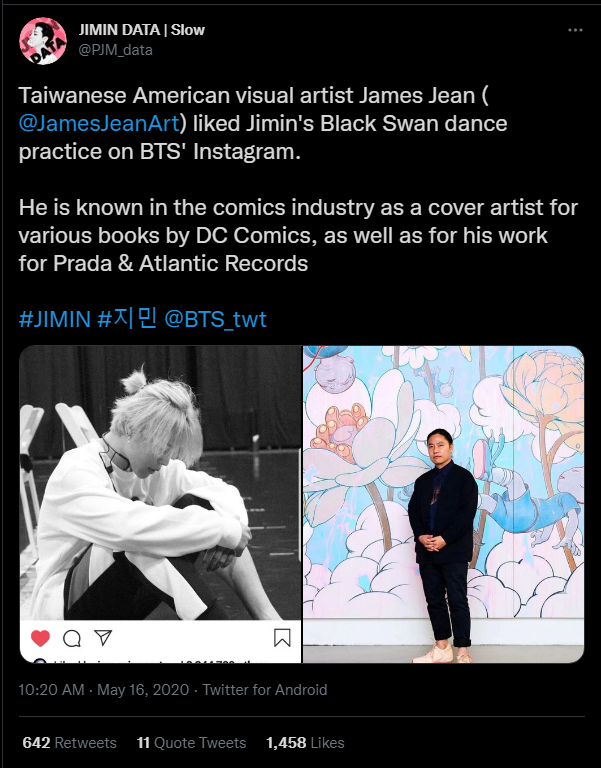 Lee K. is another artist who has used Jimin as a muse in several of his works. As an illustrator, he showcases Jimin's unique and special beauty through his pieces.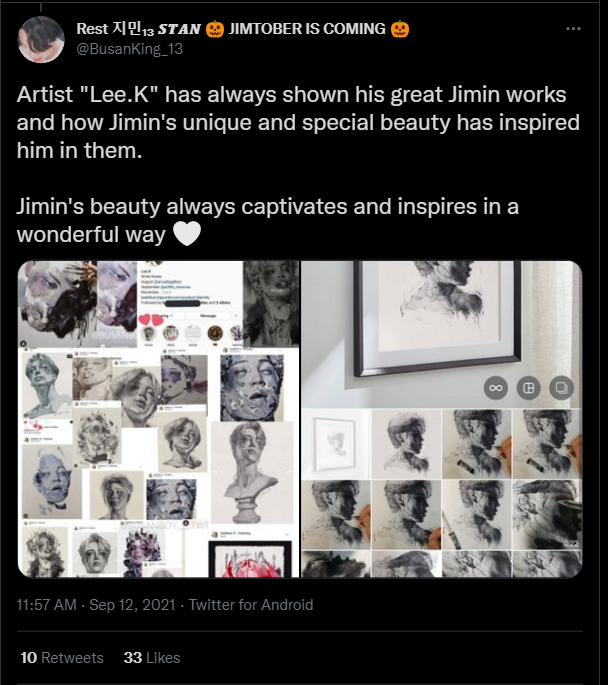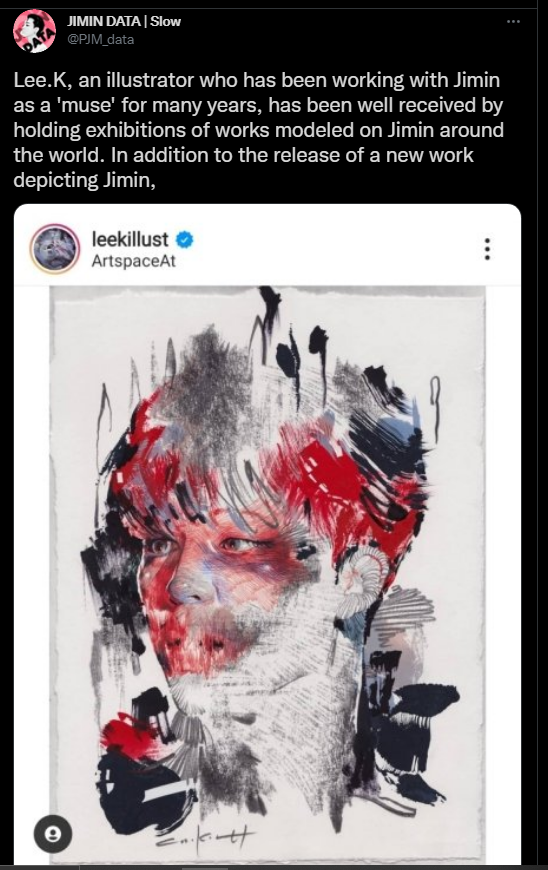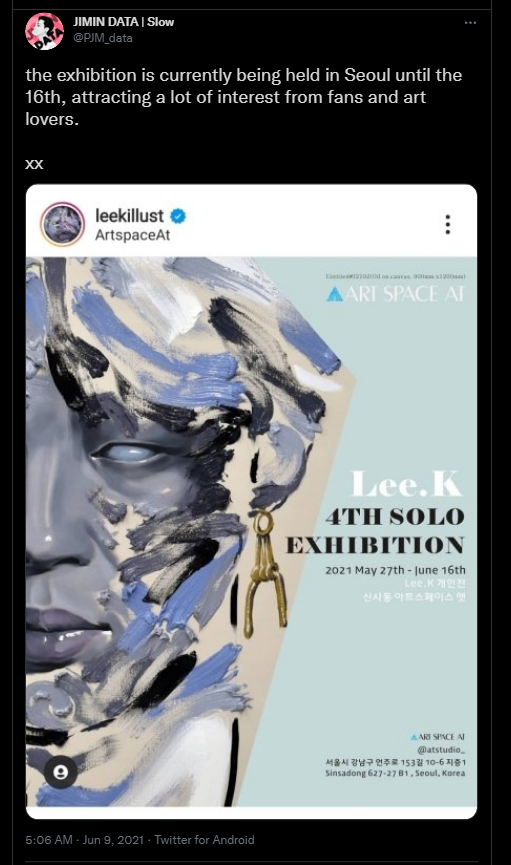 Alejandro Vigilante, an Argentine artist, has also been known to make several art pieces of Jimin and showcases Jimin's beauty through his works.
Hajer, a Saudi Arabian artist, has also been reported to create a portrait of Jimin, whereas Wezt, a graffiti artist, created a mural of Jimin, whom he referred to as the artist's muse. Other artists who have used Jimin in their work include painter Kildren and Rubik's Cube stunt artist Alexander Ivanchamu.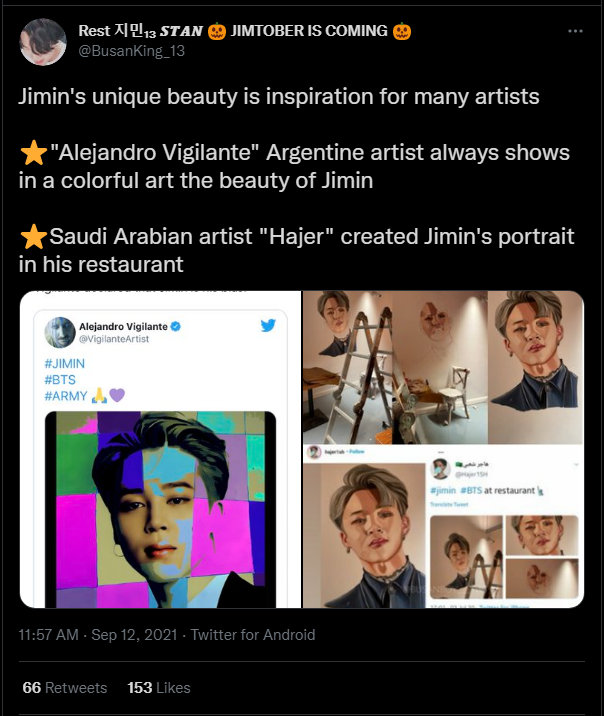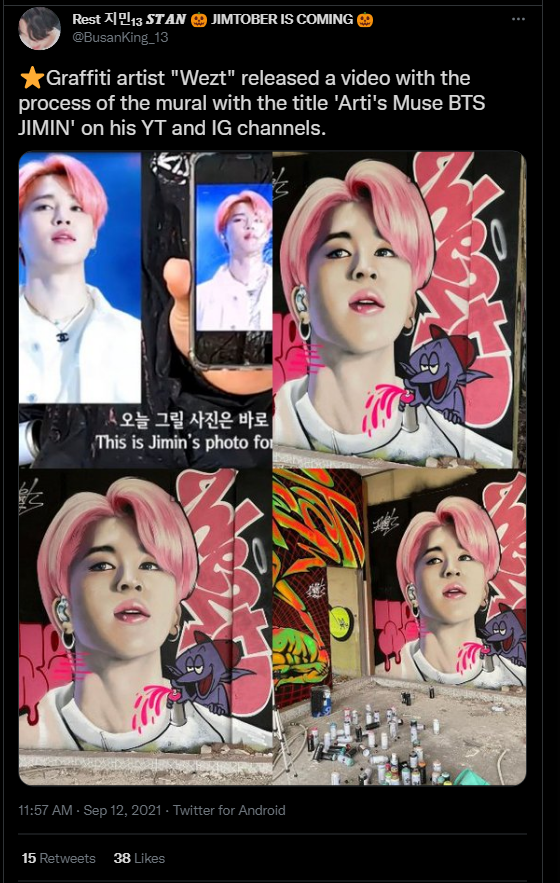 It is no surprise that some of the artists, particularly those in South Korea, draw inspiration from Jimin's performances in their works of art. Jimin has a diverse training background in dance, including hip-hop and contemporary dance. He infuses both elements in his performances to give a unique touch to his moves, which often exhibit both the delicacy and elegance of contemporary background and the power of hip-hop moves. His ability to be very expressive is also another factor that makes him stand out in any performance.
In fact, various professionals in dance have praised him for his skill and talent, calling him the most skilled idol among other top-rated dancers in K-pop.
Other dance analysts say how it is impossible to copy Jimin's dance moves and that pushing and pulling the rhythm like he does, is not something that can be taught through practice. Rather, it is a gift. The moves are delicate, sensitive, and powerful, and he never skips any details, even without realizing it himself. They say he has his own world of dance where he changes each type of dance to his own style. His unique territory is what makes him a standout in each stage, drawing the most attention even when performing in a group.
Yuzuru Hanyu, a Japanese figure skating Olympic champion, also praised Jimin's dance. He mentions explicitly his flexible body and slim body line that make his movements very smooth and captivating, and he says that he feels he can learn some things from Jimin's dance. To him, such flexibility, facial expressions, and angle of positions would allow him to showcase various things in his own performances.
Another dance expert in contemporary dance asserted the importance of effortlessly executing even the most skillful moves, which can charm the audience. He also points out the importance of core strength in some moves in contemporary performances. Further, he mentions the differences in hip-hop or K-pop dance which is about movement and modern or contemporary dance that is about stillness, making them very incompatible, even including facial expressions in both instances. However, Jimin has both skills and makes them work well in harmony, which is extremely rare.
In addition, a reporter on SBS news also praised Jimin's dance, calling him an unbelievable dancer and that his dance is artistic, a work of art, and an incarnation of modern dance.
Any performance is historic and indeed deserves to be preserved in various art pieces. He has become South Korea's pride in more ways than one, and his country celebrates him in the best ways possible, such as preserving and showcasing his performances through paintings in exhibitions.

Indeed Jimin not only creates art, but he himself is art.