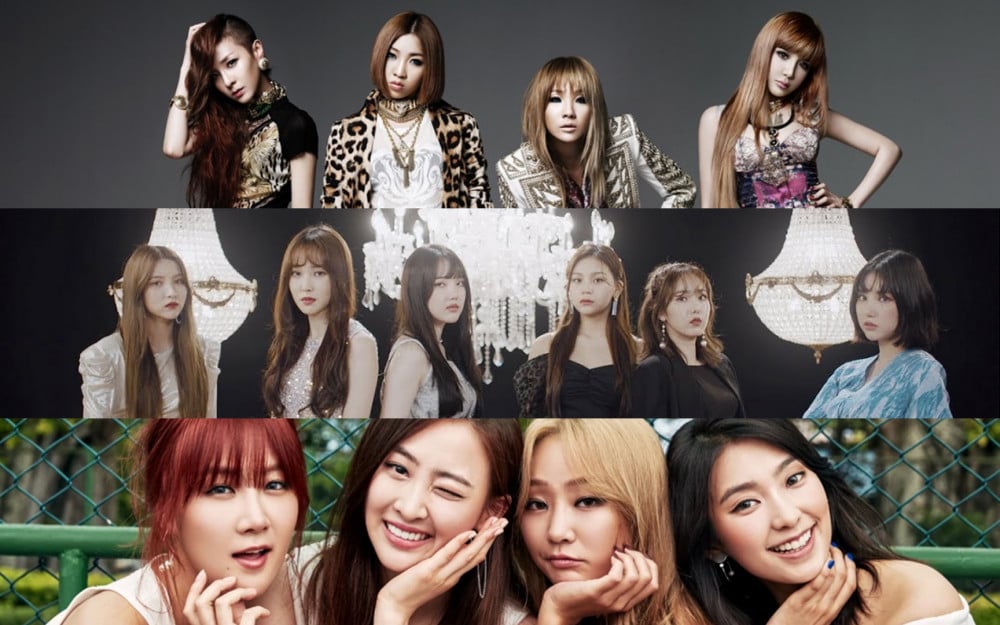 Most K-pop idol groups start off with a seven-year contract as the agency gives each group seven years to make it to the top or receive recognition. After seven years, the members are given the option to renew their contracts with the agency or set off on a new journey as they seek out their own career paths.
On rare occasions, all the members renew the contract with the agency and continue their group promotions. However, most of the time, the members seek out new agencies that offer them better conditions to the contract. In turn, the members continue with individual activities without continuing as a group.
At times, the disbandment of the idol group is foreseen and predicted. Nevertheless, fans and netizens are still shocked to hear certain groups parting ways and announcing their disbandment. So here is the list of girl groups that netizens thought were most shocking.
1. 2NE1
Debut: 2009 March 27
Disbanded: 2016 November 25
2NE1 might have been the most influential girl group in the late 2000s. They left such a strong impression when they debuted and skyrocketed into popularity. During their active years, they were the most highly recognized K-pop girl group. However, each member started to venture out into their individual promotions starting 2014 well into 2015. After over a year of hiatus, YG Entertainment announced that Minzy departed from the group and 2NE1 would continue as a three-member group. However, that November, the company announced the disbandment of the group. CL and Dara remained signed as solo artists while Bom was released from her contract. This was one of the most shocking announcements of that time. After that time, 2NE1 released the single "Goodbye," saying their final farewell to their fans.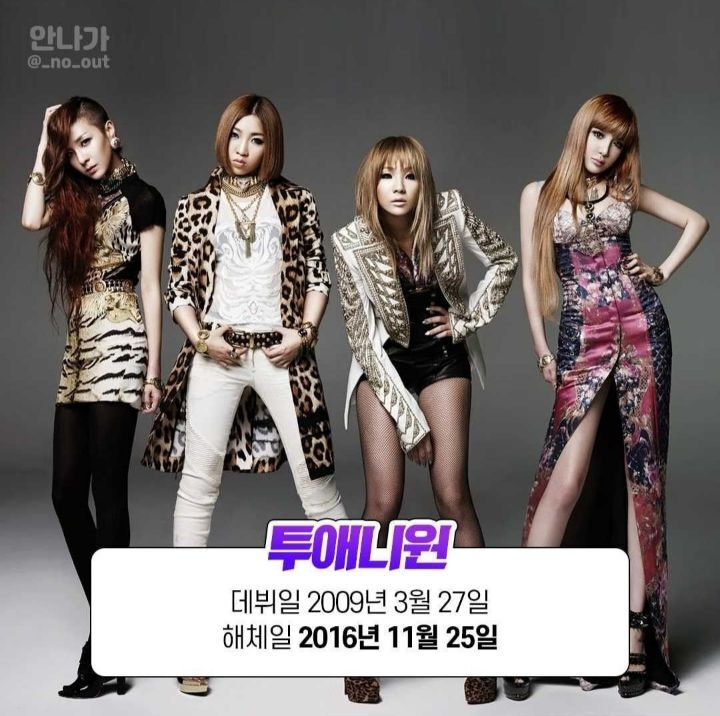 2. PRISTIN
Debut: 2017 March 21
Disbanded: 2019 May 24
PRISTIN might be the most unfortunate disbandment met by fans. Making their debut in 2017, Pledis Entertainment launched their new girl group that began gaining recognition steadily. However, the girl group was not able to promote as much as their fans wanted. After releasing a few singles and EPs, the girls officially disbanded in 2019. Pledis Entertainment made the announcement on May 24th that Pristin was officially disbanded. They explained that Kyulkyung, Yehana, and Sungyeon would stay with the company, but the remaining seven - Xiyeon, Rena, Roa, Kyla, Nayoung, Yuha, and Eunwoo - would be departing from the agency.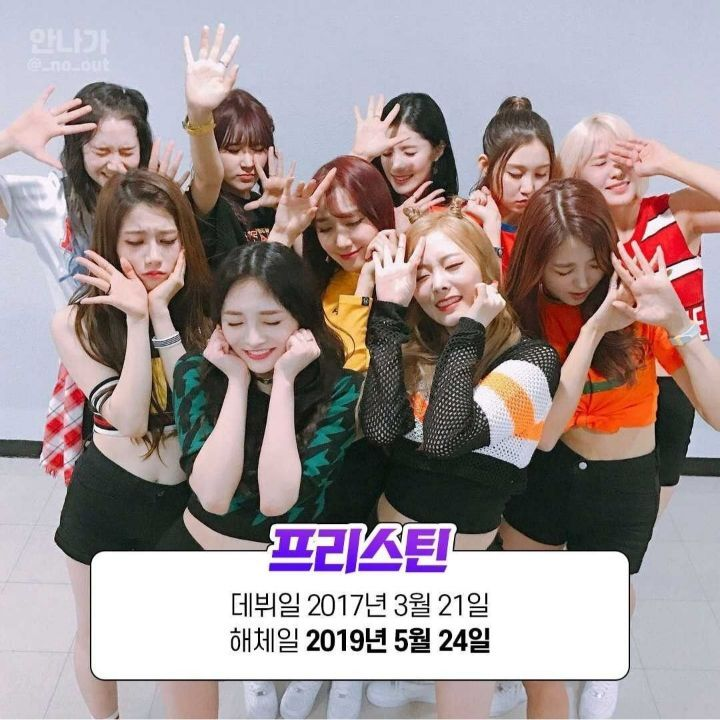 3. Gugudan
Debut: 2016 June 28
Disbanded: 2020 December 31
Gugudan made its debut in 2016 with nine members. They slowly started gaining a fan following as they released various mini-albums. Sejeong and Mina debuted as members of I.O.I in May of 2of the same year and were also promoting with the Jellyfish Entertainment girl group. Although Gugudan was gaining more and more fans, the girl group suddenly stopped releasing music in 2018. Then on December 30 of 2020, Jellyfish Entertainment suddenly announced that Gugudan was disbanding, but all the members would remain with the company.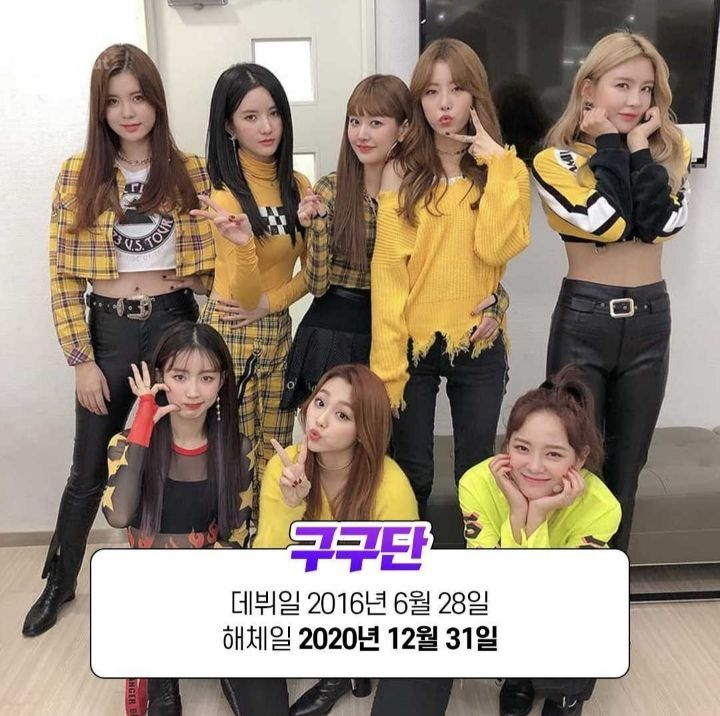 4. Miss A
Debut: 2010 July 1
Disbanded: 2017 December 27
Miss A might have been one of the girl groups that fans anticipated their disbandment but were still to hear the official announcement. Miss A made their debut in 2010 with JYP Entertainment and began gaining popularity as they solidified their image as the sensual and sexy girl group. With growing popularity, member Suzy made her debut as an actress garnering explosive popularity and attention. Soon there were rumors and speculations that the three other members grew distant from Suzy as fans often saw photos of Suzy being by herself. Then in May 2016, member Jia departed the group according to the agency, with the members focusing more on their solo activities. Then in 2017, Min had reportedly left the group after the contract had ended. Therefore, many netizens and fans were expecting the group to disband. Finally, on December 17, 2017, JYP officially announced that miss A had disbanded.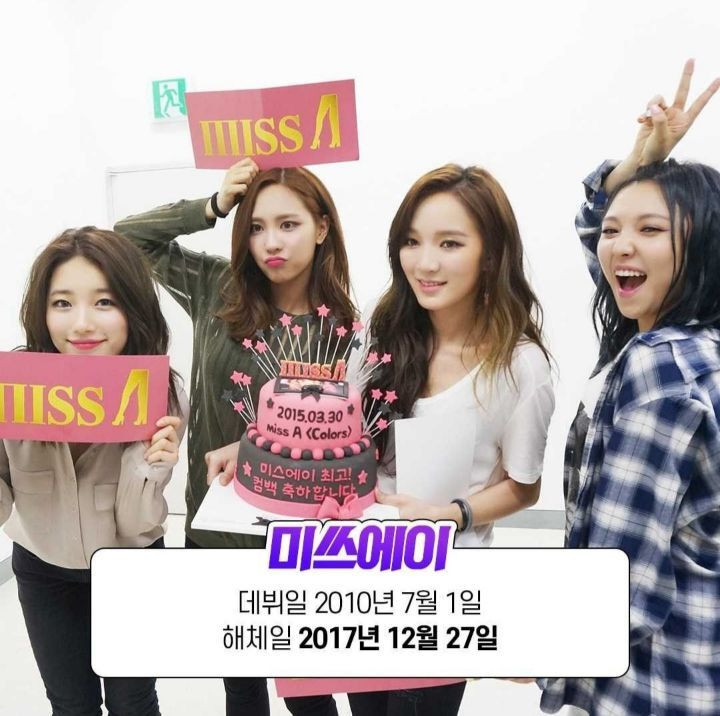 5. SISTAR
Debut: 2010 June 3
Disbanded: 2017 June 4
SISTAR was the top girl group that represented the summer season as they released consecutive summer tracks that were hit songs. Even to this day, SISTAR's songs are played during the summer. Given their success as a group and the success of the individual members, many hoped that SISTAR members would remain as a group. However, maybe because all the members gained popularity and recognition as individual artists, SISTAR decided to part ways in 2017. Starship Entertainment announced that SISTAR's promotion with "Lonely" would be their last project as a group.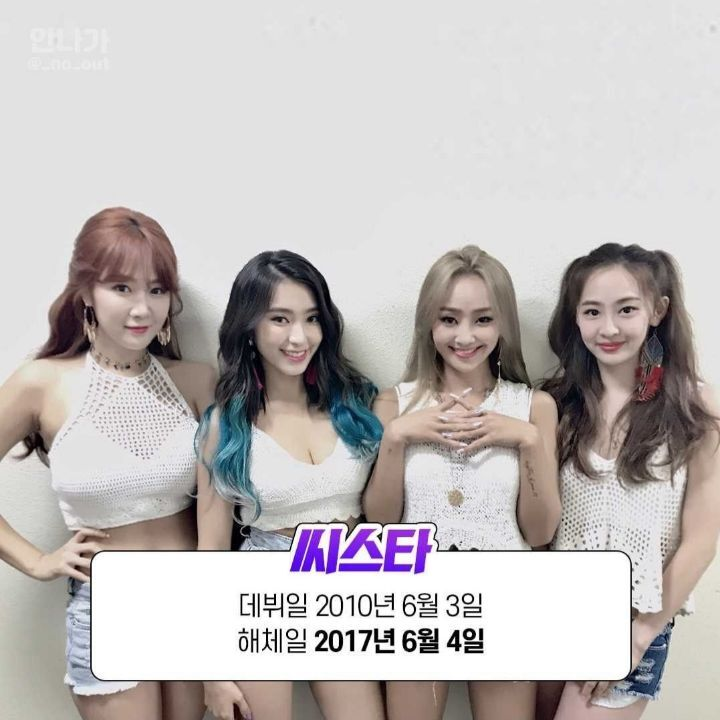 6. GFriend
Debut: 2015 January 16
Disbanded: 2021 May 22
GFriend's announcement of their disbandment might have been the most sudden and shocking news so far. GFriend made its debut in 2015 and began gaining much love for its girly and lovely concept. They continued their success with their third EP, 'Snowflake,' and soon solidified their positions as one of the popular girl groups in South Korea. In 2020, the members successfully shed their girly image with '回:Labyrinth,' followed by '回:Song of the Sirens' and '回:Walpurgis Night,' released in the same year. Because GFriend was at the peak of their success, many fans believed that the girls would stay together as the time to renew their contract was coming closer. However, to many people's surprise, all six members decided to leave Source Music and officially disband as a group.