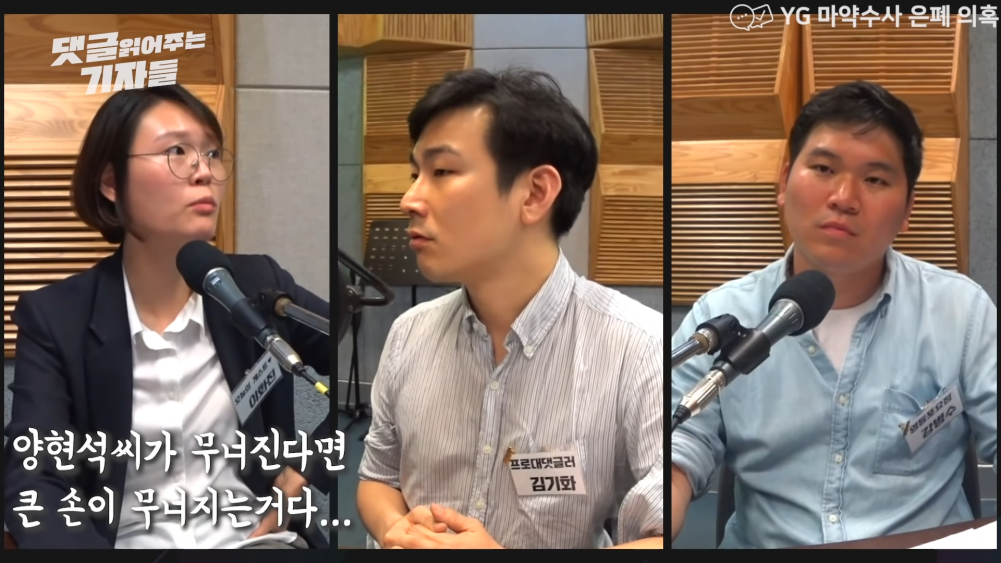 With former Big Bang member, Seungri being sentenced to 3 years in prison and being officially taken into legal custody on the charges of mediating prostitution and illegal gambling, the subject of former YG Entertainment Chairman Yang Hyun Suk's involvement in prostitution mediation is surfacing once again.
When the first controversy over prostitution mediation broke out in 2019, reporters have uncovered various speculations behind Yang Hyun Suk being the initial prostitution mediator. However, as the ugly bare face of the 'Burning Sun Scandal' has been revealed for the past two years, all that remained was the dubious innocence of YG Entertainment's former head Yang Hyun Suk and former Big Bang member Seungri's evasion.

Now that Seungri has been sentenced to only three years in prison for his charges, on a popular post on TheQoo, netizens are gathering to direct their attention to the remarks that reporters have made in the past. Reporter Lee Hwa Jin appeared on the YouTube channel 'Comment-Reading Reporters' two years ago to talk about the controversy.
During that time, she shared what she had discovered and started to unfold the speculations about the relationship between the Korean police department and Prosecutor's Office with YG Entertainment. She explained that there are records of the police investigating and prosecutors taking the drug cases in relation to YG Entertainment artists, but there were no indictments/prosecutions made in various cases involving YG Entertainment.

According to reporter Lee Hwa Jin, she found out various information while covering and investigating the dark underground world. She claimed that the former Chairman of YG Entertainment was well known for treating his guests with women while drinking with his guests. While investigating this topic, she stated, "I found a way to meet with the godfather of the Korean prostitution industry. According to this godfather, Yang Hyun Suk is a 'big hand' of the Korean prostitution industry as he was a big spender on women when he was treating his guests."
The reporter stated Yang Hyun Suk would spend thousands of millions of KRW (thousands of dollars) when treating his guests. She added, "Of course, we cannot say treating the guests entails prostitution because 'Treating the guests' starts from the moment these women are hired to serve drinks." Then she concluded that Yang Hyun Suk resigning from the Chairman position could cause a huge impact on the prostitution industry in Korea.

This topic is now being revisited by netizens as they gathered to a trending August 12 post on an online community where they commented, "Wow YG, I'm so glad Lee Hi left the company because after this incident it was so hard for me to listen to YG artists' songs," "This is so crazy," "Seungri definitely learned that from Yang Hyun Suk," "This is so disgusting," "I really wish the artists in YG leave the company," "I'm about to throw up," "This is so shocking even now," "I know YG has a lot of A-list actors too," "This was the reason I wished that AKMU didn't renew their contract with YG," "We definitely should boycott YG," and "I think it would be better if YG were to fold."