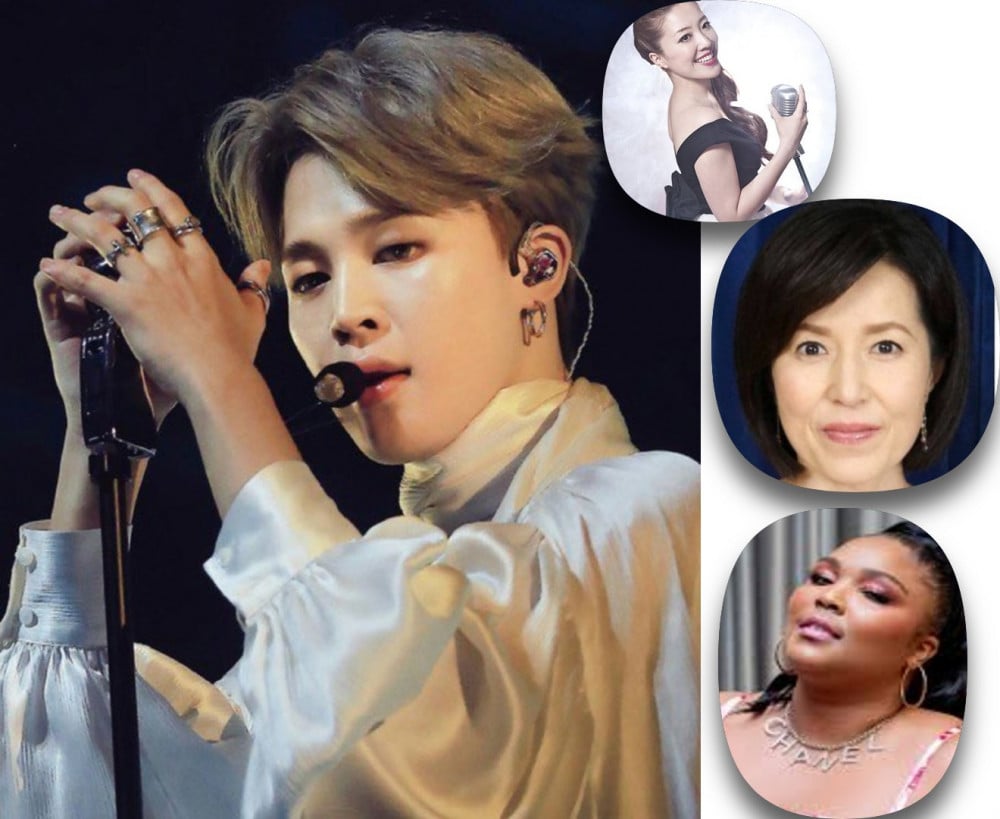 Many celebrities around the world have stated that Jimin is their bias in BTS. The reasons they give for picking Jimin as their bias are usually centered around his stage performances, his vocal skills, and his charming personality with good looks. Jimin has won various awards, polls, and surveys in dancing, and several professionals in the music world have praised his vocal tone and color, saying that it is unique and highly technical. Therefore, it is no surprise that different celebrities repeatedly mention Jimin when talking about BTS and even individually.

Ayaka Hirahara, a Japanese singer and songwriter, is the latest celebrity to praise Jimin's vocals. On August 25, she was a guest on the talk show 'The World Unknown To Matsuko' in TBS, a show that invites experts from a broad spectrum of fields to present and deliberate on various topics related to their area of specialization or current events. On this show, Ayaka recommended Jimin as a male singer with "World's high pitch vocals," listing him as the 'angelic type.'
She also listed other Japanese singers who are widely known and already established. For instance, one of the other singers that she listed was Takahiro Moriuchi, commonly known as 'Taka.' He is a lead vocalist in 'One Ok Rock,' a Japanese rock band. One significant point to note about him is that Kerrang! magazine selected him among "50 Greatest Rock-stars in the World,' in 2017.
For Ayaka to list Jimin's name alongside such renowned artists, it demonstrates her admiration for him and the high regard in which she holds him as a singer.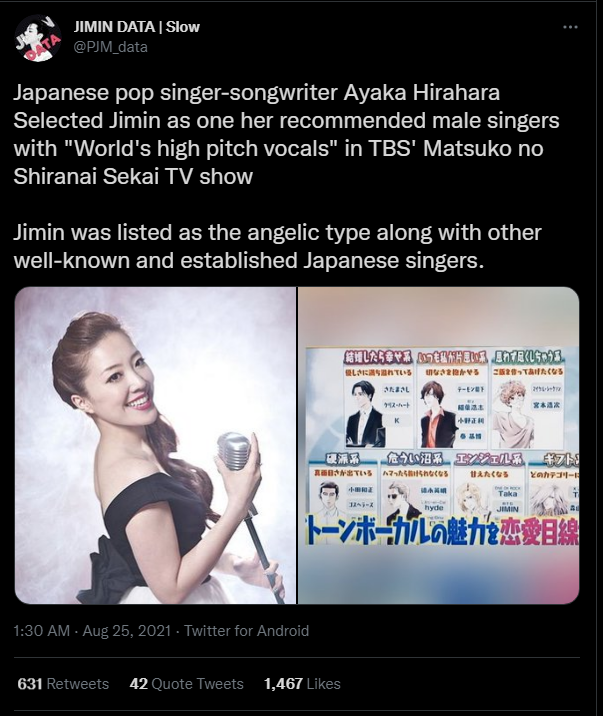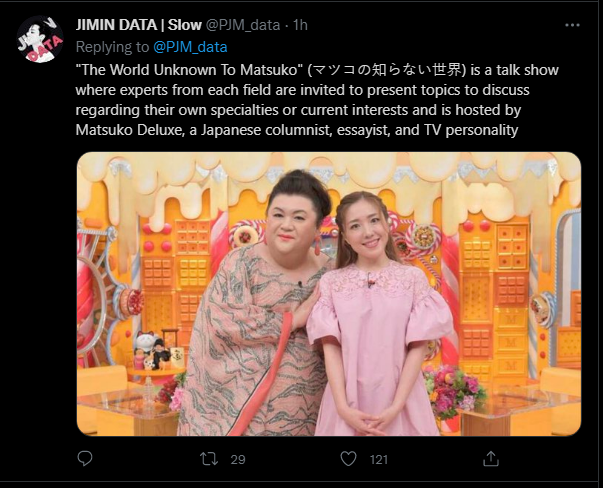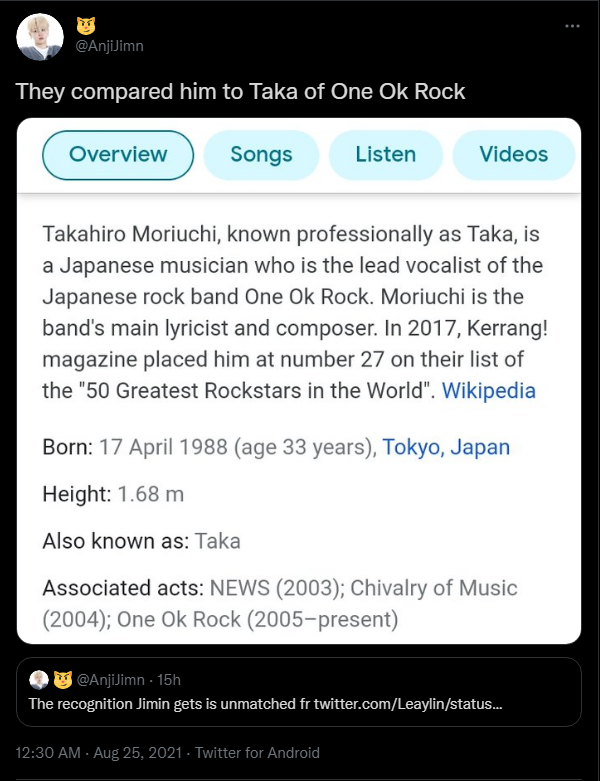 Lizzo, an American singer, songwriter, and rapper, is another celebrity who cannot pass up on any chance to show her affection for Jimin whenever she talks about BTS. She recently went live on her Instagram to celebrate the success of her latest single, 'Rumors,' which featured Cardi B. Deriving inspiration from the single's music video, she prepared vegan peanut butter and chocolate cake, which she ate during the live. As she ate, she answered some questions from her viewers, and one comment specifically mentioned BTS. She responded saying:


"You know Jimin is my favorite. Jimin is my bias? That's what you say? I love Jimin....".


This is not the first time she has shown her love for Jimin. Back in April of this year, she had also mentioned Jimin in another Instagram live, saying that she loves Jimin, and she thinks he is hilarious, fierce, and beautiful.
Back in 2019, as she was hosting the iHeartRadio Jingle Ball, she shouted to the crowd, "Can we pretend that I'm Jimin from BTS for a second?" She did acknowledge Jimin's impact and talent even back then, hence her reference to him during the show. Recognizing how much of a fangirl she is, KIIS FM even suggested a Jimin and Lizzo collaboration, using the same video clip from the iHeartRadio show.

Another celebrity who has repeatedly shown her affection for Jimin is the Japanese TV program host Kiriko Isono. Kiriko, an actress, comedian, and host on the show 'Hayaku Okita Asaha...,' has mentioned Jimin multiple times on the show.

On August 15, she once again mentioned Jimin while talking about her feelings of nervousness before going on stage. She says BTS energetic songs help with the situation and specifically mentions the perfection in Jimin's solo song, which helps in calming her down. She says she is very grateful for that and goes to the stage thinking, "Thank you, Jimin."
She previously mentioned Jimin on the same show on August 8, talking about his background in modern dance, which gives him elements of ballet that have, in turn, prompted his reputation of dancing very well. She further details the different ballet positions that she notices in Jimin when he dances, sings, takes photos, or when just normally standing, and even gets excited and proud that she could stand in the same pose as Jimin.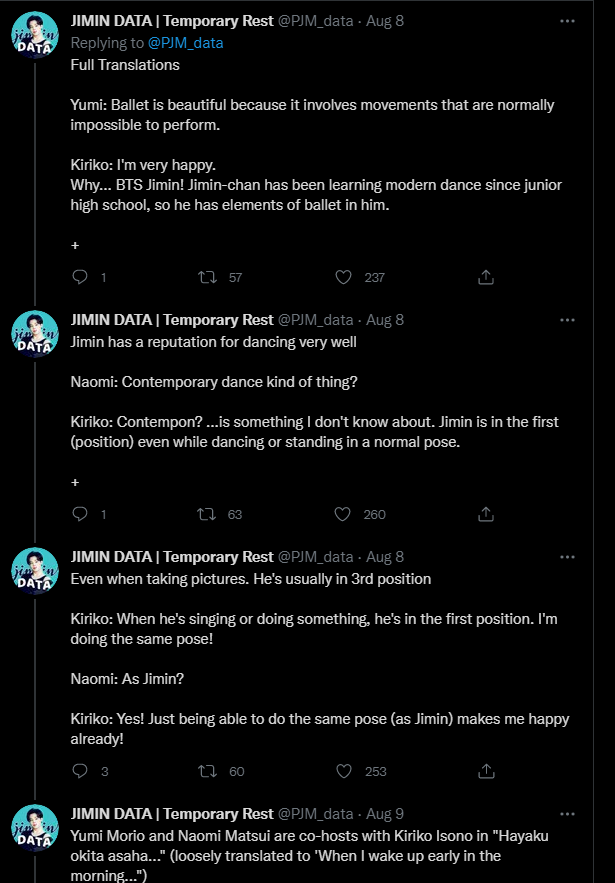 Again, on January 10, she mentioned Jimin after reading a letter from a 52- year old viewer who was a BTS fan. Kiriko said she could relate to the viewer as she was also a fan of BTS and further stated that she is a fan of Jimin.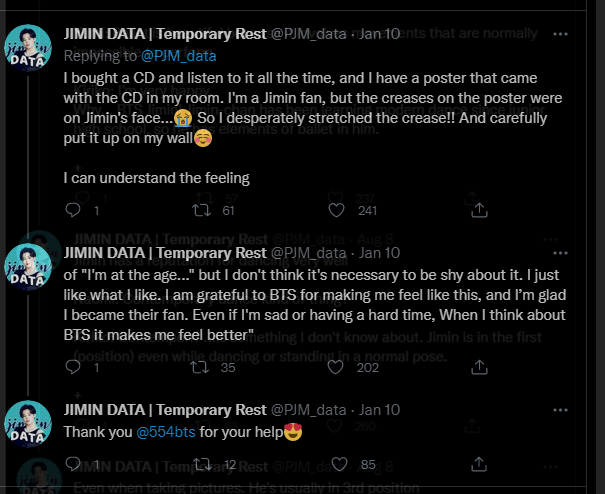 Jimin's impact and popularity are immense, being such an all-rounded artist and person. The celebrities mentioned have each had something to say about his performance and vocal skills and about his personality and looks, thereby demonstrating how Jimin stands out in every area. In fact, he is such a captivating artist that his solo song Filter is played repeatedly on the radio in the USA, as observed by a fan who resides in Virginia. This is also a sign that the radio DJs know him and his impact as well as that of his song.
He truly is a WORLDWIDE IT BOY.