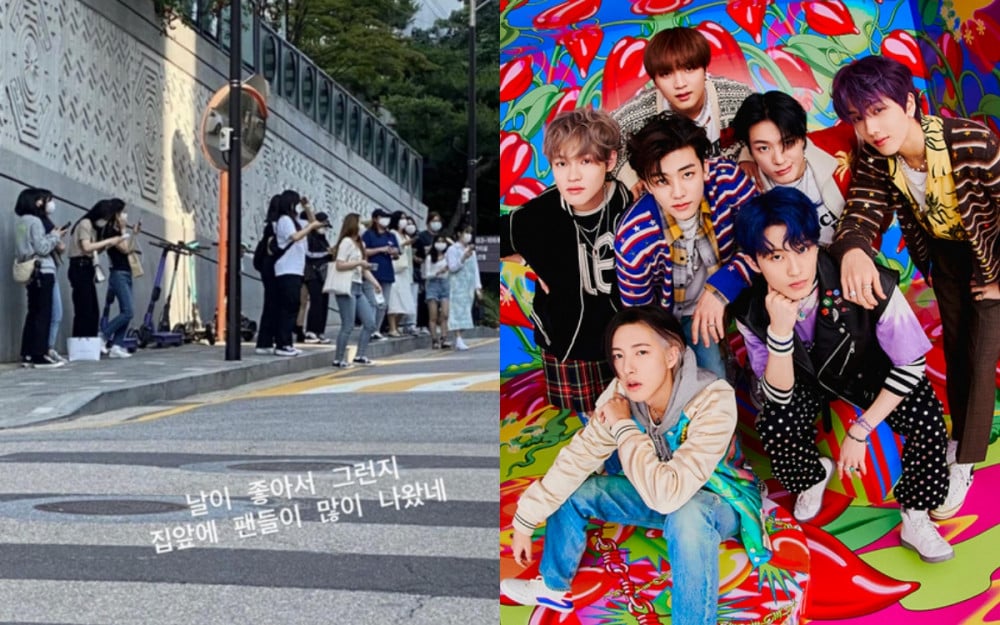 A new photo circulating online is showing netizens just how serious SM Entertainment's issue with sasaeng fans is getting.
On July 19 KST, an image of a crowd of people standing on a sidewalk with their phones and a number of electric scooters began making its way through Korean online forums. A caption on the image reads, "The weather was good, so a lot of fans appeared in front of their home." Another caption reveals that the residential building is where the members of NCT live.
"The current situation in front of NCT's dorm," the original poster wrote. "SM said that they would report sasaengs moving forward."

The trending image angered many netizens, who sympathized with the NCT members. Comments include, "SM, come to your senses," "Is this an airport? I can't believe my eyes," "You still haven't reported the sasaengs, SM?," and "They call a lot when NCT does VLIVEs too. It's pathetic."

Others considered how much of a nuisance the situation must be for other residents of the building as well, stating, "EXO used to live in the same apartment complex as my older cousin. I was shocked when I saw the sasaengs in front of her home. I would see them through the window of her living room every day and think 'Wow, that must be tough for EXO.' The only days I wouldn't see them is when EXO had a schedule," "I see them every time I pass through Cheongdam Park, which is right above where I live," and "Are you kidding me? Why don't they switch dorms? Doesn't anyone understand that other people live there? What's wrong with sasaengs?".

Meanwhile, earlier this week, SM Entertainment announced that they will no longer condone sasaeng behavior that endangers their artists, revealing plans to seek strict legal action and punishment for any who trespass on private spaces.