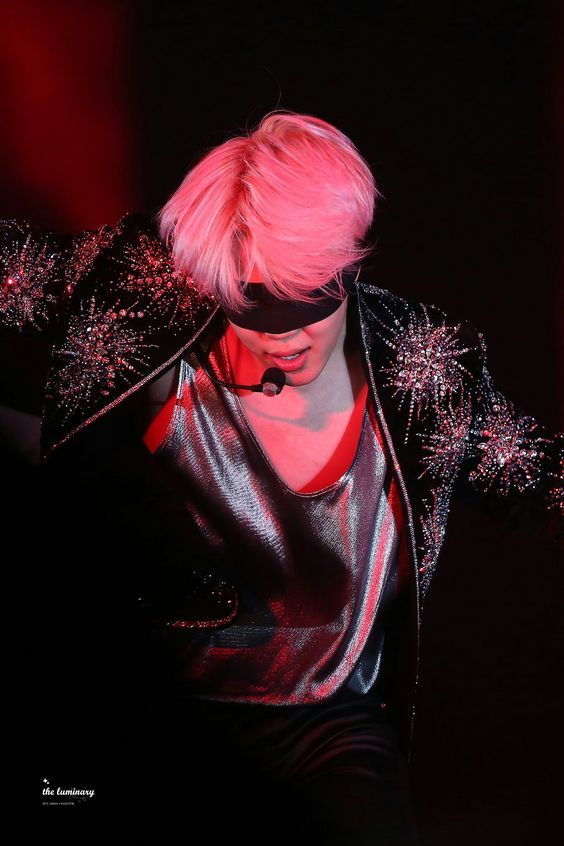 LIE is a solo song by Jimin under the BTS discography, released in October 2016 in the second full-length studio album by BTS, 'WINGS.' The song has a magnificent classical sound, deep lyrics, and amazingly expressive vocals, making it catchy to listeners. Jimin had full participation in the writing and composition of this masterpiece.
Recently, LIE has gone viral on TikTok among new fans and non-fans, after a new fan posted a video where she talks of her reaction to the song when she first heard it. Of note is that the BTS fandom has immensely grown following the 'Dynamite' and 'Butter' releases, and most new fans are still discovering songs from BTS's old discography. LIE has always caught the attention of new listeners, and the song has once again demonstrated its impact even after being out for close to five years now.
On July 23, a new fan posted a TikTok where she talks of her reaction when she first heard the song. Particularly, she says she felt like she was levitating, and that she never has and will never hear another song like that as it is the only song of its kind. Many other new fans and non-fans filled the comment section with praises for the song just based on the short sound preview. Most asked for the name of the song so as to search it up and have the full experience of listening to it. In fact, some new and old fans admitted to having joined the BTS fandom and gotten into K-pop in general because of LIE, a huge sign of the song's impact. As of now, the video has amassed over 171,000 likes.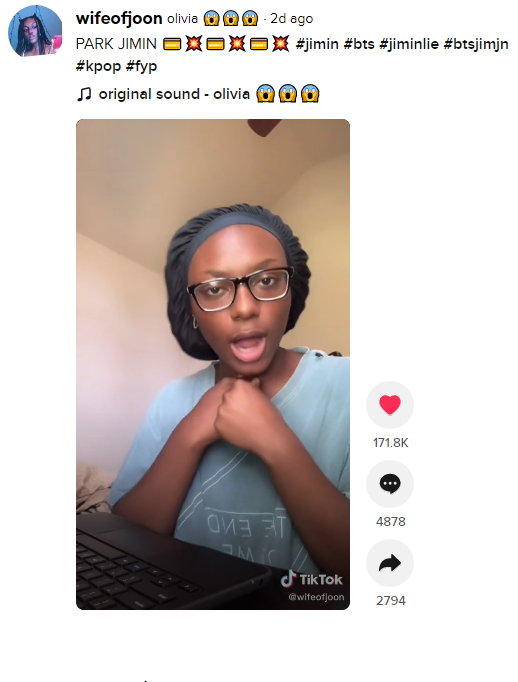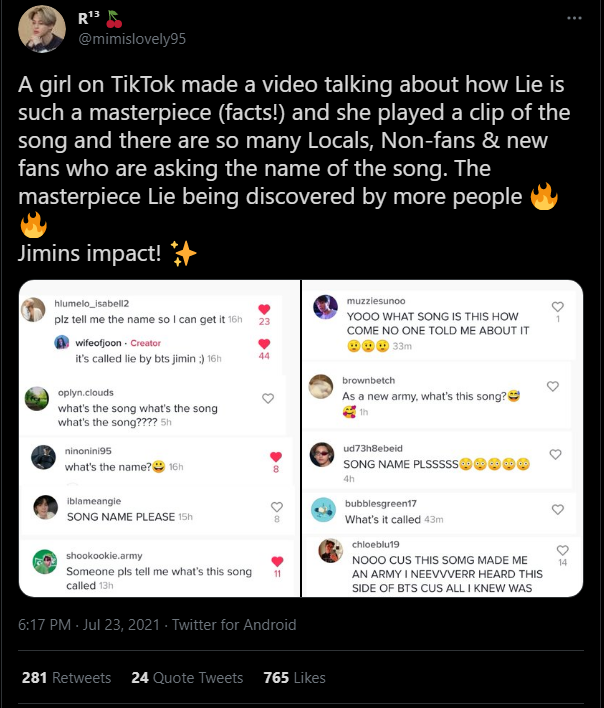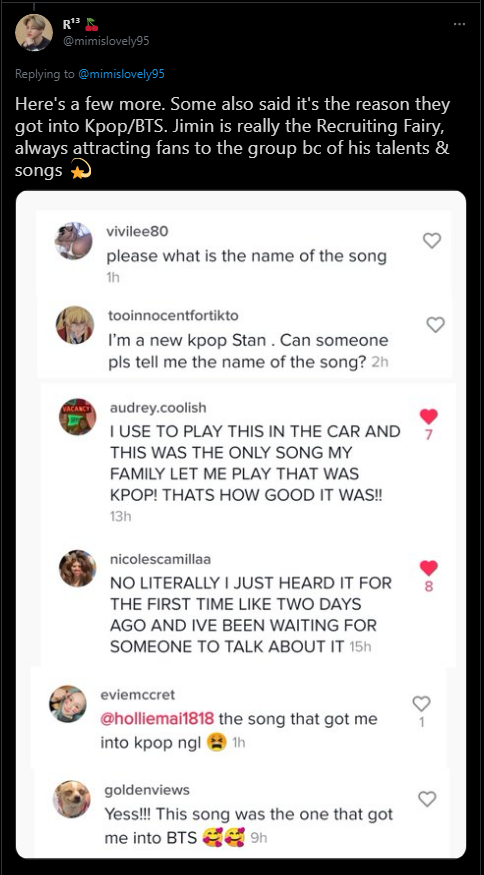 The impact of the song is not only limited to its sound and appealing and sensual vocals but also in its highly artistic performance. Many have been captivated by Jimin's smooth, delicate, and elegant dance lines that make him able to portray emotion through his moves. For example, LIE was selected by Indonesian media IND Times as one of the 9 outstanding stage performances by Jimin, calling him an idol with stunning stage appearances. Rolling Stone India also selected LIE as an 'Unforgettable Contemporary Dance Performance in K-pop'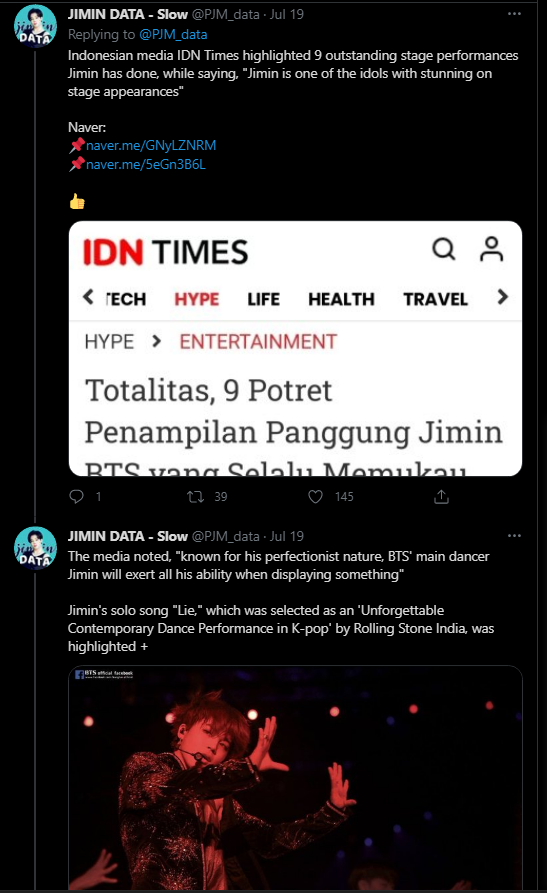 In addition, most main dancers in rookie idol groups have covered Jimin's performance of LIE. Notably, professionals will usually take on challenges that are considered benchmark standards as a way to prove their capabilities as per the set standard. Therefore, rookies cover LIE as a show of their vocal and dance capabilities, as the song is considered to be highly technical in both aspects.
So far, some of the idols that have covered the song include MUZIN of BAE173, Yongha of WEi, NI-KI of ENHYPHEN, Milo of ROMEO, Taeyoung of Seven O'clock, Boun of Target, Hyunmin of Rainz, Dongheon of Verivery, Huijun at Produce 101, J-kid of ENOi, Doyum of 1THE9, Byeongkwan of A.C.E., Choi of EBOYZ, Bach of D1verse, Yoojung of OnlyOneOf, Kookheoy of B.O.Y., Woochul of Newkidd, Yuri of JXR, Yong Ha of WEi, and more.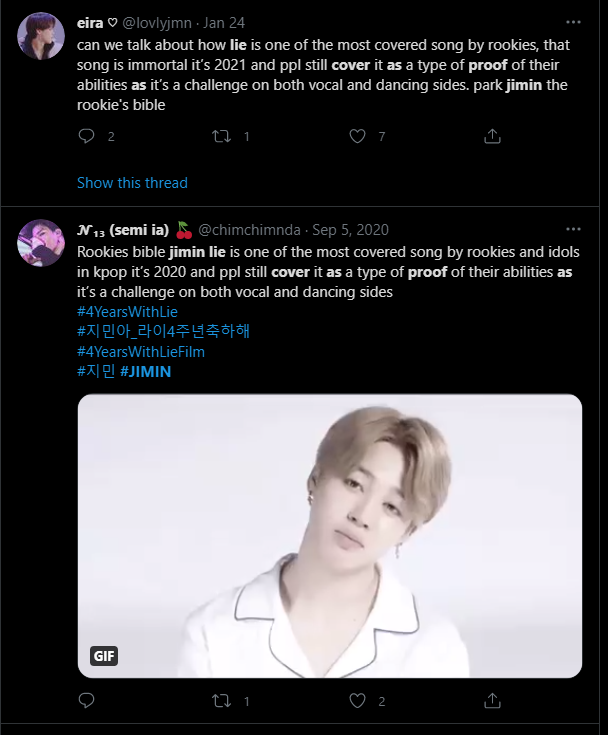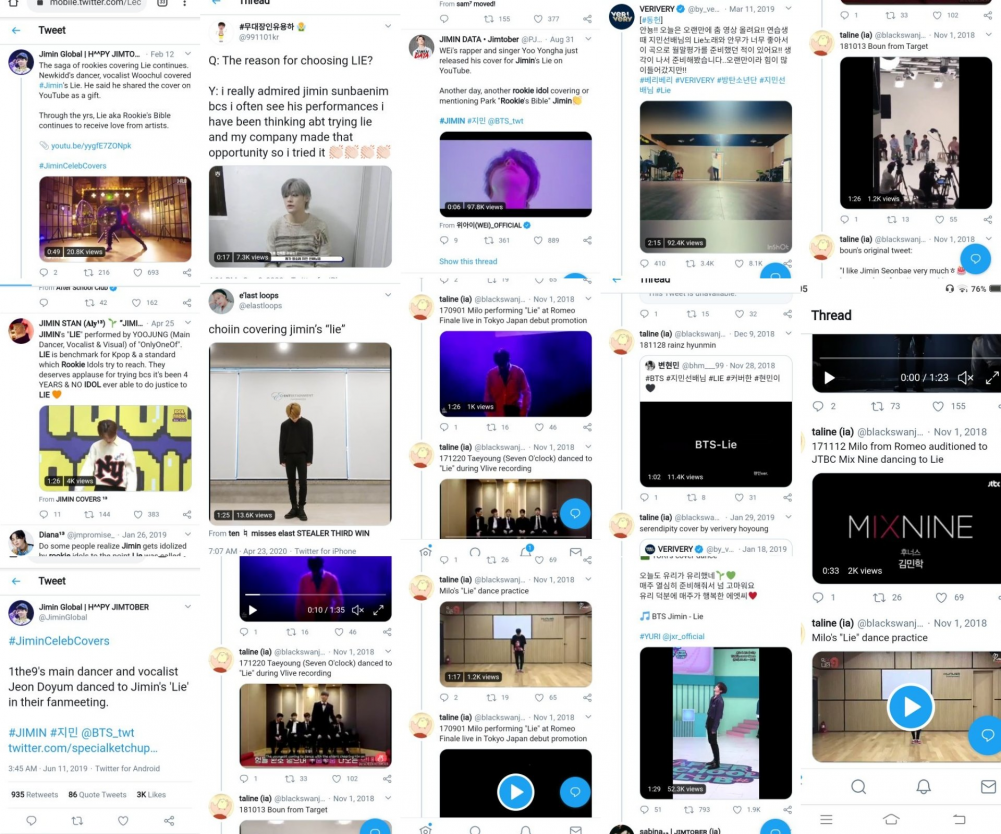 Image credit: @pjm_jm13
Lie has been popular all through the years, being the most streamed solo song from the WINGS album as of now. As of today, the song has achieved 143 million streams on Spotify, maintaining its record as the most-streamed solo song from the WINGS album and the second most-streamed song overall, only behind the title track 'Blood, Sweat, and Tears.' It is also the only solo song above 100 million streams in the album, a milestone that it achieved in April of 2020. Additionally, of the 7 short films from the WINGS album on YouTube, Lie was the first to surpass 1 million likes, and it also has the highest number of views at 16 million.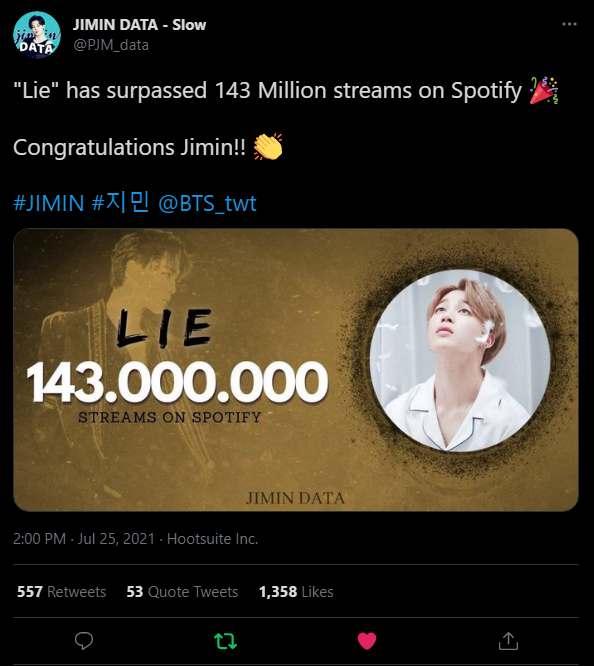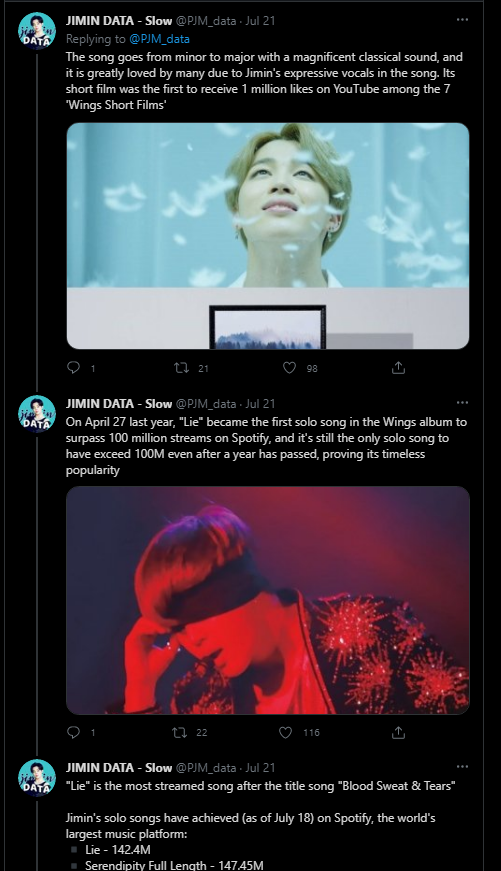 Fans are proud of Jimin's achievements with LIE, and of the impact seen from the song both among the idols and on the general public. There is no doubt that the song is a masterpiece whose impact is timeless and will continue to make such waves in the future as well.