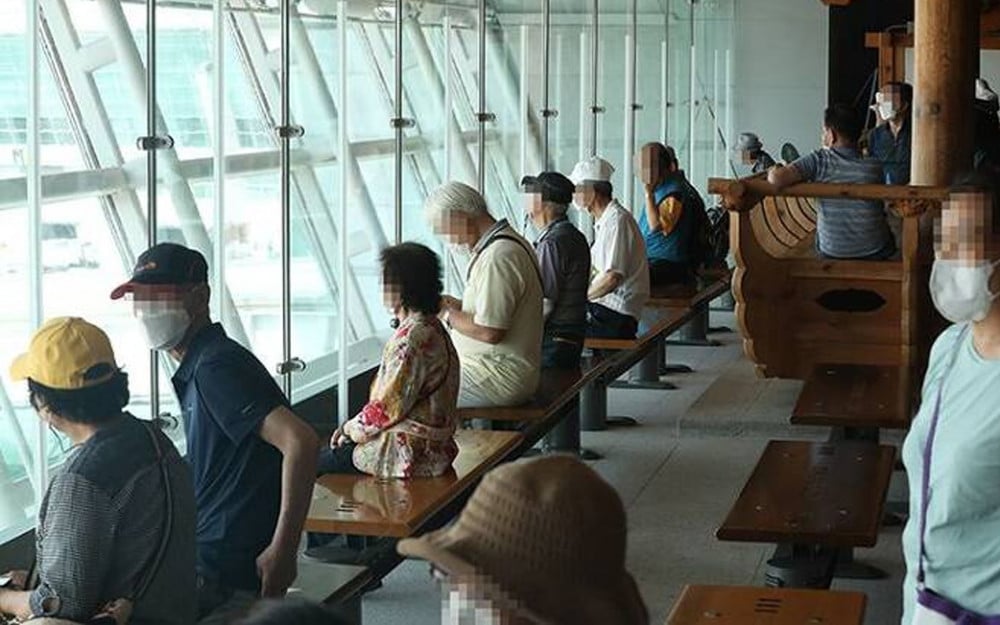 Korean seniors are gathering at Incheon International airport to cool off because they want to save on AC bills.
At 11:50 AM on July 22, about ten elderly people got off the train that just arrived at Incheon International Airport Terminal 1 to head to the airport. Most of them were comfortable in hiking clothes and sneakers. Mrs.Park (age 80), who was wearing a pink flower-patterned t-shirt and holding a purple umbrella, said, "This is my first time here. I came here to avoid the heat after hearing about it from my friend. I got vaccinated so I came out because I was so frustrated that all the senior citizen center and village centers were closed."

Around 2 PM on the same day, about 120 elderly people were huddled on the bench on the first basement floor of Incheon Airport Terminal 1. None of them had suitcases or traveling bags. An old couple sitting side by side on the bench rubbed each other's shoulders and legs, while two elderly women, who seemed to be friends, took out snacks such as mixed coffee and bread from their shopping bags. There were even senior people lying on the floor with their shoes off or taking a nap while occupying four seats. Koo Ja Yong (age 83), who lives in Incheon, said, "It's nice that the airport is cool and has good convenient facilities such as bathrooms. I call my friend who lives in Seongnam, Gyeonggi Province, to hang out here and I go home around 3 PM."

The Incheon Airport has become the new hot spot for the elderly to hang out after there was a decrease in overseas travelers due to the COVID19 pandemic. The elderly who are living in the metropolitan area most come to the airport using the free subway system for the elderly. Mr. Nam (age 75), who came to the airport at around 10 AM, stated, "On a hot day like this, I have to turn on the AC the whole day. So I just came to the airport. Since I come here often, I even made 'airport friends' whom I met here." Choi Young Sook, who is in her 80s, explained, "I used to go to the shopping mall near my house but there are no seats on the benches there. This is my fifth time coming to the airport this summer."


Mrs. Kim (age 66) also stated, "I came here with my husband for two days in a row to read the newspaper here. I don't have any worries since I'm already vaccinated." One airport official stated, "Last summer,t here were many people avoiding the airport because of the COVID19 pandemic but this year, there are 3 times as many elderly than last year."