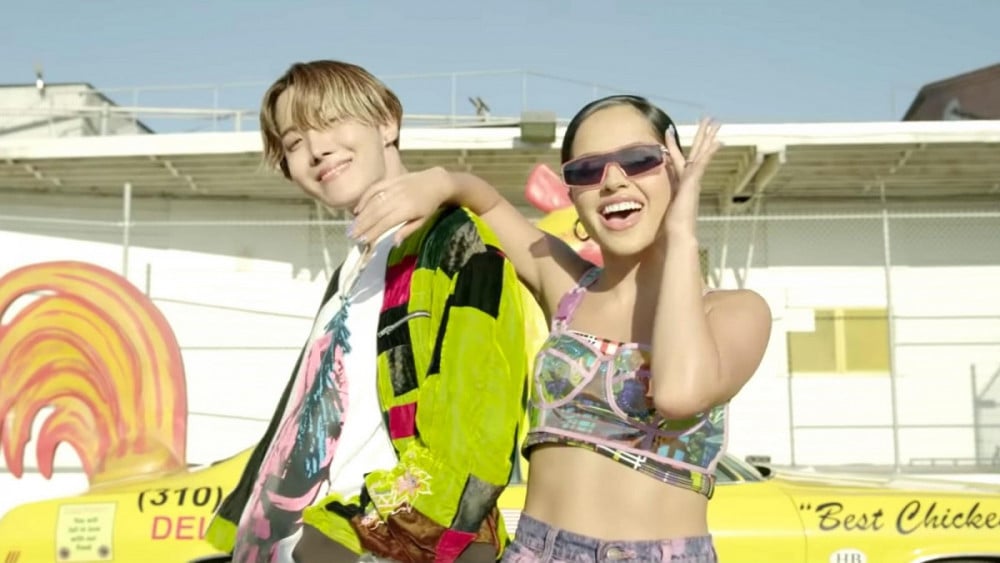 Following BTS's recent performance at their 'So Woo Zoo' fan meeting concert, J-Hope's remake track "Chicken Noodle Soup" feat. Becky G quickly rose in popularity once again, since its release in 2019.

On June 17th, 'Genius Korea', operated by Genius, the world's largest lyric and music information website, announced, "After a phenomenal performance, J-Hope's 'Chicken Noodle Soup' ranked #1 on the K-Hip Hop chart."
"Chicken Noodle Soup" was performed on stage for the first time after one year and eight months, at BTS's online fan meeting concert for 'BTS 2021 Muster' held on June 14th. At the time of its release in September 2019, "Chicken Noodle Soup" gained immense global popularity, ranking #81 on the US Billboard 'Hot 100', #82 on the UK Official Singles Chart, and #55 on the Canadian Billboard 'Hot 100'.
The track was not made available for streaming on South Korean music sites, limiting its exposure to nationwide listeners. However, with just one stage performance, the track's strong ripple effect was seen when it began re-entering and quickly climbing up global music charts. "Chicken Noodle Soup" ranked #1 on the iTunes single chart in Chile, and re-entered the Japanese iTunes chart at #110. It also climbed the US iTunes music video chart once again, ranking #46. J-Hope's track further showed impressive results on Spotify, the world's largest music platform. On June 15th, "Chicken Noodle Soup" climbed forty-six ranks higher than its position in the previous day, and ranked #142 in Spotify Korea's music chart. It also re-entered the Peru Spotify chart, ranking #184.
"Chicken Noodle Soup" has consistently received love from fans all around the world. On Spotify, it has been streamed over 98 million times, and the music video on YouTube has received more than 262 million views.