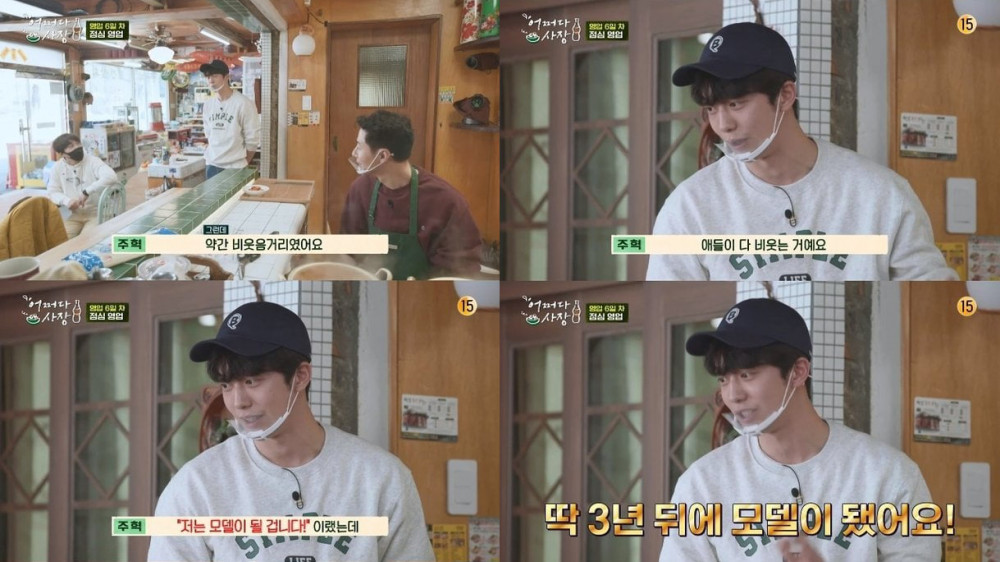 On the April 8 broadcast of tvN's 'Unexpected Business', actor Nam Joo Hyuk shared the story of how he became a model!
On this day, Jo In Sung played the role of a part-time server at Cha Tae Hyun and Jo In Sung's local supermarket, serving customers who stopped by for quick meals. During lunch, a group of seniors in high school visited, and Cha Tae Hyun decided to sit down with them for a chat. After asking each of the students what their career goals were, he advised them, "I think it's best to do what you want to do. I also had really specific goals in high school. I wanted to be a PD, a singer, and an actor."
Cha Tae Hyun then invited Jo In Sung and Nam Joo Hyuk to talk about their own debut stories. Jo In Sung said, "I debuted as a model at first. I was attending a modeling academy, and after a month, I signed on contract to star in a CF."
Last but not least, Nam Joo Hyuk revealed, "I debuted as a model at age 20. I quickly gave up on academics in high school because I knew it wasn't for me. I was an athlete, but I stopped and after that, it was too difficult to catch up on my studies. I played basketball. In our first year of high school, they told everyone to present our career goals to the class. I said, 'I am going to be model', and all the kids laughed at me. So then I said to myself, 'Just you all wait and see. I'm gonna make it happen in 3 years'. And I did make it happen in 3 years. It was because I had that goal set in my mind."