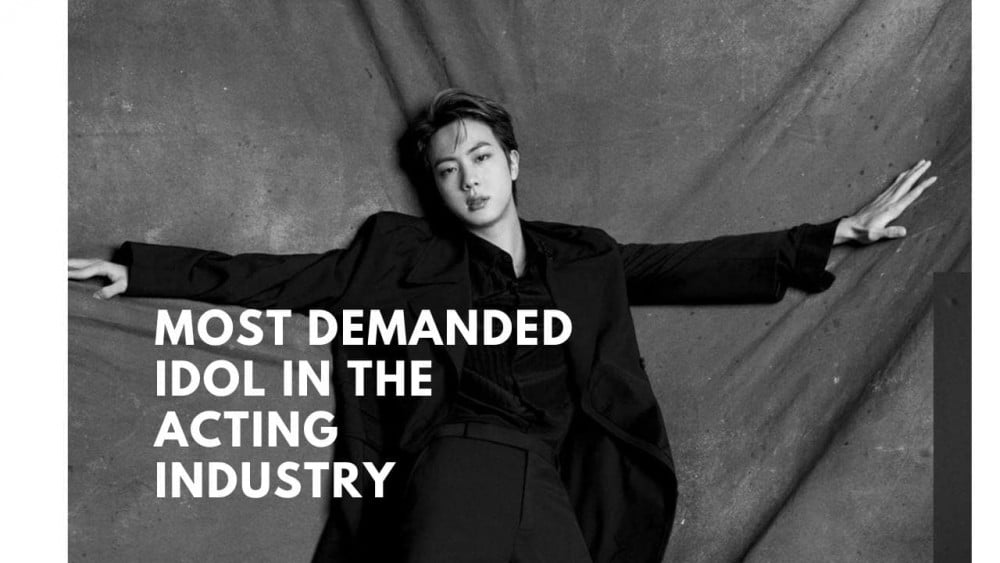 Let's take a look at the biggest mentions of Kim Seokjin by actors - both Korean and international!

First up is the new friend of Seokjin - Kim Nam-Gil. Back in 2009, this well-known Korean actor was the one who inspired Seokjin to choose the path of an actor as well. In 2020, Nam-Gil mentioned Seokjin on v live, calling him "Our Jinnie," eagerly wishing to meet him in real life. He also did an unpackage of Jin Dicon Magazine, and finally, in 2021, both were able to meet and have a talk. Kim Nam-Gil recently opened his own agency for actors - GILSTORY_ENT. In the most recent interview in March 2021, he stated that he would be supporting the acting talent of Seokjin.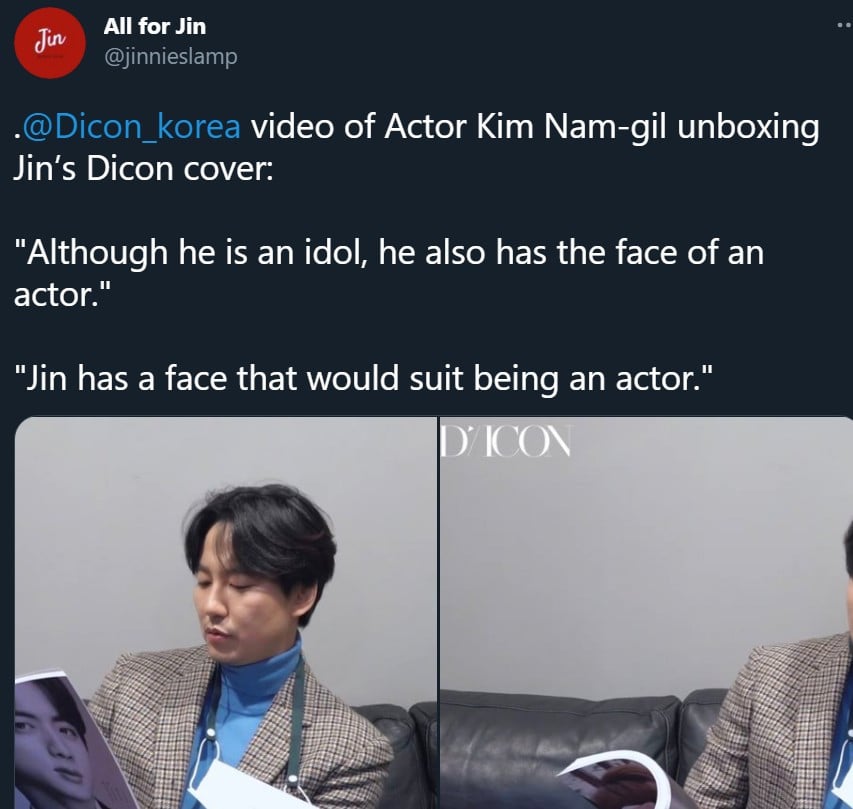 Well-known American actress Mindy Kaling from the infamous "The Office" recently revealed that she is a fan of Seokjin as well. She posted an edit with Jin and her on her Instagram and added a funny caption. Another famous actress Reese Witherspoon commented with: "Legends!"



Korean actress Ha Heera who is known for such dramas as "What Women Want," "What is Love," "The President," has a daughter named Yoon Seoya, and both of them love Seokjin. In September 2020, she posted a drawing of Jin made by her daughter.




In 2021, at the new show "On & Off," actor Yoon Park revealed that he is friends with Kim Seokjin. He also invited him to visit his show, showing lots of admiration towards the BTS member.




Almost a year ago, in May 2020, another actor Yoo Seung Ho mentioned that he is close with Seokjin in the interview. He said they sometimes meet up and get together because Seokjin has a great personality. Moreover, he mentioned that he would like to have him singing an OST for his drama "Memorist." We all would love it too! Seokjin even sent a coffee truck to the set of this drama for his friend.




A funny story from a Korean actor Ryu Soo-Young whose wife is also a famous actress - Park Ha-Seon. Soo-Young shared that she is a giant fan of Jin and even has merch with him. He even joked that he couldn't compete with Seokjin for the place in the heart of Ha-Seon.




Seokjin has a hectic schedule, so despite being friends with so many actors and the whole entertainment industry, he can't attend their shows or premieres. For example, Lee Yi-Kyung, an actor, once said he would like to invite Seokjin to the premiere of his movie but decided not to burden him.




American actor Thomas McDonell who is known for his role in The 100 series, tweeted about Seokjin on his personal Twitter, saying, "Ah- really Seokjinnie is so lovely."




An actress Sung Yu Ri that also was a part of a Kpop group, Fin.K.L., posted a photo of Seokjin to her Instagram story in 2020.


In March 2021, fans found out that Jung Yumi from "Train to Busan" has also been a fan of Seokjin for a few years, owning even some merch pieces.





One of the most active supporters of Seokjin is the best-selling author and journalist Kim Jae-ha who has made multiple tweets about anticipating the acting debut of Kim Seokjin, being impressed by his skills.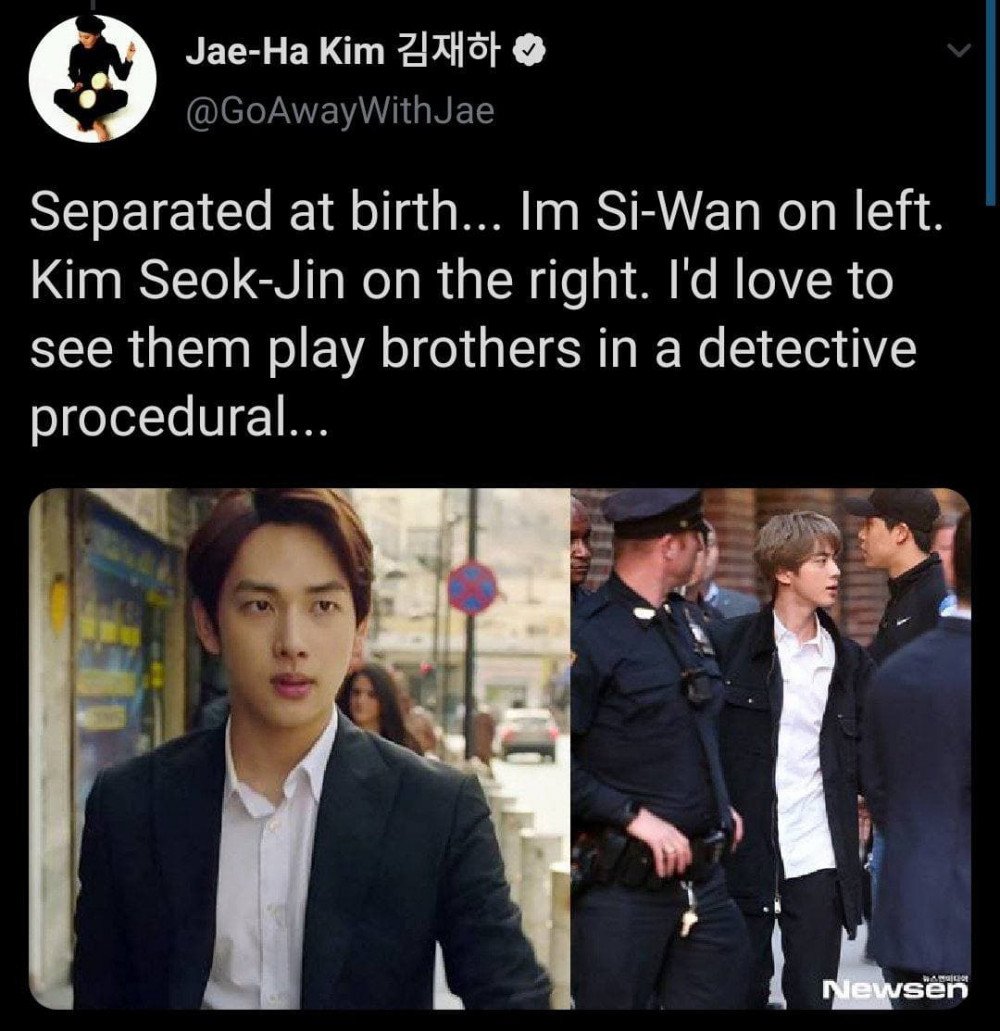 Seokjin was a great student in Konkuk, being praised by his professors. Hence, he has many talents, including acting vocalization. His professor even praised him especially for that. A South Korean voice actor Ahn So-Yi praised his diction and vocalization technique after he made a vocalization of the cartoon.


Lee Won Geun, a Korean actor, once mentioned that he is a big friend of Seokjin ever since Konkuk Acting Major when they used to eat meals together.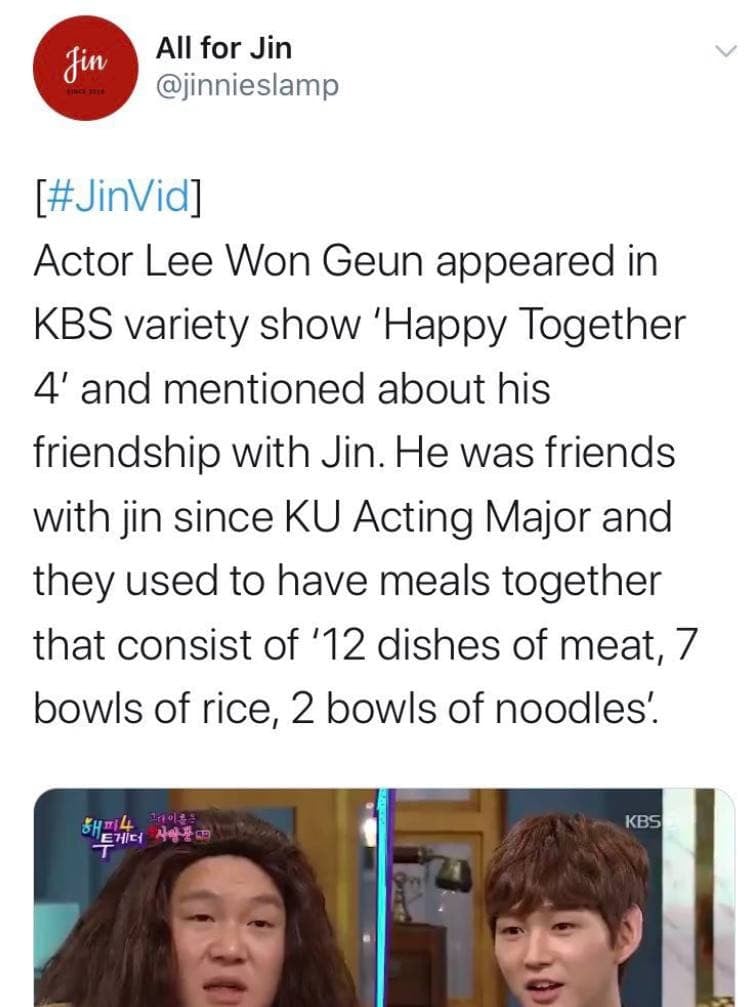 "Only someone handsome like him can be a star" - these words belong to a lead actor of "Love Alarm" by Netflix - Song Gang, who mentioned that he used to see him at the Konkuk University.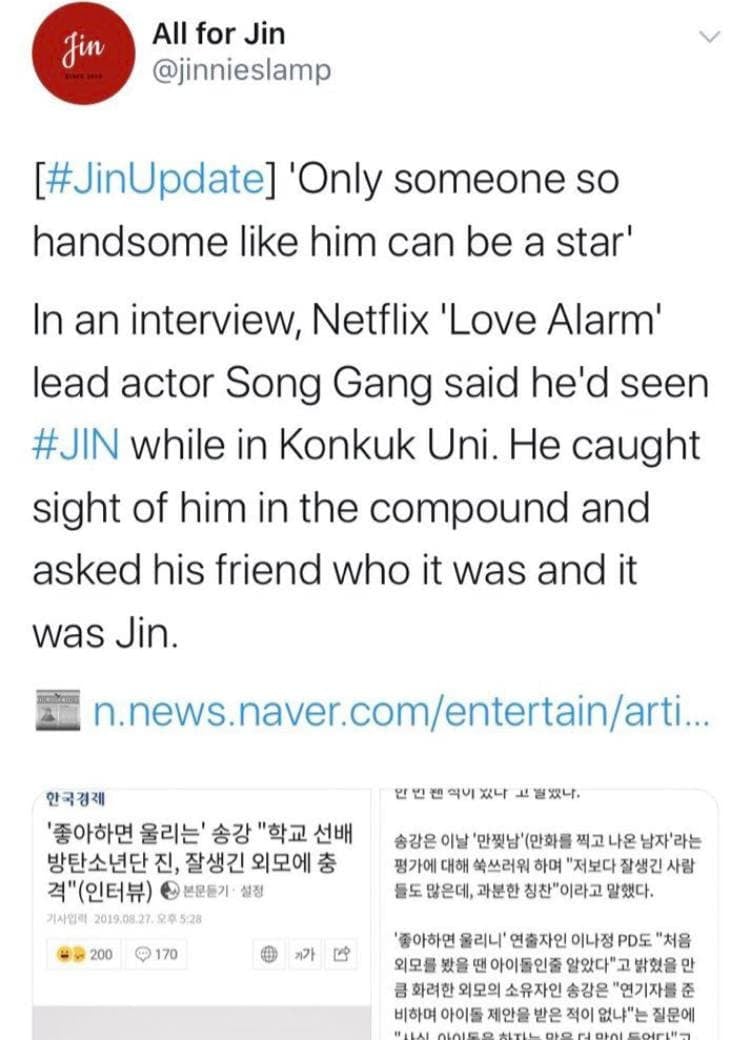 Other actors mentioning Seokjin: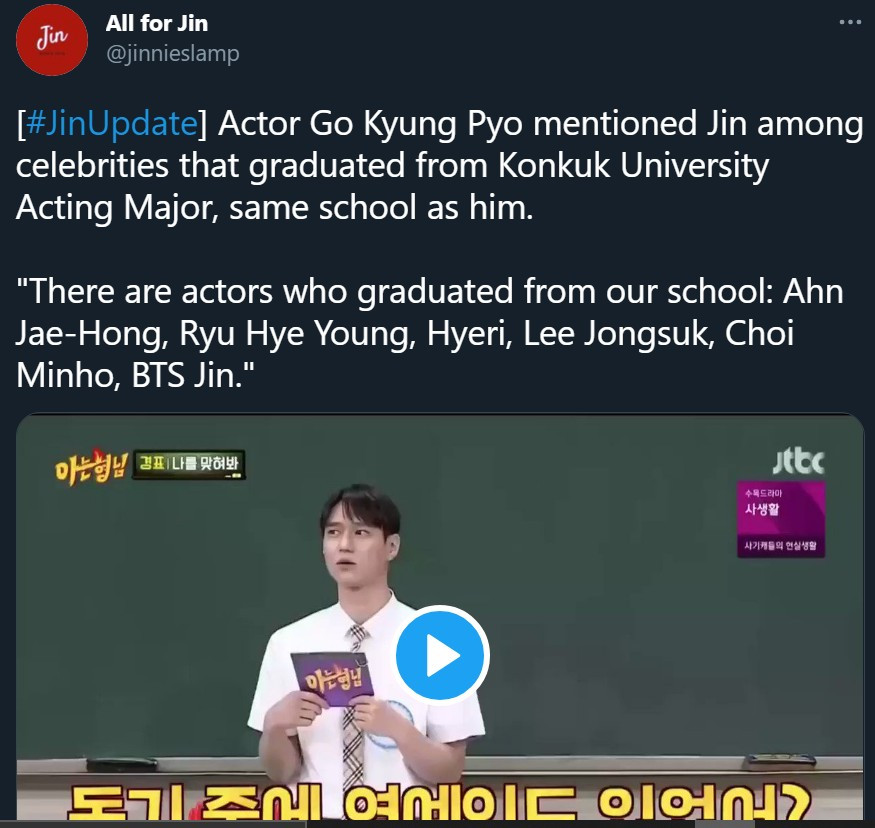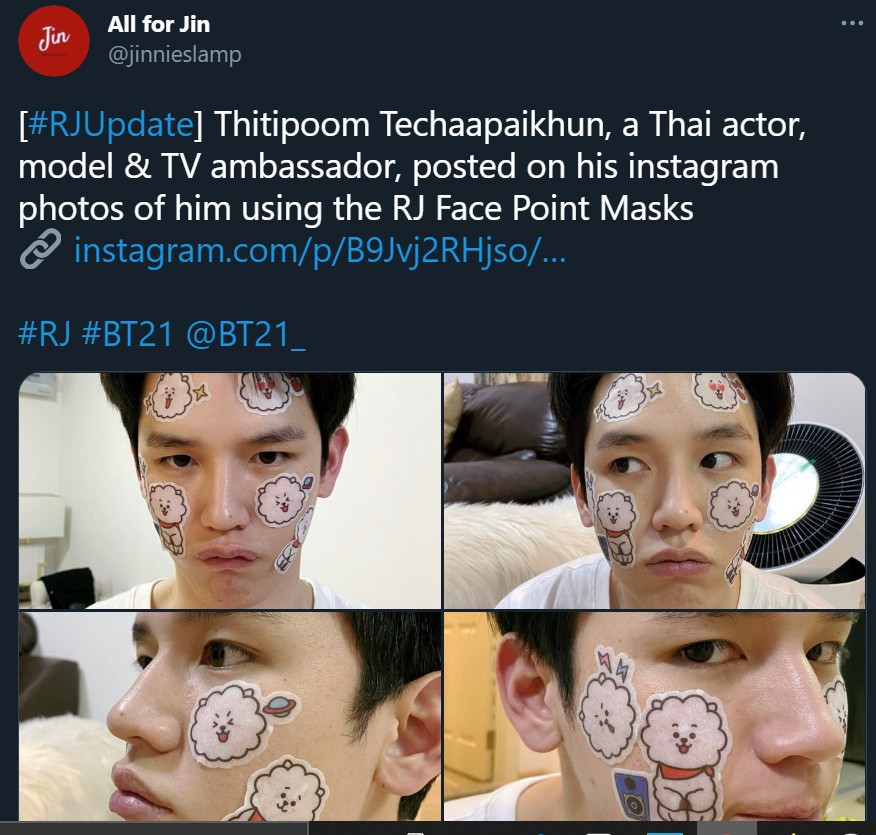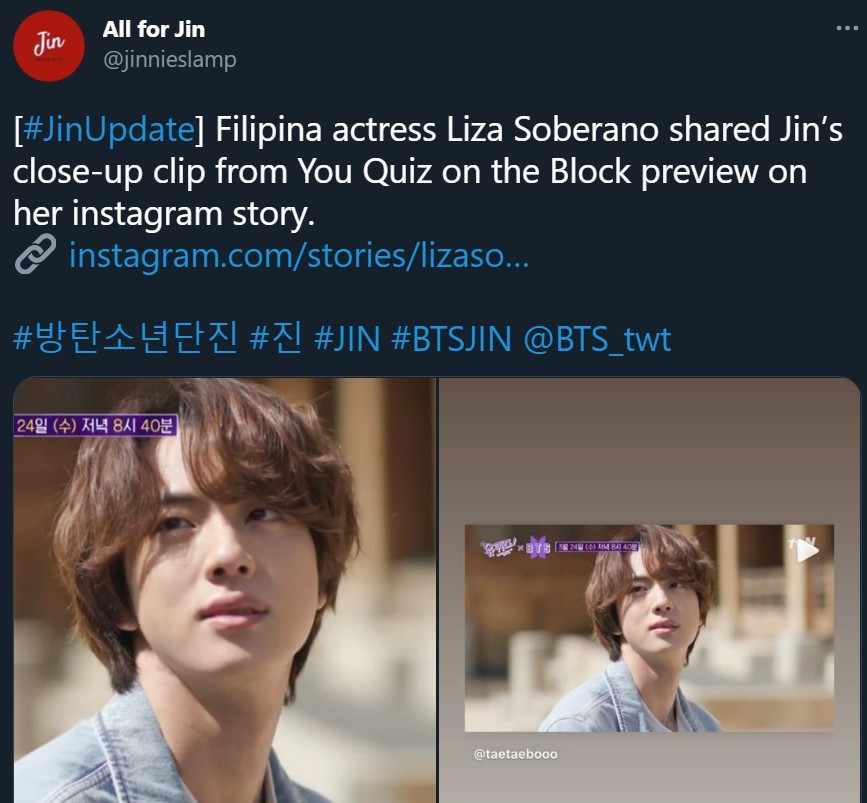 Not a secret, Seokjin is a professional actor with a double major from Konkuk University, he has many connections in the acting industry, and other actors naturally leaning to him. Fans, the general public, actors, and acting agencies are anticipating Actor Jin: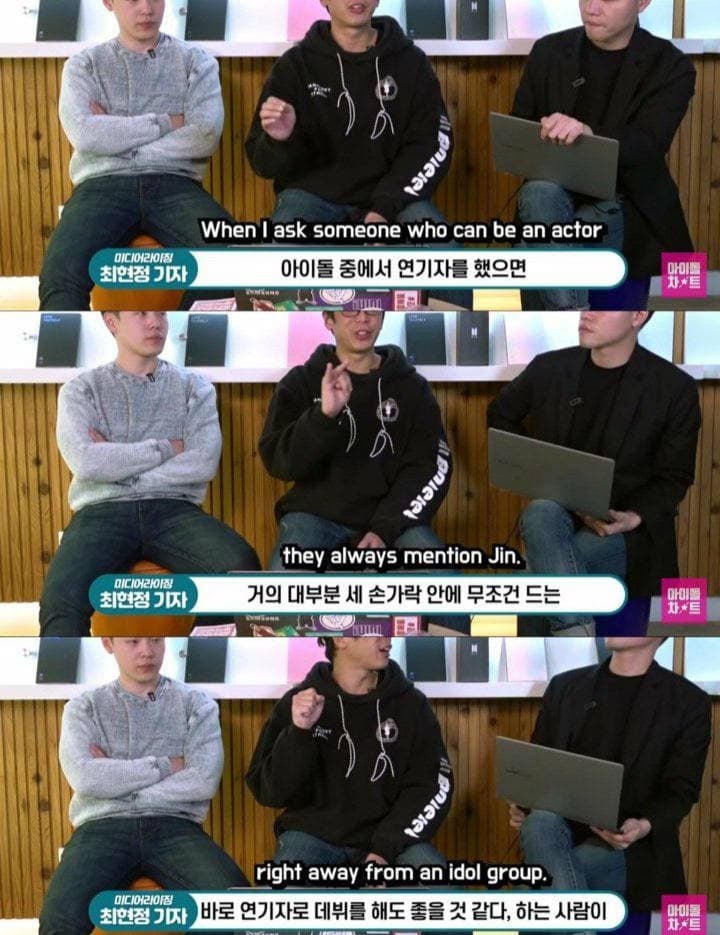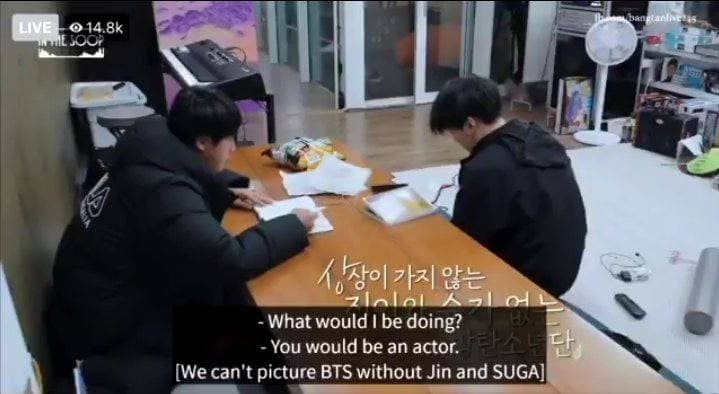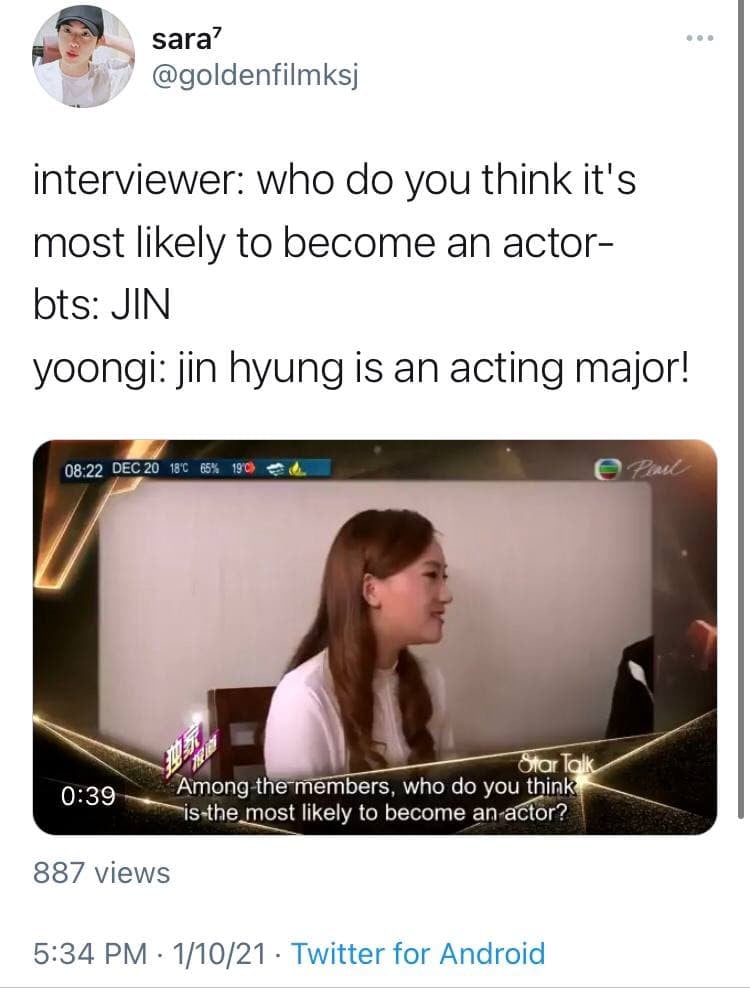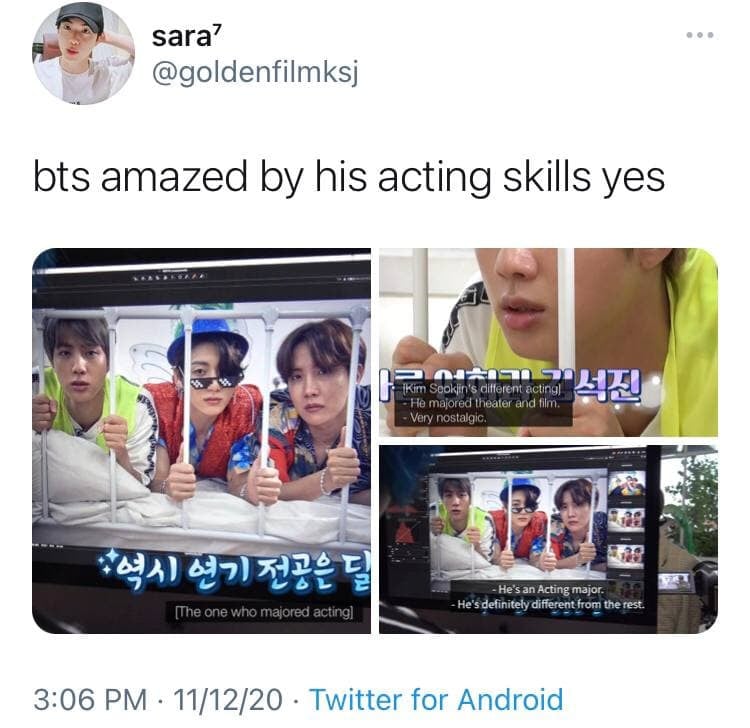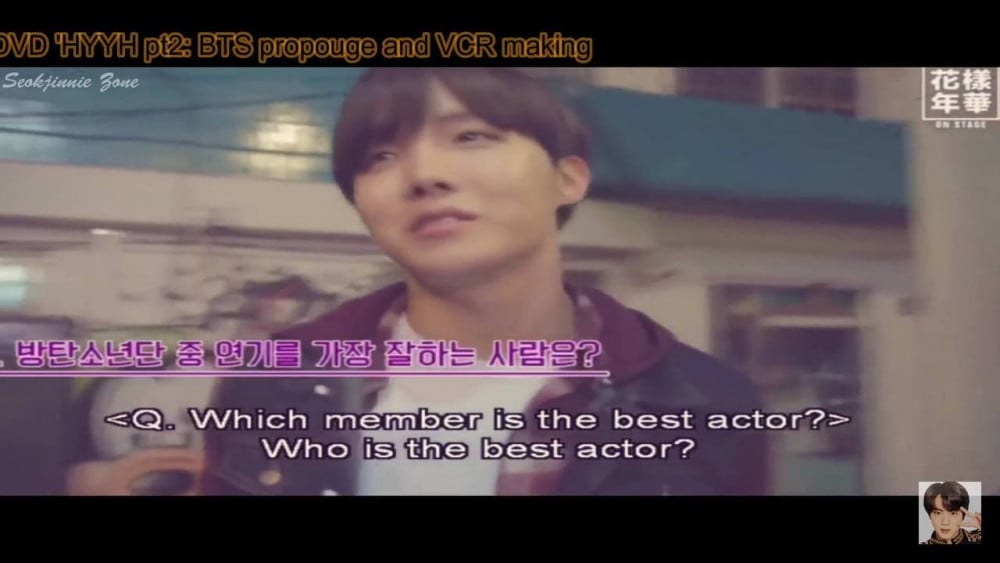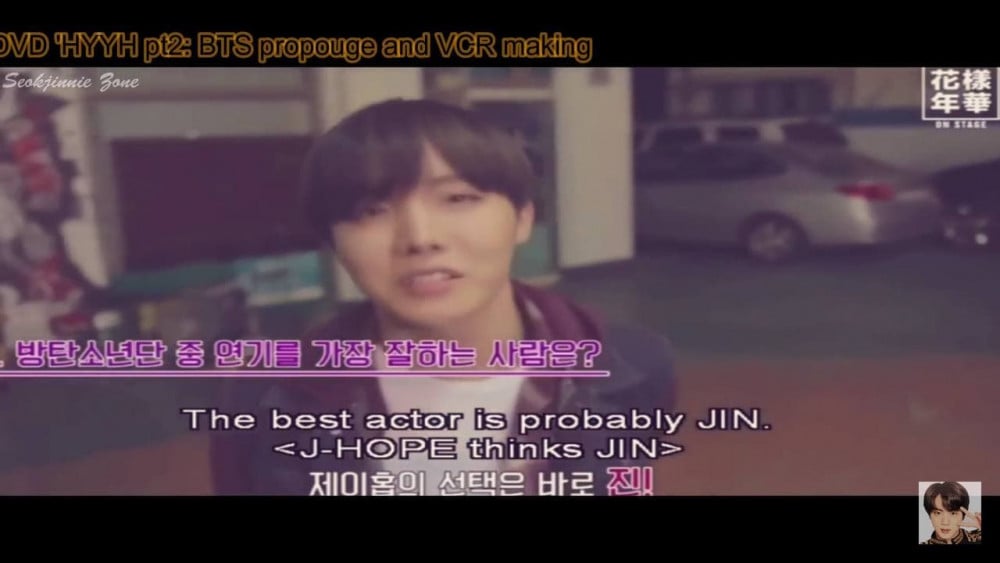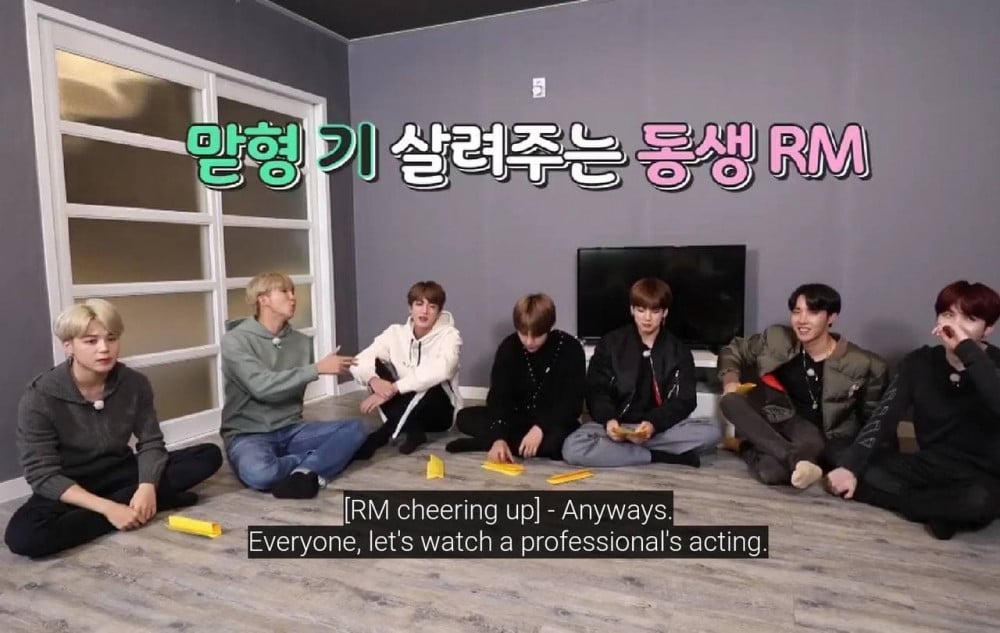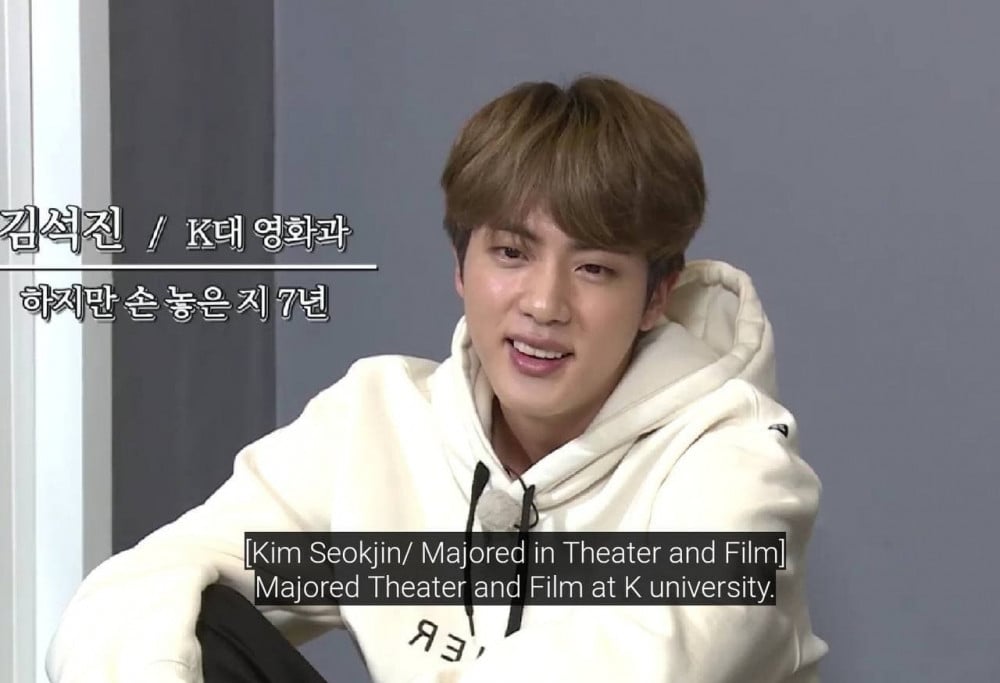 Seokjin became the talk of the campus after passing the acting exams better than anyone. He was already getting small roles in music videos and movie offers before BTS debuted. ACTOR JIN trends worldwide very frequently, and Seokjin gets noticed for his acting without debuting. The shows starring him get the highest views rate. The general public knows him as a genius actor. Currently, he is the most demanded idol to act in the industry.