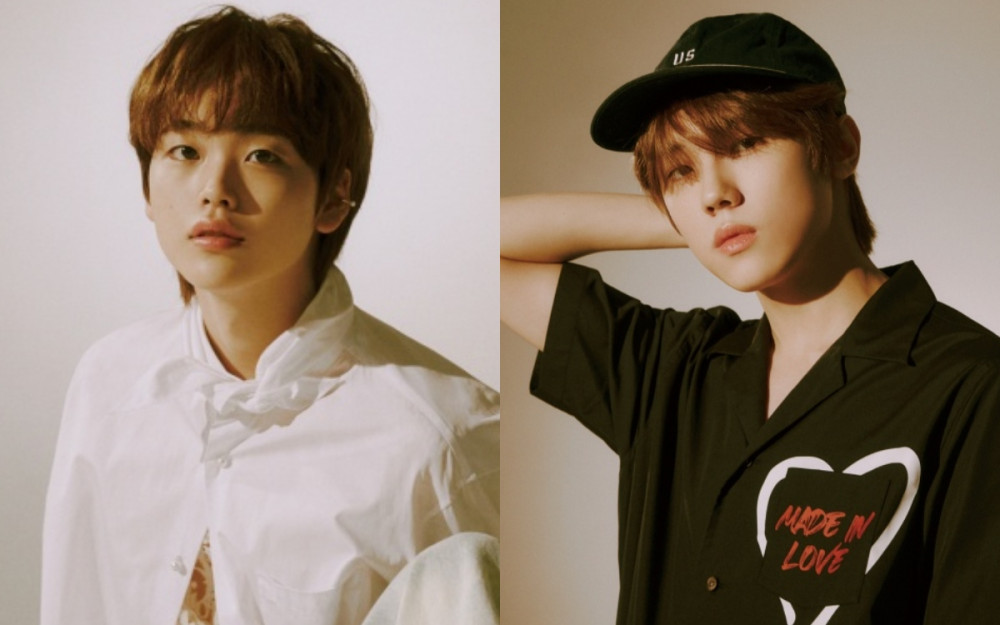 CRAVITY's Hyeongjun and Seongmin are the stars of their own unit editorial!
On April 26 KST, fashion magazine 'Marie Claire Korea' unveiled official photos from the members' feature in their upcoming May 2021 issue. In the images, Hyeongjun is wearing a see-through blouse and tiedyed denim pants, while Seongmin wears a sporty baseball cap and uniquely designed top, modeling both unique yet youthful and hip fashion.
In the accompanying interview, the two boys reflect on the year since their debut, with Seongmin saying, "[In the past year], I learned the truth about the other members. I used to think that Hyeongjun was just adorable, but being cute isn't all that he is. I feel like he's a person who has strong leadership skills when we're promoting."
Earlier this year, CRAVITY concluded their 'Hideout' series with their 3rd mini album 'Hideout: Be Our Voice.' When reflecting on how they have personally grown through the 'Hideout' promotions, Seongmin mentioned that he was able to learn a lot of things he originally knew nothing about, adding that he has since gotten used to posing for photoshoots and how to look at the cameras during stage performances. Hyeongjun then added that he has heard that growth is when one looks at they used to be and feel embarrassed, adding, "I'm embarrassed over videos of my old performances and variety show apperances, so I don't watch them. In that way, I feel like I've grown."
Lastly, when sharing what goals they have for CRAVITY moving forward, the two discussed wanting to perform at an award show or be invited to an important event. They also mentioned that they aspire to become a group that looks as cool as they can be in front of an audience.
Meanwhile, CRAVITY is currently appearing in the 3rd season of their self-produced variety program 'Cravity Park.'
Check out the photos from Hyeongjun and Seongmin's shoot below!