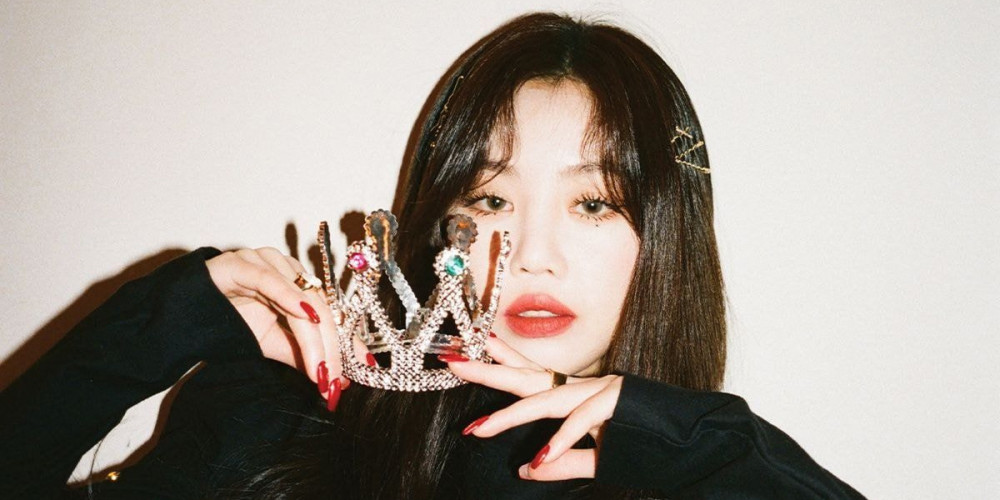 Netizens are questioning the recent, alleged behavior of accuser 'A', known as the older sister of a former classmate who attended middle school with (G)I-DLE member Soojin.
According to netizens who are keeping up with the developing school bullying allegation situation involving Soojin, 'A' was seen dancing to (G)I-DLE's "DUMDi DUMDi" on an Instagram Live broadcast, some time during a hangout with a friend.
It's unclear whether or not this live broadcast in question took place before or after a separate live broadcast which 'A' held earlier this week, during which 'A' talked about what happened during her meeting with Cube Entertainment representatives and Soojin herself.
Soon after the meeting with Soojin and Cube reps, 'A' went live on Instagram and stated that Soojin "claimed she does not remember" the accusations raised against her. 'A' also pointed out that Soojin said this with a "dispirited tone", and also told 'A', "It is difficult when I am being asked to apologize for things I did not do."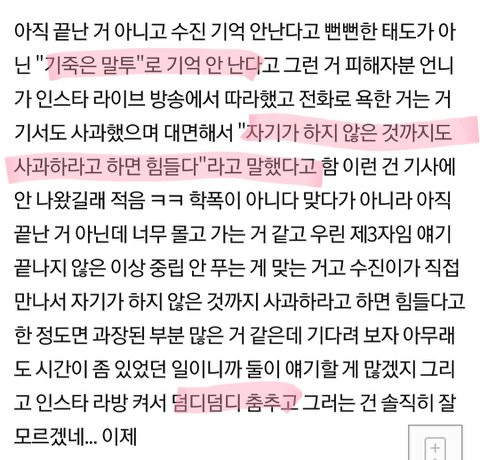 Now, according to recent online community users, 'A' went live during an outing with her friend and danced to "DUMDi DUMDi", including during the "whistling" part when Soojin is typically at the center.
While most netizens are still divided on the developing situation, some netizens are raising criticism against accuser 'A's behavior, which they believe is meant to outrightly "make fun of (G)I-DLE". Some say that it is inappropriate for 'A' to defame (G)I-DLE altogether, when her accusations are specifically directed toward Soojin.
Some comments included:
"I hope people can at least see from this that the 'unnie' accuser is also crossing lines she shouldn't cross, especially more so recently. She should know that her actions impact her position in this situation."
"She's claiming that her family was hurt by Soojin, but she's dancing to Soojin's part? That's so clearly derogatory, no matter how you look at it."
"(G)I-DLE fans have a right to be offended by this. They are not just Soojin's fans, they are fans of other members too and the entire group is not at fault."
"These kinds of unnecessary side topics will distract everyone from the grave issue of school bullying. I think it's best if she maintains seriousness at least until this case is resolved."
"I can't see any reason why she would go live on Instagram, turn on a (G)I-DLE song, and dance to it other than to make fun and belittle."
"Didn't she say that her sister has a hard time every time she hears a (G)I-DLE song?"
"It's not that accusers have to 'act' like 'model victims', but to openly mock and belittle the other side is definitely crossing the line. It makes you question their aim for exposing the scandal in the first place."
What do you think of the situation?