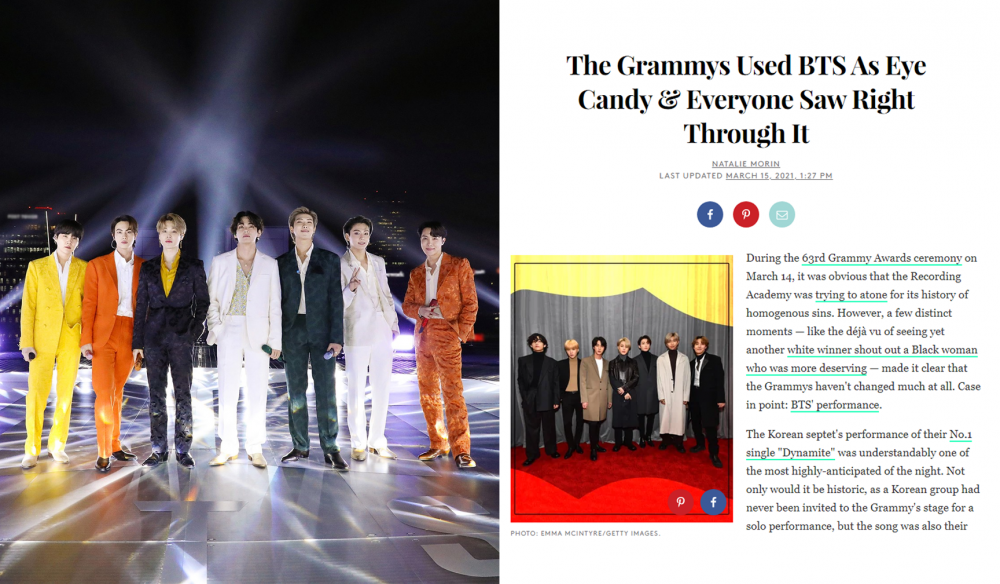 BTS made history as the first-ever Korean artist not only to perform at the ceremony but to be nominated for an award - Best Pop Duo/Group Performance. During the live broadcast of the '63rd Grammy Awards,' which aired live via CBS and through Mnet in Korea, the K-Pop act adorned the stage with their perfect performance.

Unfortunately, BTS lost the award to Lady Gaga and Ariana Grande's "Rain on Me." Despite not receiving an award at the Grammy Awards, many Koreans are proud that BTS was able to perform and become nominated in one of the most renowned music award show in the United States.
Still, many netizens couldn't be disappointed that the Grammys once again made it clear that nothing had changed. According to a Refinery29 article, 'The Grammys Used BTS As Eye Candy & Everyone Saw Right Through It,' the Grammys not only kept teasing BTS' performance for three and a half hours of the air time but were used as free promotion for the Award show.
The article criticized that, "It was an understandably frustrating situation because unfortunately, this isn't the first time that BTS and their fans have been used to draw eyeballs." The writer elaborated, " The majority of the times that BTS have been invited to American award shows, they've often been excluded from the main creative awards, and siloed into separate categories from their Western peers. It's also commonplace that brands will attempt to ingratiate themselves with K-pop fandoms by engaging with them on Twitter in a blatant play to grow their followings."

In short, the Grammys only used BTS for the massive viewership from their fandom, the ARMY. This article was translated into Korean and shared on social media as well as an online community where many Korean netizens gathered to agree.
Korean netizens commented, "Everyone knew this, I was just upset they kept having us wait until the end," "They kept pushing back the performance, or just kept teasing fans. And then they cut the performance short," "I totally agree with this article," "I feel like crying after reading this article," "Fans were saying BTS was used as bait. Now I understand what they mean," "yeah, their performance was so at the end," and "They should've at least given the group an award."