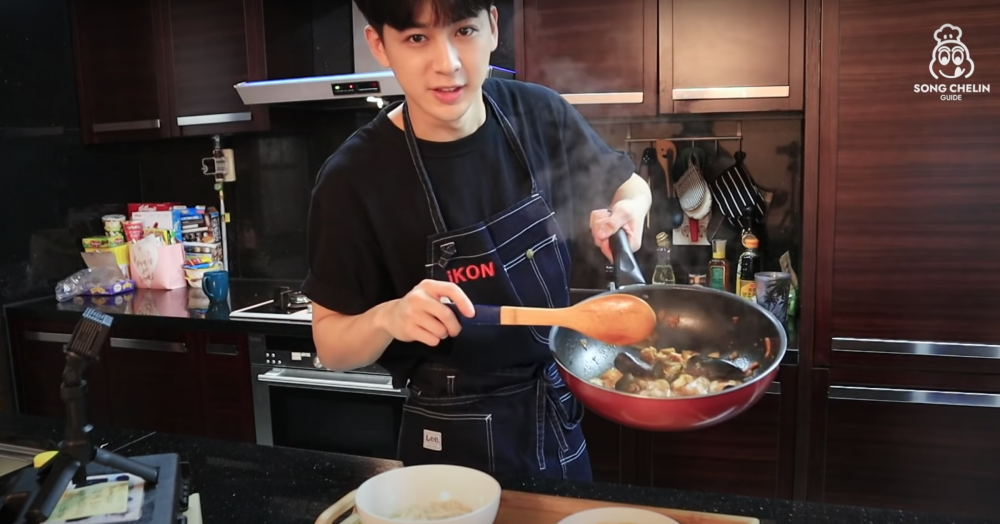 If you're looking for some recipe inspiration, you're in the right place. Many K-Pop idols have shared their unique recipes with fans. From entrees to desserts, here is a collection of some of the many K-Pop idol recipes!
1. GOT7 Mark's "Mark Meal"
It's no surprise that Mark's go-to convenience store food recipe went viral the instant it was released to the public. The easy to recreate yet delicious recipe includes instant spaghetti, instant tteokbokki, sausage (also known as hot bar), and string cheese!
2. ASTRO Jin Jin's Banana Coffee
Banana and coffee may feel like an unusual pairing, but according to ASTRO's Jin Jin, the two go perfectly together. By mixing Korean banana milk with instant coffee, you'll have the perfect sweet treat!
3. Apink Bomi and Namjoo's Stir-Fried Spicy Pork Wrap Pizza
This unique fusion dish is from a meal prep kit that Apink's Namjoo created. Even without the kit, however, you can recreate this flavorful dish!
4. iKON Yunhyeong's Jjamppong
iKON's Yunhyeong frequently shares various recipes with fans on his YouTube Channel "SONGCHELIN GUIDE." One of the dishes that he has cooked is jjamppong, a spicy Korean seafood noodle soup. While this recipe is a bit more challenging, it will definitely be worth the extra time and effort!
5. NCT DREAM Chenle's Ramen
Another noodle dish to try this weekend is the ramen recipe NCT Dream's Chenle shared with fans. While ramen is delicious on its own, following Chenle's recipe will help add a little something extra to your meal.
6. IZ*ONE Wonyoung's Chocotang
If you have a sweet tooth, this recipe is perfect for you. It's quite easy to make and is filled with delicious chocolate snacks that will provide you an energy boost.