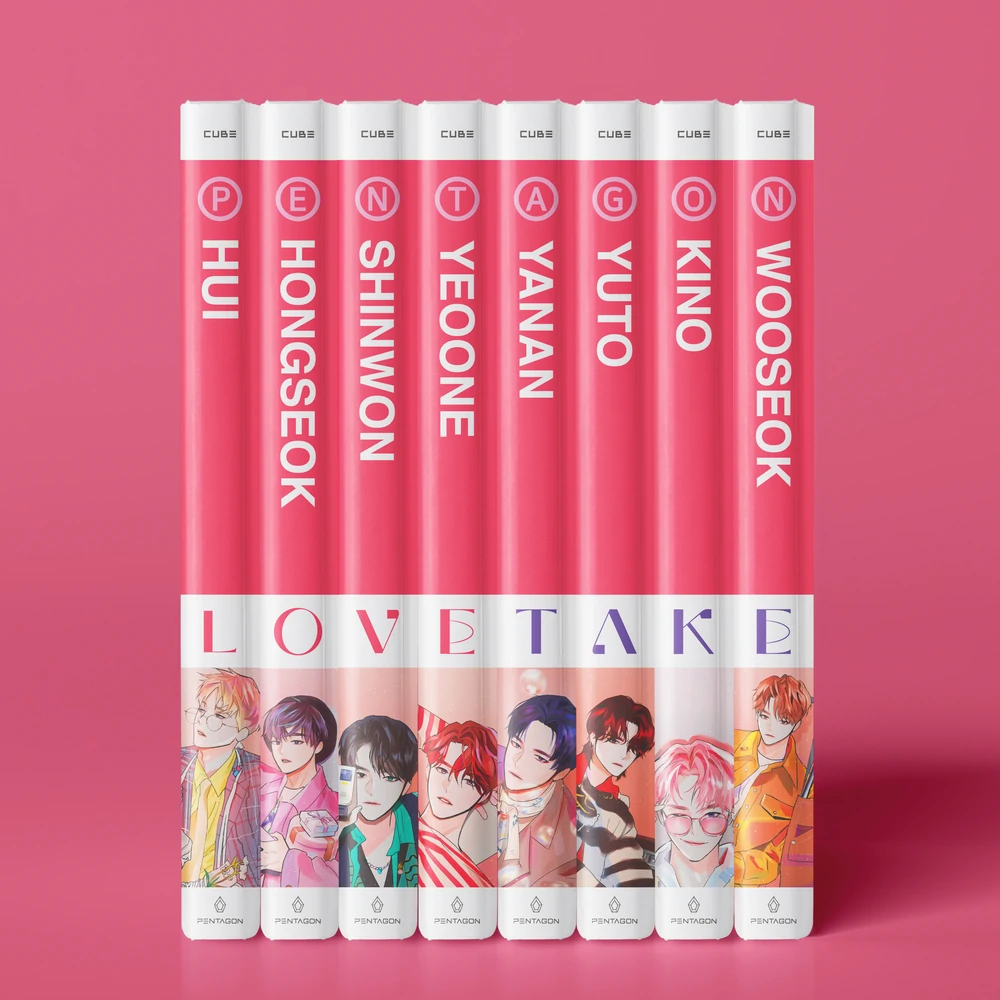 [This review reflects the opinions of the author and not necessarily those of allkpop.]
Track List:
1. 10s and
2. DO or NOT
3. 1+1
4. Baby, I Love You
5. That's Me
6. Sing-a-song
7. Boy in time - HUI Solo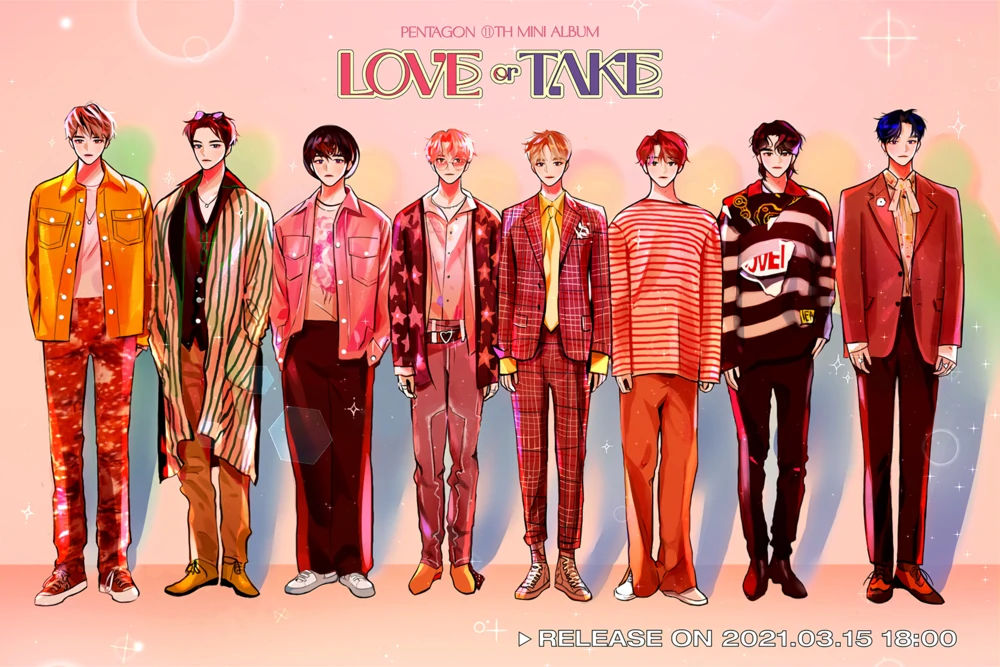 Despite various lineup changes, PENTAGON has persevered through it all to return once again with their newest album, LOVE or TAKE. This album marks the group's 11th mini album and features 6 new songs in addition to a solo from member, HUI, who has taken leave to complete his enlistment. LOVE or TAKE begins with "10s and" a house track that serves as an introduction for the tracks to come. The song is high-energy and melodic without being over the top.
The group's chosen title is "DO or NOT," a track whose title goes hand-in-hand with the mini album's title. With an infectious whistle and do-wop-inspired intro, this song offers an unfiltered shot of happiness with the upbeat turn it takes after the intro. "DO or NOT" is powerfully-fun and exciting and has a unique ability to evoke both nostalgia and modernity. This title shot to Number 1 on Genie upon release for a good reason, and I highly recommend it to those looking for something a bit different in the K-Pop scene. Rather than opting for computer-generated instrumentals, the group opts for a more classic sound and utilizes a band for its backing instrumental. I commend PENTAGON for going against the grain and taking a risk with this song. It definitely paid off.
"1+1" brings a bit of R&B flare into the super fresh pop sound of this album. The song is rhythmic, catchy, and resonates in just one listen. I felt myself humming "Run, Run, Run, Run, Run" without even finishing my first listen- a great indication that the song was written well. LOVE or TAKE as an album has the uncanny ability to feel like a release you loved in the past but simultaneously offer a blast of serotonin with its upbeat and up-to-date newness. Listening to this album is a bit like when you watch an acne wash commercial, and they splash the water on their face in bliss.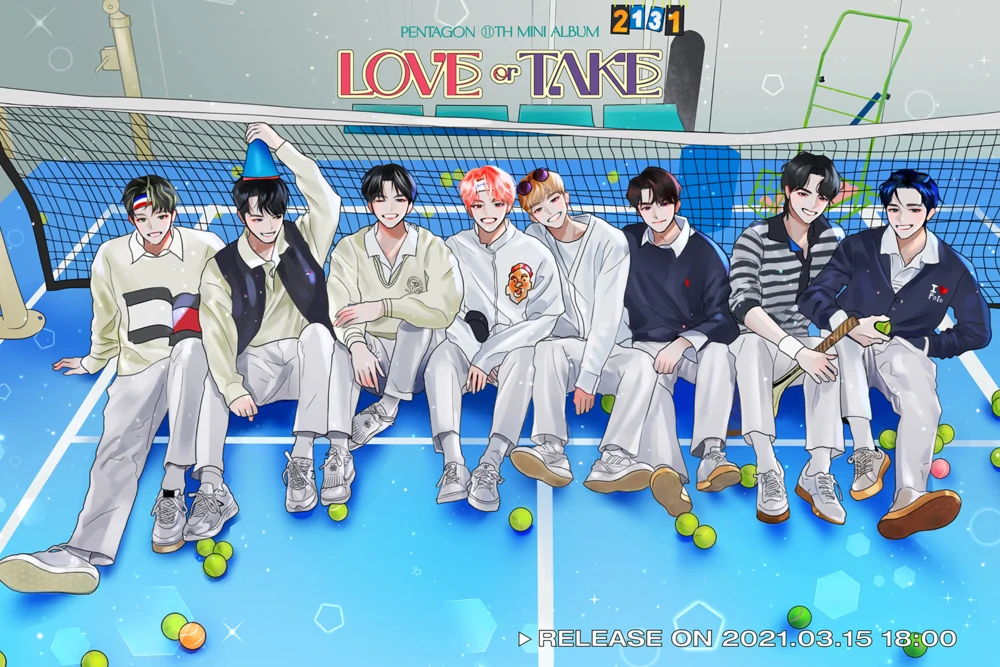 "Baby I Love You" is a song written from the POV of a younger man pining after an older woman. The track has a certain light-hearted airiness and cuteness that's effortless for the group, and they pull off some fantastic harmonies. "Baby I Love You" would have been a great contender for the title track due to its sweet and sugary appeal. PENTAGON then takes us on a blast from the past with "That's Me." A fun and eccentric mix of autotune and 2010s K-Pop campiness make this song an unconventional but hilariously enjoyable track. The final group track on this album is "Sing-a-song," a bouncy pop song that plays with tempos well. Mixed in is a bit of tropical house influence that's not too overdone and well-balanced with the group's vocals.
The album ends in HUI's solo track, "Boy in time," a heartfelt ballad showcasing some of HUI's best vocals to date. In some ways, it serves as a "see you later" as he goes off to serve his enlistment- but somberness aside, the song is so delicately performed with such precision that it's an absolute delight to consume. I'd love to see HUI's vocal waveforms from his studio recordings because I think his vibrato wave would be near perfect (if not perfect). Laced with emotion, this song is a wonderful ending to an insanely refreshing album release.

MV REVIEW
PENTAGON offers a casual and super carefree feel in their MV for "DO or NOT." With a vintage scene starting off the video, it quickly translates to super high energy from the group in a dynamic performance that perfectly highlights the group's charm and personality. The MV employs a fairly simple concept that isn't necessarily original- but has extremely unique charm points like its wistful 80s-inspired prom feel. Not to mention the special dance numbers that differ from the choreography that's typically performed for the song. The MV is simple, but the song is evocative enough to make the entire comeback feel light and enjoyable. "DO or NOT" impressed me as one of the best releases 2021's seen thus far.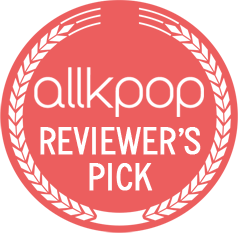 MV SCORE:
MV Relevance…..8
MV Production…..8
MV Concept……..8
MV Score: 8.0
ALBUM SCORE:
Album Production…...10
Album Concept……...9
Tracklisting…………...10
Album Score: 9.67
Overall: 8.83