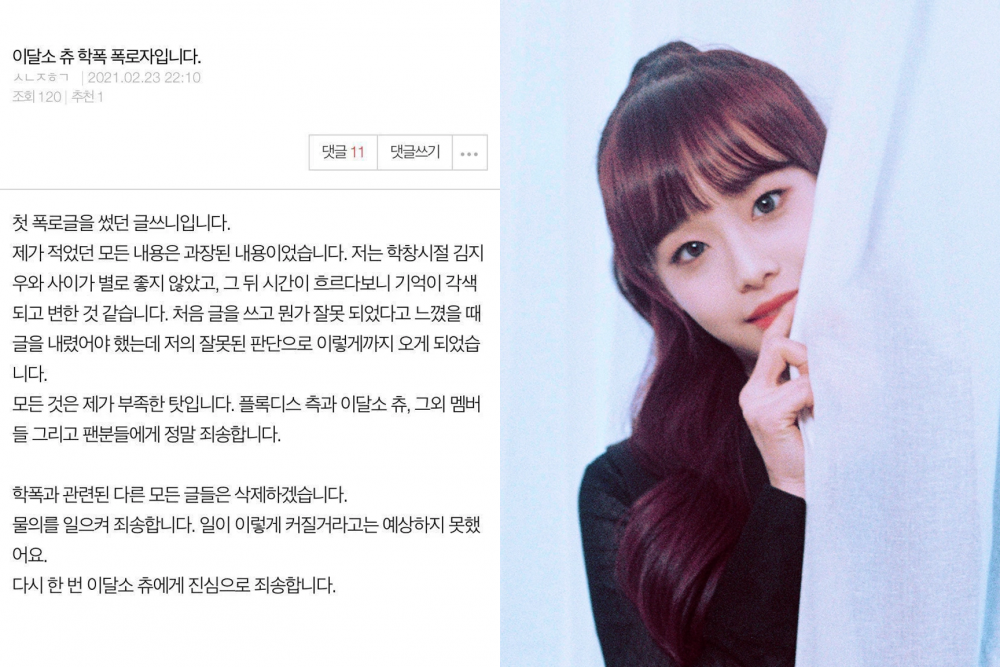 In light of the various accusatory claims identifying Korean celebrities as being school bullies, there has been another allegation proven to be false.
On February 22nd, a netizen created a post on a popular online community forum, claiming that they have been bullied by LOONA's Chuu. In the post, the netizen claimed they were bullied by the idol girl group member back in Junior High school and posted their yearbook as evidence to prove she attended the same school.
After the allegations spread across the web, BlockBerryCreative stepped forward to deny all bullying accusations against LOONA's Chuu. The label released a statement saying, "We looked from many different perspectives to verify the claim. After talking with the artist, we found the initial post included information that is far from true."
Chuu's alleged bullying victim responded to the statement by stating she wants a personal apology from Chuu. She wrote in another post, "I read the official statement from BlockBerry. I expected them to deny all claims to some extent from the beginning. I don't even want her to officially admit and apologize. I just want her to reach out to me and say sorry personally."
Since then, BlockBerryCreative announced they would take legal action against bullying allegations on behalf of LOONA's Chuu. The agency added that they're currently securing evidence to take action against the malicious rumors.

A few hours later, the initial accusor created a post apologizing that she had spread false rumors about the idol group member. The creator of the first accusatory post wrote, "I am the one who wrote the first post. All the things I have written were exaggerated. I did not have a good relationship with Kim Ji Woo, so I think my memories were distorted over time."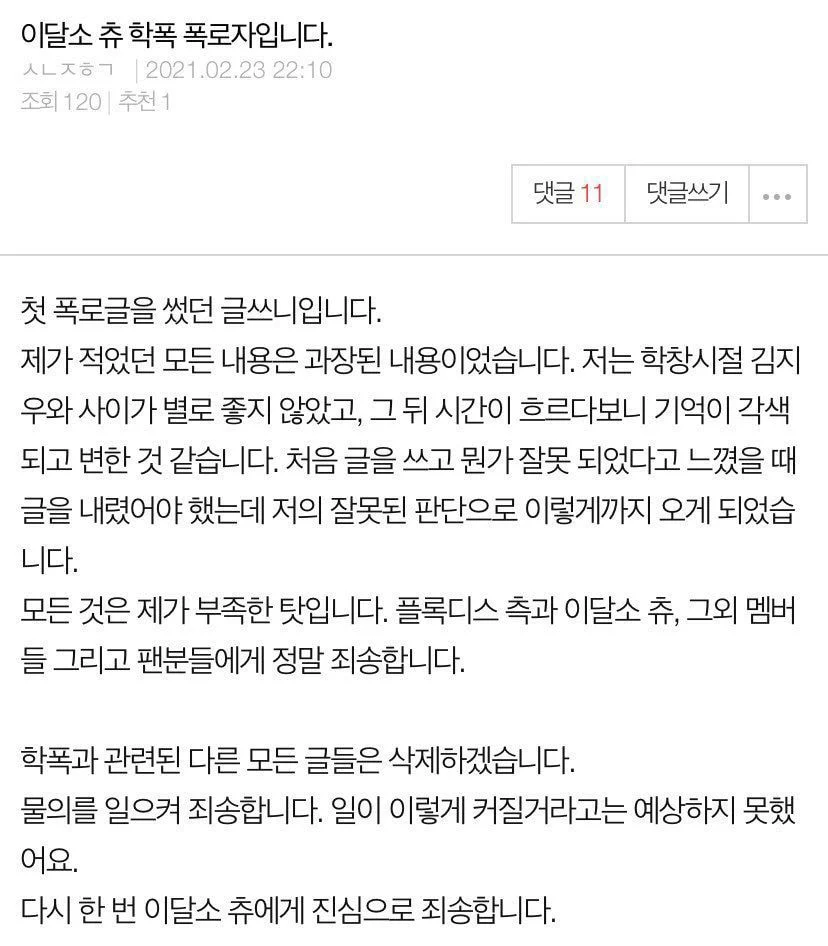 She continued to write, "I should have deleted the post after I realized something was not right, but the situation came this far due to my wrong decisions.
All of these are due to my shortcoming. I am sorry to Block Berry, LOONA's Chuu, the members, and all of the fans.
I will delete all posts about her school bullying. I am sorry I caused such concerns. I did not realize the situation would get this big.
Once again, I sincerely apologize to LOONA's Chuu."

The apology created by the initial writer was shared on various online communities as netizens gathered to criticize the initial accuser. Korean netizens commented, "She only apologized because the agency said they would take legal action," "This person is pathetic," "She almost ruined Chuu's image and made her look like a perpetrator, but now she thinks she's off the hook after apologizing?" "Apologizing doesn't let you off the hook for lying," and "This person proves that all the other accusers after her were all liars."