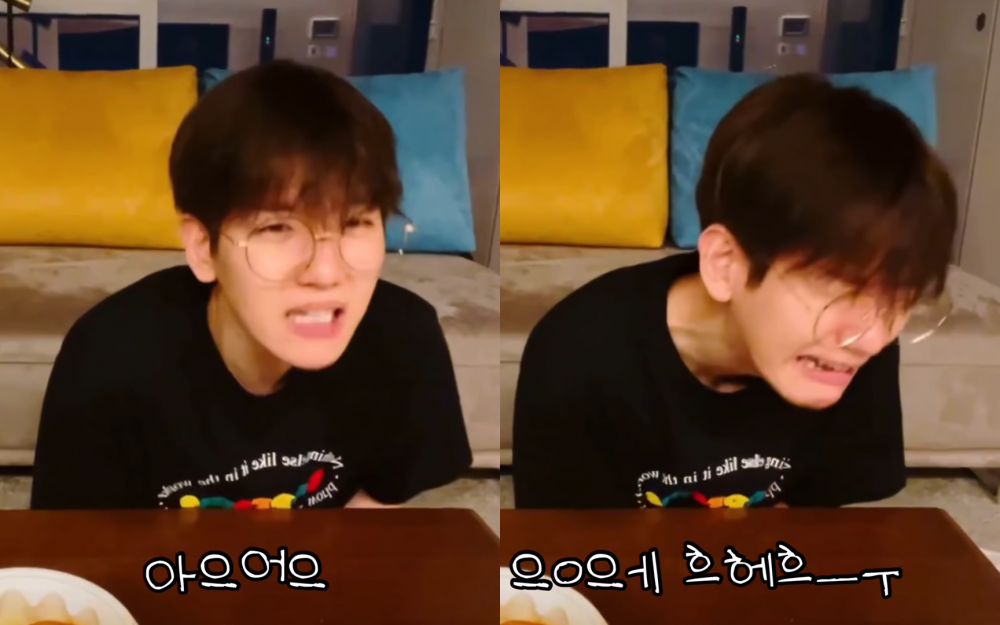 On February 15th, EXO's Baekhyun logged onto V Live to spend some time with his fans while doing a Mukbang broadcast.
During the broadcast, he ordered Tteokbokki that his fans suggested and took the time to connect with his fans and communicate with them. While talking with fans, one fan asked if he liked slushies, to which Baekhyun replied, "Slushie, I like slushies." Then Baekhyun seemed to be deep in thought, reminiscing back to the past. He continued to say, "when I think about slushies...ugh uh ugh ugh...I'm getting goosebumps all of a sudden because...ugh uh uh."
Baekhyun couldn't finish his sentence and continued to make noise as if he was in agony. After finally getting over the "pain," Baekhyun was able to continue with his explanation. Baekhyun said, "It really gives me goosebumps just thinking about it, but the slushie straw has a spoon at the end...ah... And when you're almost done eating the slushie, there's some ice left on the bottom. So you use that straw spoon to scoop...and when the straw scratches the bottom...ahk!... It's the same feeling as when you scratch your nails on the chalkboard."
After being finished with his explanation, Baekhyun suddenly yelled out "Ahk!" and fell back as if he had fainted.


Since the broadcast, many fans have shared Baekhyun's video on various platforms such as Twitter. One fan created an edited video of the slushie story and shared it on the social media platform.

The edited video was a sped-up version of the original, hence, making Baekhyun's voice much higher tone. The netizen wrote in the caption, "Baekhyun (age 30) is talking about slushie and gets goosebumps several times until he finally faints. He's like an elementary school student and is so funny. I'm going crazy." On February 16th, Baekhyun replied to that tweet by saying, "lolololol what's wrong with me lololol."
Many fans loved the story and continued to share their love for the idol group member as they shared various comments about Baekhyun. Korean netizens commented, "This is so cute, he's like a cartoon character," "This is hilarious when he faints," "I think the sound is making this so much cuter," "The sped-up version is so cute," and "I came to watch this again because it's so cute."