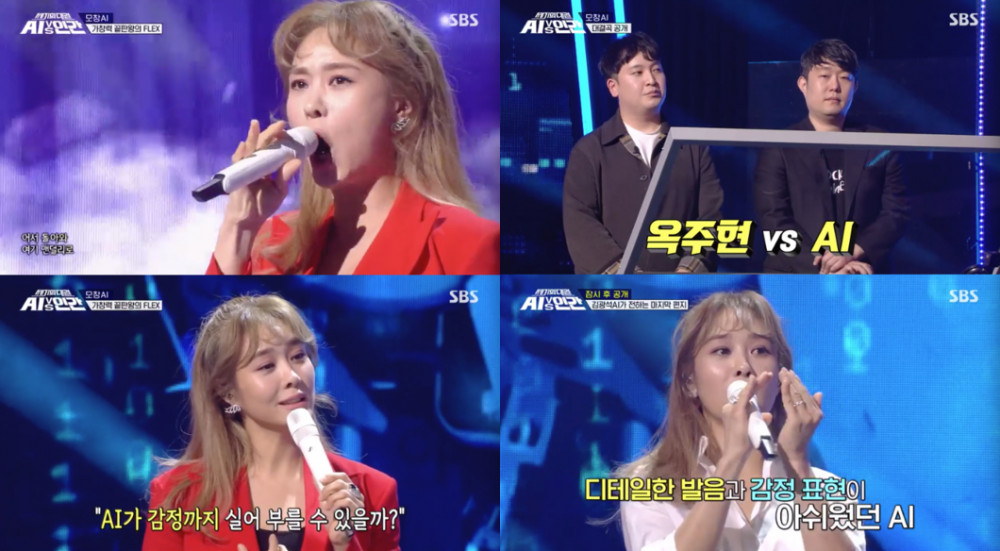 On the first episode of SBS's new year special variety program 'Battle of the Century! AI vs Human' aired on January 29, 1st-generation idol/singer Ock Joo Hyun faced off in a peculiar singing battle, against an AI voice replicator!
During this episode, the AI voice replicator shocked panelists with its ability to mimic the singing voice, style, and even pronunciation habits of various singers, ranging from the late Kim Kwang Seok, to Freddie Mercury, IU, and more. The inventors of the voice replicator stated, "It can copy the voice of any singer, regardless of the language they sing. The AI is capable of replicating breathing patterns and vibrations as well. No matter who the singer is, the AI can replicate the voice as long as there is the basic data."
Against this unique AI voice replicator, 1st-generation idol group FIin.K.L member and singer/musical actress Ock Joo Hyun was given the task of competing in a singing battle. First, the AI replicator collected Ock Joo Hyun's data and gave a sample of the voice it replicated, shocking the panelists and the audiences once again. Afterward, the real Ock Joo Hyun and the AI Ock Joo Hyun both hid behind the stage and sang a duet of Park Hyo Shin's "Wildflower".
The panelists and audiences were asked to choose the voice that resonated with them the most, between singer #1 and singer #2. After hearing the two voices harmonize beautifully, a total of 45 votes went to singer #1, while the remaining 8 votes went to singer #2!
Ultimately, it turned out that the real Ock Joo Hyun was the voice behind singer #1, claiming a victory for humans. Seeing the results, the AI inventors remarked, "There is so much detail in her style and how she delivers emotion. There is a certain limit to how much we can replicate that. After hearing Ock Joo Hyun's song, we realized once again that humans can sing so beautifully, and we still have a long ways to go."

You can watch the interesting singing battle between an AI voice replicator and a veteran singer, below!