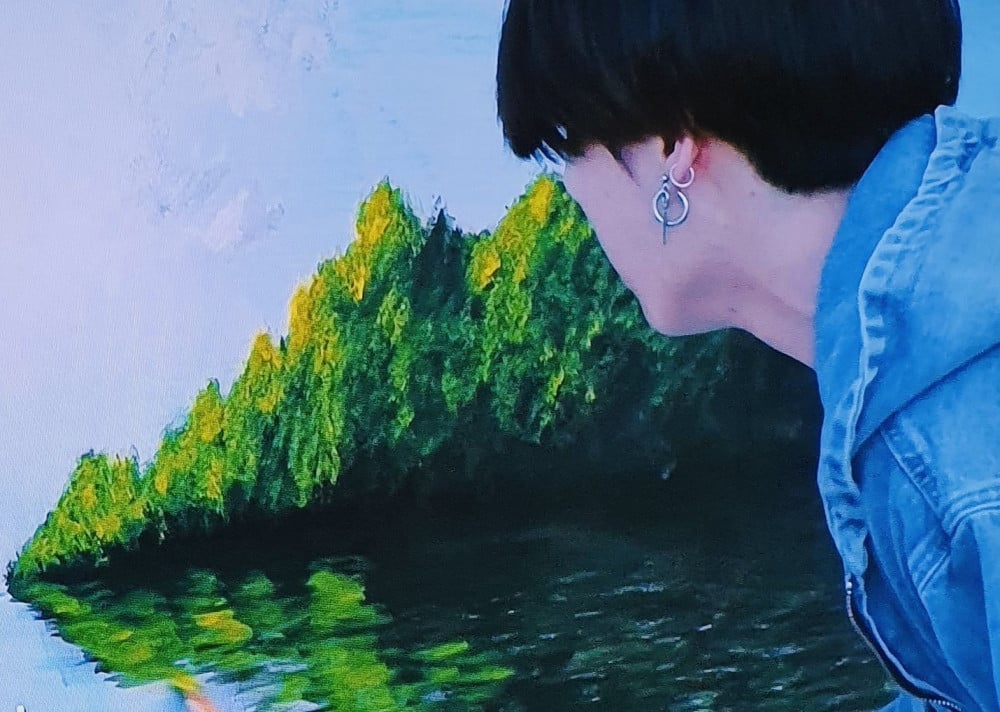 In the recent "In The SOOP" episode which was aired on JTBCand Weverse, BTS' Jungkook caught viewers' attention again, this time with his breathtakingly beautiful painting. Jungkook is always known to be good at everything, hence the title "Golden Maknae". His talent in arts has been highlighted many times before, but still managed to impress the fans every single time he did something new. In this episode, Jungkook was painting a scenery of nature. It only took him a glance or two at the beautiful hills, skies and lake, before he started working on a masterpiece on his canvas.
While Jungkook was working on his painting, BTS members went to check him out and their reaction was priceless. J-hope exclaimed "What in the world are you?", flabbergasted by the jaw-dropping outcome of Jungkook's talent in painting. RM called the latter as "Bob Ahjussi", implying that Jungkook is as talented as Bob Ross the famous American painter.
K-media even selected the scene where BTS members were stunned by Jungkook's painting as the "critical moment" of yesterday's "In The SOOP".
Fans worldwide also didn't miss to rave about Jungkook's beautiful painting. Countless posts and commentaries on various social media platforms such as Twitter, Weibo and Korean online communities can be seen, all singing praises to the talented "Golden Maknae". "田柾国的画" which means "Jungkook's painting" also trended on Weibo Hot Search in China. Jungkook's Google searches reached multiple peaks after the episode, with related query "Jungkook painting" experienced a significant rise of +1050% in the searches. Below are some of the comments and praises from netizens:
"Had never properly learned drawing (painting)?? this is too amazing"
"If Jungkook decided to start a new career path, you're all gonna d*e"
"The ultimate ace, his title is well-deserved"
A fan also showed Jungkook's masterpiece to her friend who has Master of Fine Arts (MFA) from Yale University. The friend was hugely impressed by Jungkook's self-interpretation of Bob Ross's method of painting and added that she felt like Jungkook was already an experienced painter, based on his technique and skills. She couldn't believe that Jungkook self-taught himself to be this good, just by watching painting videos by Bob Ross.
Jungkook has always been known as a quick-learner, he picks things up very quickly and the fact that talent in art already runs deep in his blood would not have surprised us how he managed to paint such a masterpiece. The Jeon family is known as having innate talent in art, Jungkook's dad once drew a portrait of Jungkook which received a lot of praises and his older brother also had produced multiple graphic arts illustrations of Jungkook and BTS.
Seriously, what can't Jungkook do? He is good in singing, dancing, producing, composing and writing songs, rapping, cinematography, art and design, sports and e-sports; he is a master of all trades, a true genius.