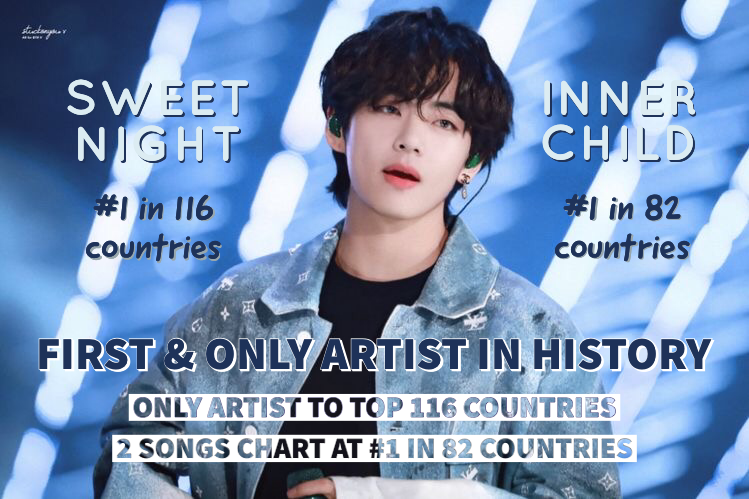 Since the beginning of the year 2020, BTS member V has been on a remarkable record-setting spree.
By surpassing world-famous artists such PSY, Taylor Swift, Adele, and even BTS, V held the title of the soloist with the most #1s (115) on iTunes Top Song Chart. Today, he extended his record to a total of 116 countries, becoming the first and only artist (group and solo) to achieve this milestone. "Sweet Night" is also three countries shy of achieving an all-kill on the worldwide iTunes chart.
In hand in hand with Sweet Night, V's solo track: "Inner Child" from BTS's mega-hit album: "Map of The Soul:7" has also set a remarkable record. As of today, the song has achieved #1 in 82 countries, marking V as the first and only artist to have two solo songs reign over the charts of 82 countries. The record was previously held by PSY for his songs: "Gangnam Style" (86) and "Gentleman" (81).
In addition to the various "First in History" records set by V, both Sweet Night and Inner Child have also received massive love and positive reviews from the critics.
Popular vocal coach Adam Mishan said in his review of Sweet Night: "I can't get over his rich, warm and deep baritone voice. It's incredible and so unique definitely within BTS and the music industry today." He further added: "He is still able to sing with such range…He is an amazing vocalist." Moreover, vocal trainers: Oh Jok-Do and Shim Joongseok chose 'Inner Child' as their favorite track from 'MOTS:7' and said: "All of a sudden he tried something so new, it's a fresh sound but he does so well even in this sound." Honorable writer Lee Jae-lk also stated in his album review that he considers V to have the "most unique voice since Taeyang of Big Bang."
Fans are congratulating the star with sweet messages through hashtags such as: #TaehyungTheStandard #MultiRecordArtistV #SweetNight116개국1위 and #InnerChild82개국1위
Many are also sharing their excitement for V's first mixtape fondly known as "KTH1" which is rumored to release in the latter half of the year.