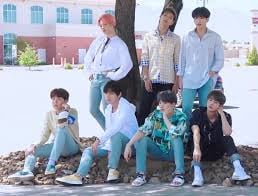 The internet has connected the world for the past decade or so. It's been the source of not only entertainment, but communication as well. Unfortunately, the internet has also been used as a platform for foul comments. And, celebrities like BTS have to face every now and then.
The latest lay down is a Twitter acronym game that pointed towards BTS.
Twitter account Acronym Alternatives is known for their acronym games where they ask the players to suggest new acronym for old ones.
This time they went overboard and targeted BTS. Officially BTS stands for "Bangtan Sonyeondan" or Bulletproof Boy Scouts and Beyond The Scene. Well, Acronym Alternatives asked Twitter users to come up with some alternatives for 'BTS.'
As expected trolls were lurking nearby and started making degrading comments on alternatives for 'BTS' saying stuff like "Boys That are Sh*t and "Bonehead Trend-Chasers in Society," and all. Some xenophobic comments were made towards BTS and the K-Pop genre as well.
Army Defends Their Boys
The BTS fandom Army didn't take long to stand up for their boys and defend them. They joined the game and gave suggestions like "Bloody Talented Singers," Breaking Twitter Singel-handedly," "Buy Their Album," and "Booooi They Sexy."
Part of the Army started to promote BTS's upcoming single "Dynamite," while others spread out the word to other Army's across the globe, giving Acronym Alternatives and trolls a piece of their mind.