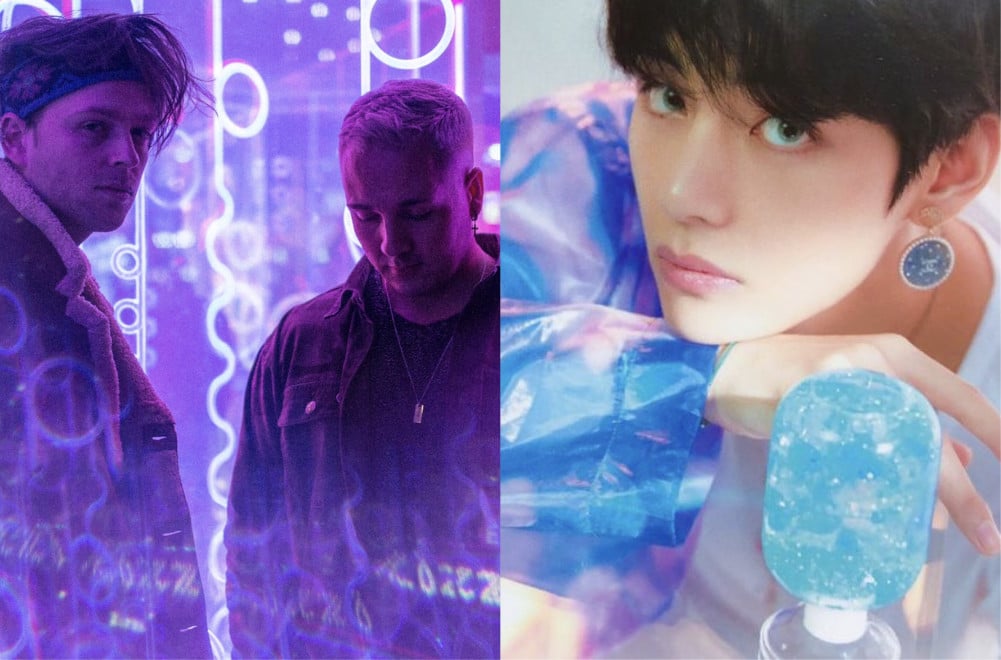 Following the success of their collaboration on the record-shattering album series: Map Of The Soul by the global pop band BTS, the up and coming British Electronic music production duo: ARCADES are on cloud nine.
The duo: Max Graham and Matt Thomson recently sat down for an exclusive interview with BTS Radio UK, sharing some behind the production stories of their collaboration with BTS and the powerful impact the septet has had on their career and personal lives.
ARCADES highlighted their relationship with Big Hit Entertainment, the ARMY, and their recent participation in the production of "Inner Child", the solo song by member V which has become one of the most critically acclaimed songs from the album.
Speaking about how "Inner Child" came into existence, the duo revealed that the track for the song was set before the lyrics. They said: "It started in the same way as usual with us sending out some early track ideas and the guys came back on Inner Child but they had their own vision of how it should sound. We had some back and forth with Pdogg transforming it into what it is now."
They further added that the initial lyrics of the song were different in the demo version and praised V's innate skill and ability to tell a story through his lyrics and vocals. The duo said: "Once the track was in place, Tae (V) and Namjoon (RM) got working on the lyrics as the song obviously came from a very personal place for Tae. He (V) wrote it as a story where he is reflecting on his childhood. He is an incredible story-teller and can convey emotion in his performance in an unbelievable way."
The duo also revealed that since there wasn't any special briefing they didn't know it was a solo when they started working on the song. "We didn't find out it was going to be a Tae solo until we had an early version being sent back with his vocals on it." They said: "There was no mistaking Tae's voice. Love it!"
ARCADES further noted that earlier versions of "Inner Child" had a more personal meaning for them and remarked on how V made the final version even better. "Yes, this song has a huge special place in my heart. It was the last song that we were working on that I got to play Chris and he adored it…." They shared recalling some fond memories. "The final version just got even better! If you are looking for pure heartfelt emotions, then Tae (V) is your boy!"
The duo who had previously described the song as an "anthemic stadium track" also shared how they envision the live performance. "I would imagine "Inner Child" live to be like a journey, starting with Tae's intimate vocals behind that single guitar part and finishing with the entire ARMY all singing along." They added: "Lots of emotions, lots of tears but bringing everyone together with one voice."
Arcades also revealed that they had a little hand in V's latest chart-buster "Sweet Night" and said: "Big Hit asked us if we could recommend any female vocalists and we introduced our friend Matilda Mann." They also shared that they once again didn't know it was a solo track by V until they heard his distinctive voice. "We got her (Matilda) into the studio and recorded her parts without knowing it was for Tae but his voice is unmistakable so as soon as we heard it we knew! They also highly commended V and said: "We fell in love with the song as soon as we heard it. He's a genius."
Since its release "Inner Child" by V has topped iTunes worldwide charts in 20 countries becoming the BTS B-side solo track with the second most #1s on worldwide iTunes. The song has also received positive reviews from global and local music critics for its heartwarming lyrics and for V's rich and powerful vocals. It has been noted as the critic's favorite and the most anticipated solo live performance from the album as well.
Read the full interview here: