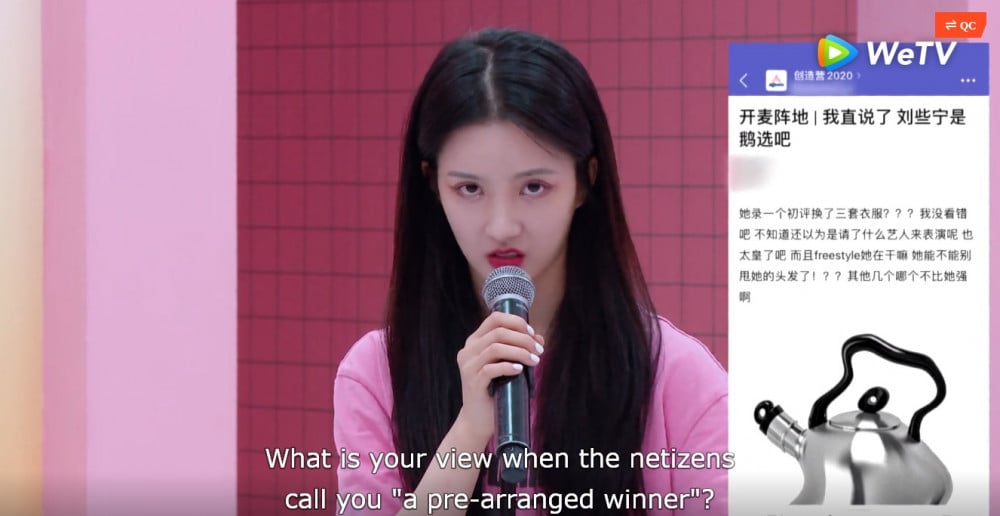 During the sixth episode of "Produce Camp 2020" trainees received questions, and opinions written online by netizens.
The questions to Gugudan's Sally (Liu Xiening) were very mean and disrespectful.

Question:
"What is your view when the netizens call you 'a pre-arranged winner'?"

Sally's answer:
"Firstly...
I would like to thank everyone, it's an honor since all of you think that I'm a pre-arranged winner, it means you have a good taste. However first and foremost I don't have a background. Secondly, I'm not supported by any big shots. Why would they make me 'the pre-arranged winner'?. That means I'm capable right?"

She was also asked by "fans":
"Why have you been performing in an unstable manner during dancing? Do you think you can survive till the end with this kind of performance?"

She responded:
"Why don't you come and perform for us?"

Later on, she asked mentor Tao what he thinks about it, and he said that she only did one mistake during the first performance, and later she was doing great. Former EXO member also suggested that those who write those comments and questions might not be Sally's true fans.

She decided to open up, and continued to answer the question.

"I went overseas for training. I saw on the internet that the netizens didn't acknowledge me. They have been disputing my ability. I have no idea why. During the second stage performance, I choose dancing. Initially, I've planned to go for creativity and vocal. However, I worried that my boss would scold me when I go back. I worried that he might terminate me right away."

Tao revealed that Luhan quietly commented:
"If she had chosen vocal, she might have already left the competition."
Everyone laughed together and Luhan joked that Sally can use his comment, as a real-time comment which could possibly be written by one of the netizens.
In the end, Sally said that she will try to sing and that she will also aim to rap in the next stage.

What do you think about this situation?