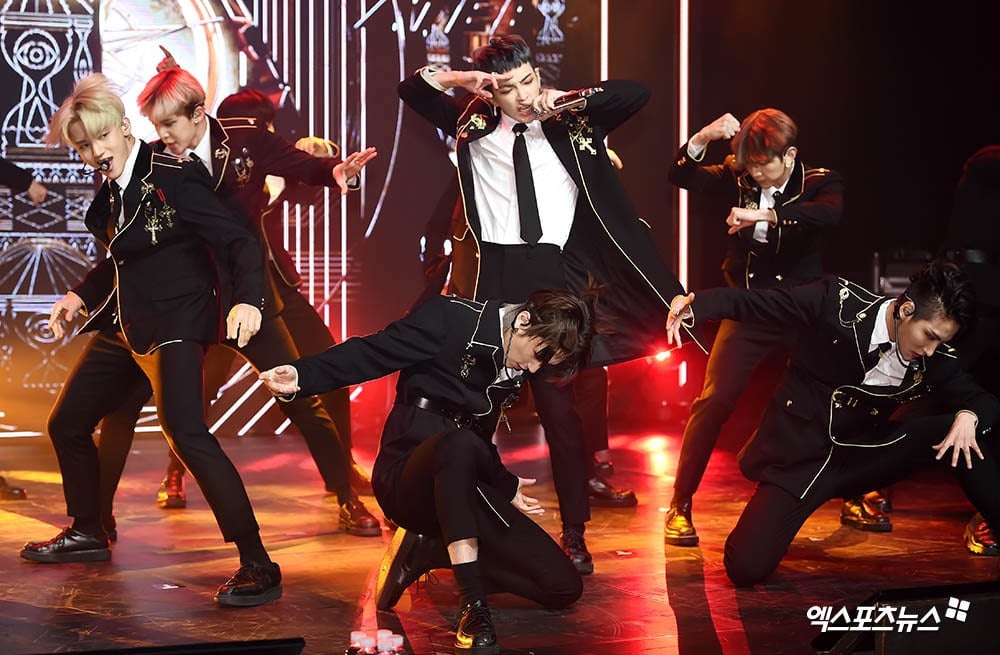 source: Pann
Hello! Sorry for the title
Yesterday, people shared Kingdom's line up and there was ATEEZ among 5 groups (of course it's not certain yet)
I'm an ATINY so I want to introduce ATEEZ
There were so many people who didn't know about ATEEZ
If you don't care or want to know, just go back❤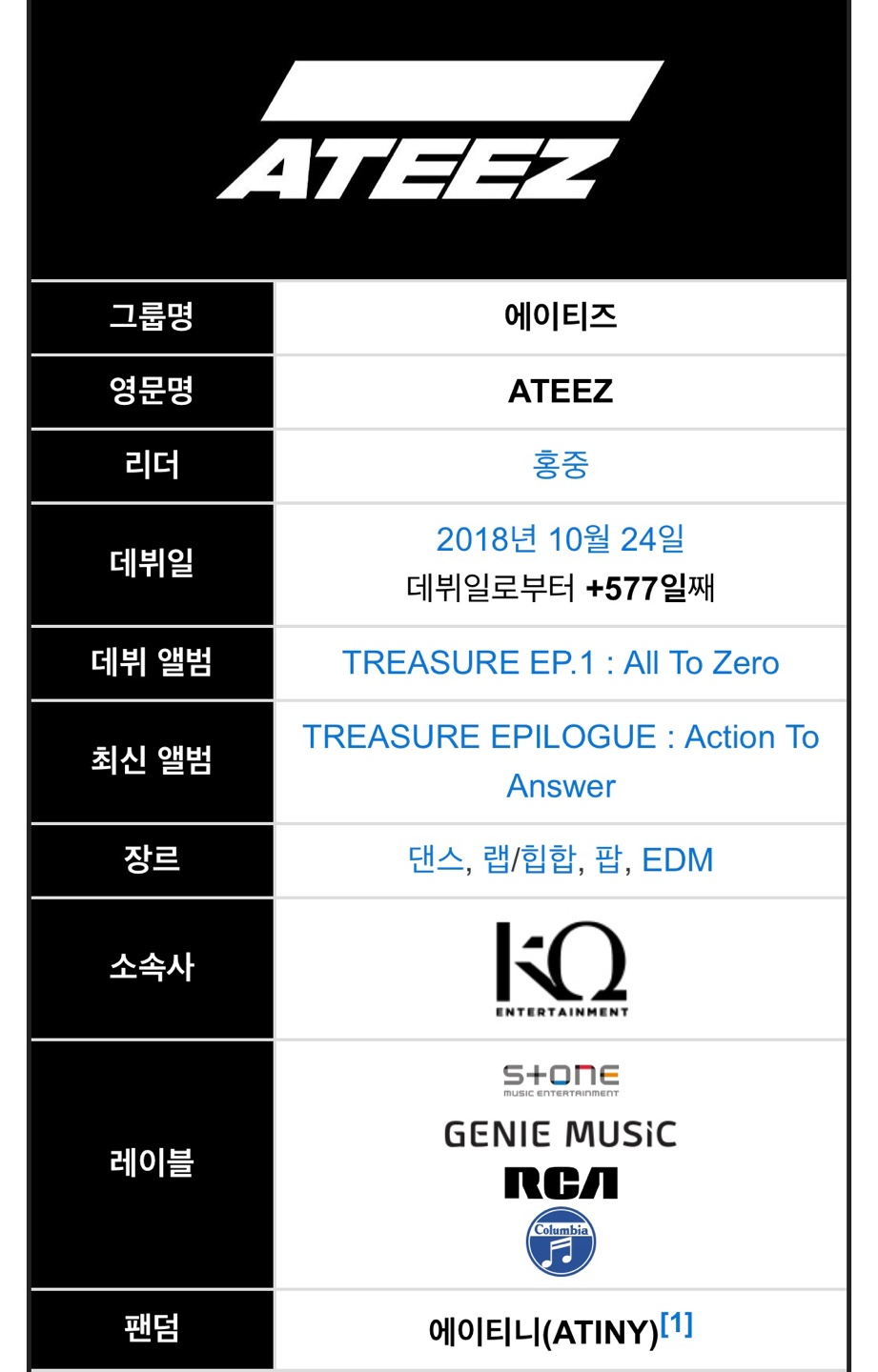 ATEEZ is an 8-member idol group from KQ Entertainment, which debuted in October 2018. Block B came from another company (Stardom Entertainment), so ATEEZ is KQ's first idol.
KQ Entertainment that never raised trainees started accepting trainees after a CD Hongjoong sent to the company.
ATEEZ's leader Hongjoong, who admired Block B at that time, composed a song and sent it to the company. The company noticed it a year later. After that, Hongjoong became KQ Entertainment's first ever trainee and ATEEZ was ready to be set up.
Now I'm going to tell you why a group's name you didn't hear is mentioned among Kingdom line up.(Of course, nothing has been confirmed. I wonder if it's unfair because people keep mentioning it.)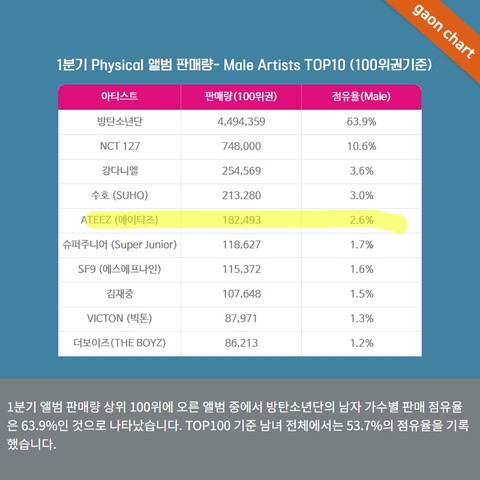 First of all, ATEEZ's first-quarter sales in Korea was about 62,000 but since their overseas fandom is much bigger, their total sales are higher. Of course, compared to the other leading groups with years experience it's not so many but they sell great for a group who's not known in Korea.

Below is an article about ATEEZ being the ambassadors for overseas culture in 2020, and I thought it would be good to see some of ATEEZ's achievements.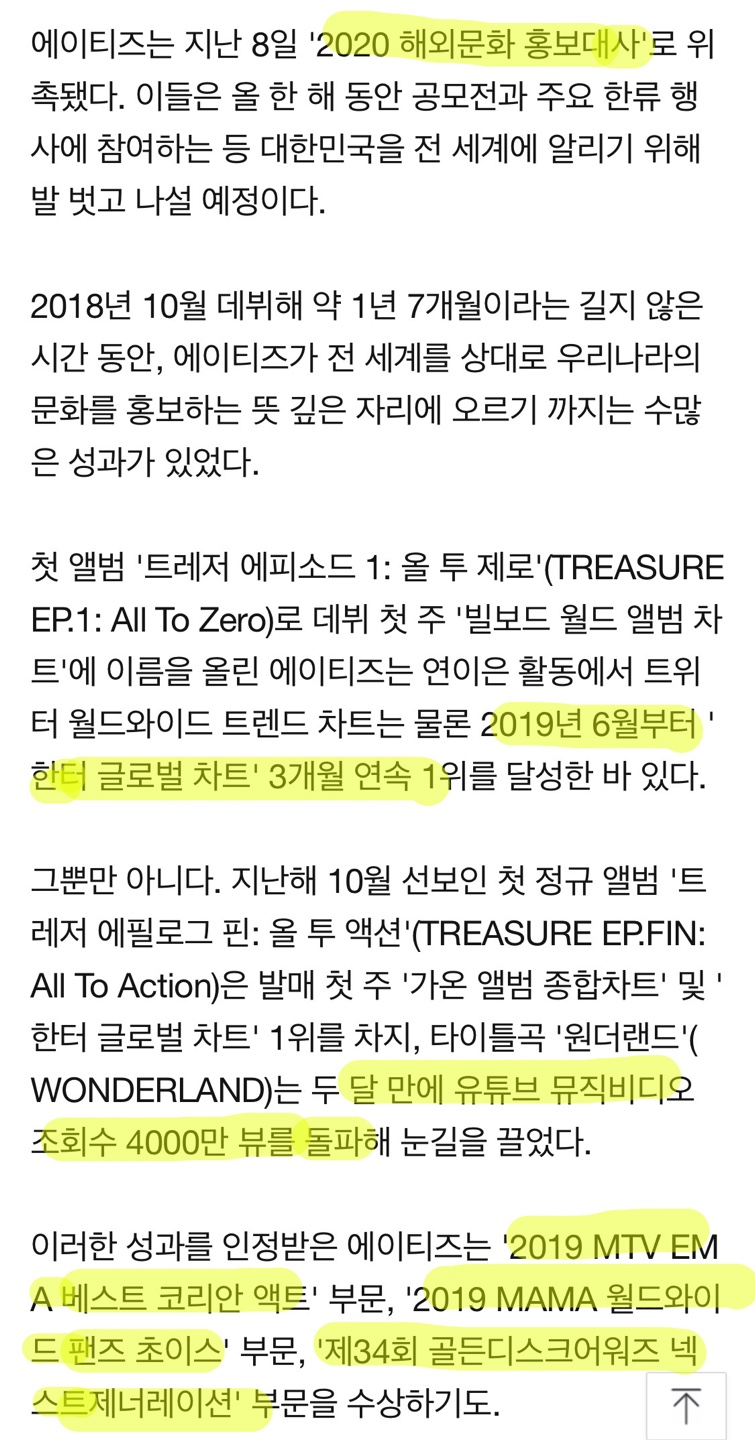 Highlighted sentences:
2020 overseas culture ambassadors
1st place on Hanteo Global Chart for 3 consecutive months, starting from June 2019
Wonderland's MV surpassed 40 million views within first month
Received 2019 MTV EMA Best Korean Act award
Received 2019 MAMA Worldwide Fans' Choice award
Received Next Generation award from 34th Golden Disc Awards
'TREASURE: Action to Answer' album took 2nd spot in Twitter worldwide trends and 1st spot in 10 countries including the US, Brazil and France
Topped 36 countries' iTunes chart
Surpassed 2 million followers on Instagram
Surpassed 1 million followers on Twitter and YouTube
The ATEEZ- The Expedition Tour, which took place 5 months after its debut, sold out all seats in 5 cities in North America and 10 cities in Europe
Starting with Seoul, The ATEEZ World Tour the Fellowship: Map the Treasure sold out seats in , 15 cities around the world, including the US and Europe.
They are the group who attracted more than 100,000 concert spectators in the shortest period
American record company RCA proposed them partnership and they signed partnership contract
As stated in the article, they recieved at big award ceremonies such as MAMA and Golden Disc, and they have been attracting a lot of attention from overseas. They were going to hold arena tour in the US, Europe and Australia but it's postponed due to pandemic.
Who are they and why are they popular overseas? They are not from a big agency. The biggest reason for the interest is their stages.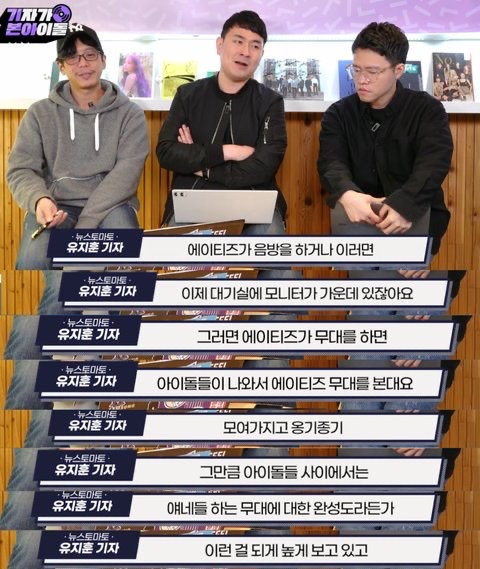 This is what reporters said. If you watch their stage once, you will know why people talk about their stage.
Reporter Yoo Jihoon: "What is interesting about them recently is that when ATEEZ performs at music shows, there's a monitor in the middle of the waiting room right? When ATEEZ performs, other idols came out and went to watch their performance. They all gathered together.
It shows how even among other idols, they think highly and looked up to ATEEZ level of stage completion."

In particular, ATEEZ has a lot of strong concepts that foreign fans welcome. The biggest example is Hala Hala where their faces are covered with a hat and a mask while performing.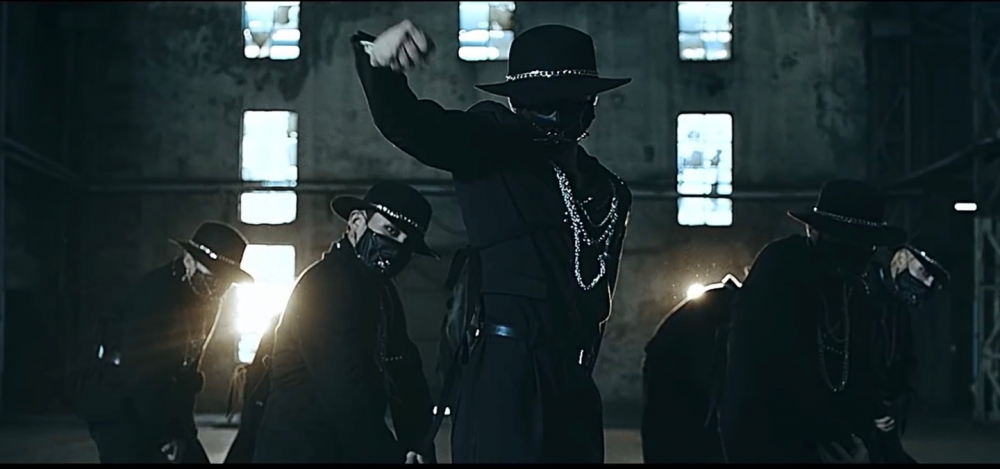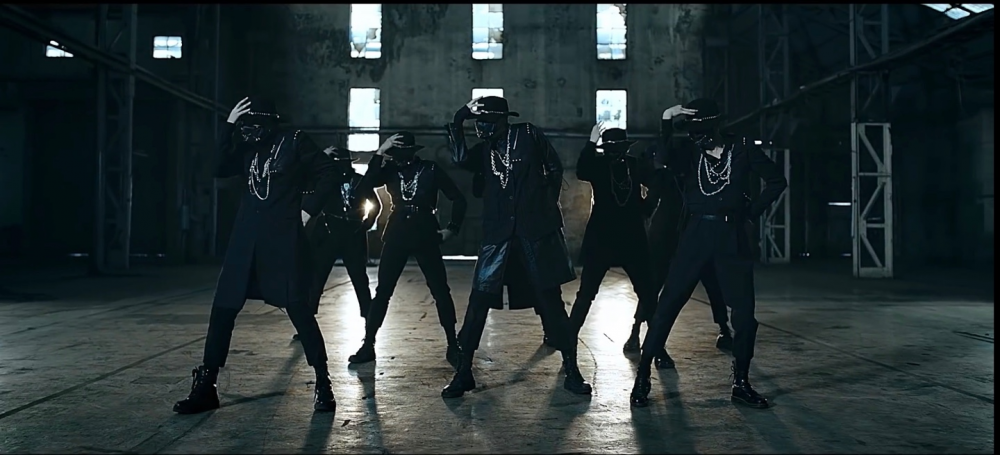 This is why people gave them nicknames such as 'Marateez' and 'Kwamolimteez'! ㅋㅋ It means their stage is hot and addictive.
But, does that mean they always do strong concepts? No, have you listened to 'Wave'? If you don't, I'm sorry then ㅎ.. It's a very famous song of ATEEZ. They are very good at refreshing (Wave❤) and cute (Illusion❤) concepts.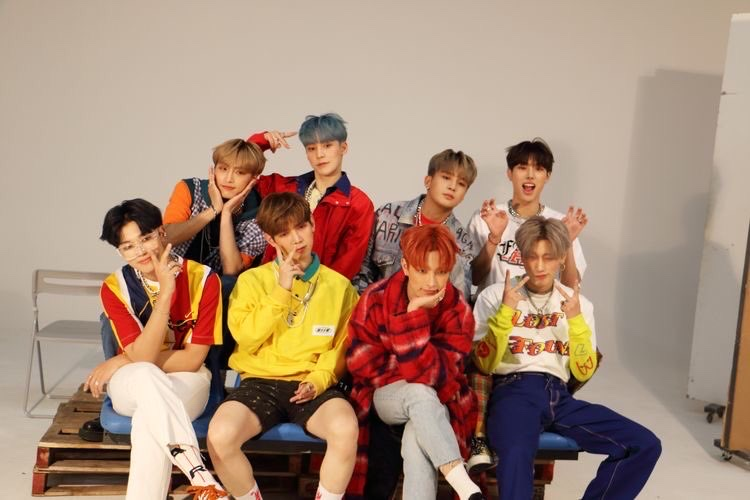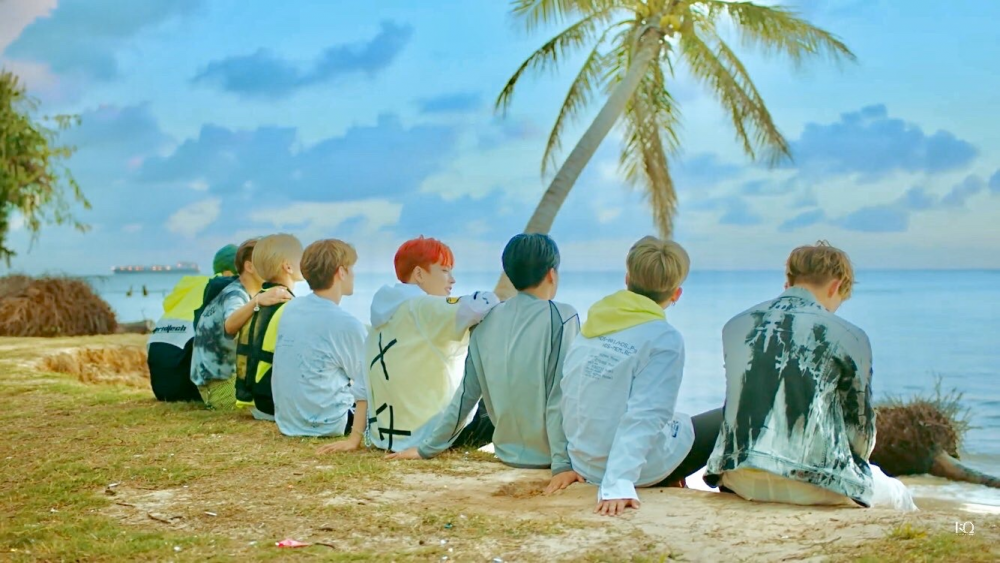 I recommend you to watch their MAMA stage where they performed BTS, SHINee, Miss A and their own song Wonderland's mash-up. When you have time, please watch it. For your info, it's the most watched performance after Mamamoo, BTS and Twice's stage ㅠㅠ It was very impressive.

In addition to this, 20 companies voted for hottest boy groups and rookie groups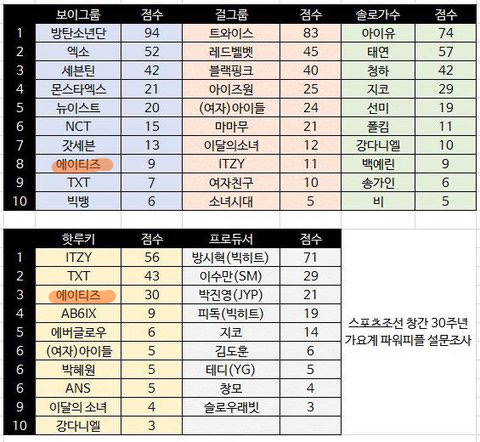 This year, idols chose the most anticipated idols in 2020
They are recognized in the industry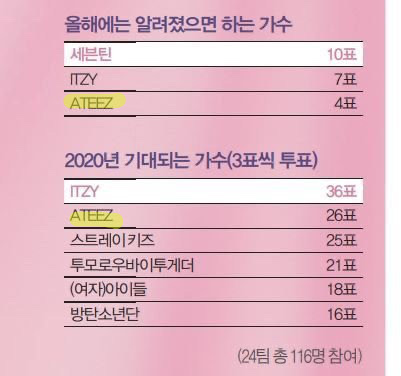 Sorry, I wrote a little long ㅠㅠ I actually have a lot more to say
I know they are not known very well in Korea. They're growing steadily.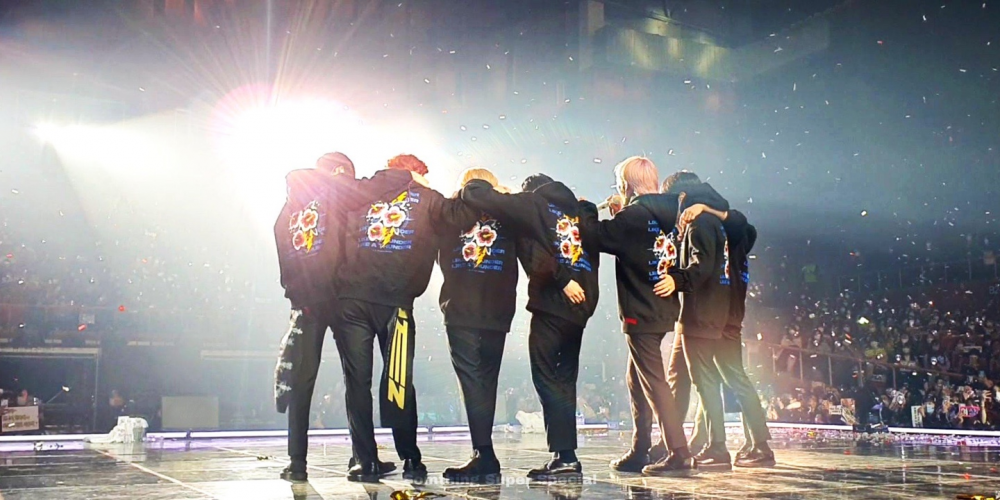 1. [+169, -4] I recommend you to watch this stage ❤️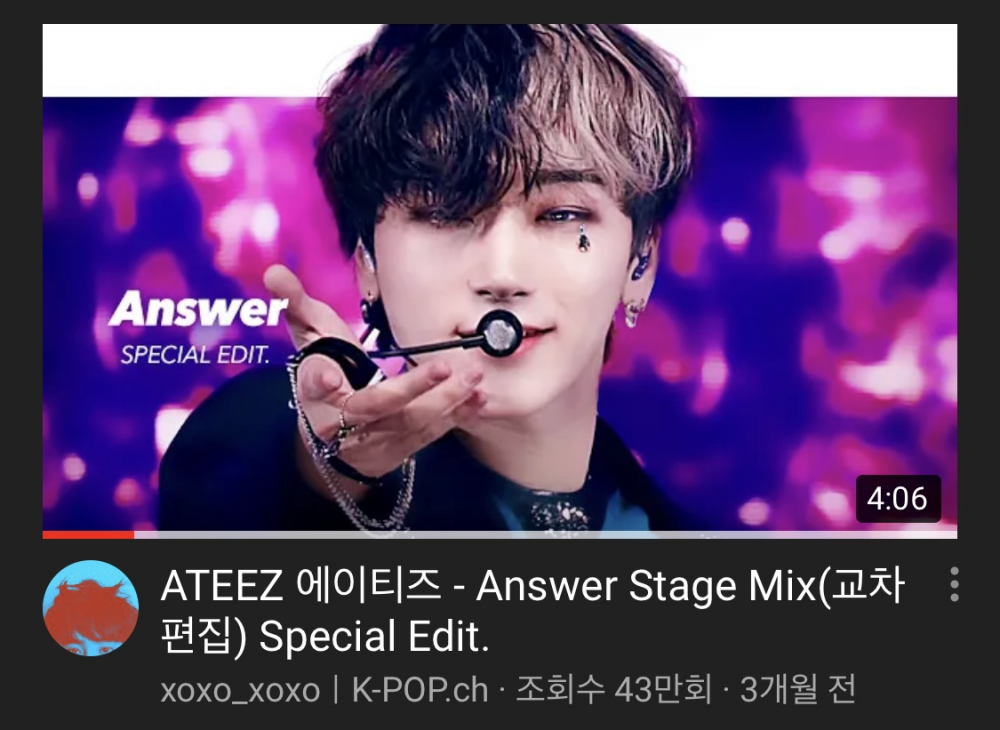 2. [+136, -6] Stage genius ㅠㅠ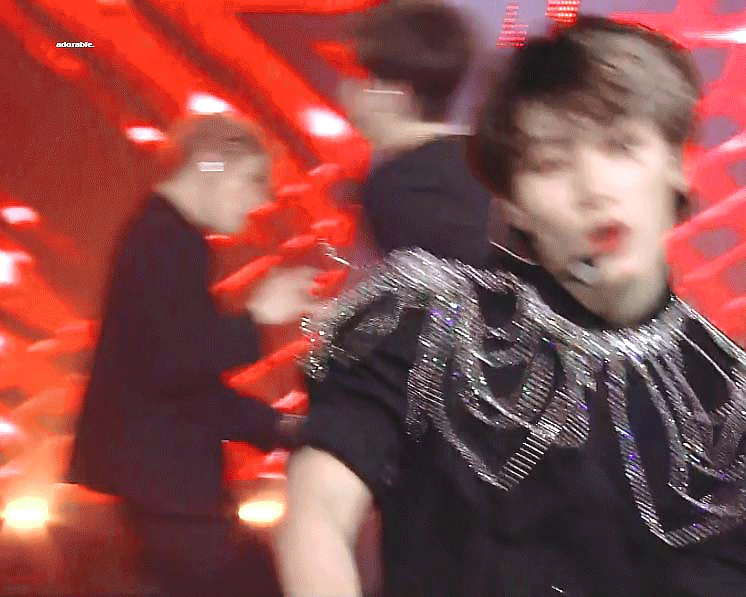 3. [+123, -8] Wooyoung is freaking handsome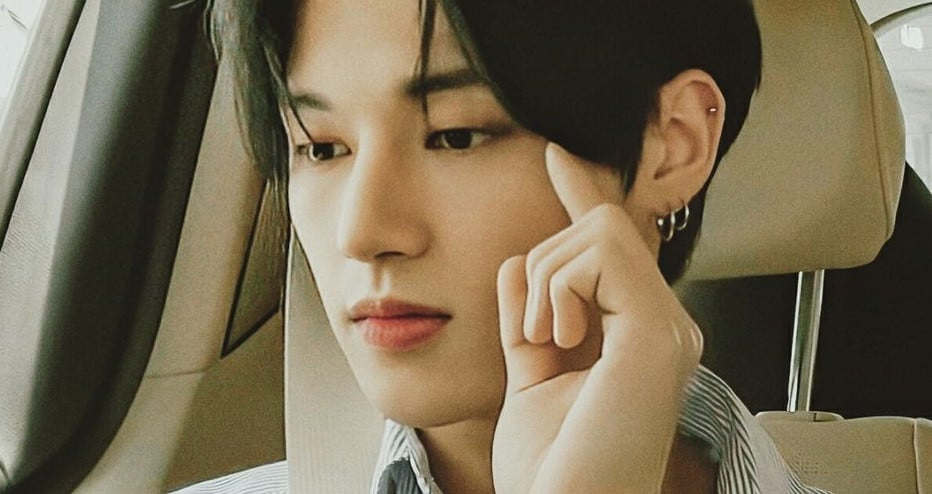 4. [+64, 0] Yunho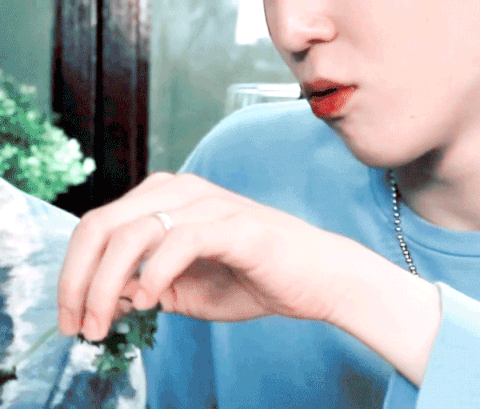 5. [+53, -1] Park Seonghwa is daebak ♥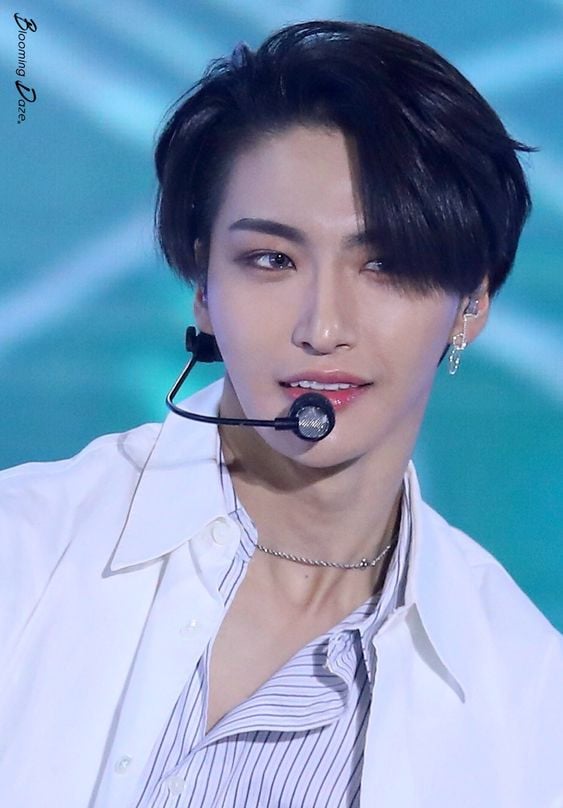 6. [+45, 0] I didn't know a single thing about. I study in England. But seriously, my friends were very amazed by ATEEZ ㅠ I was very surprised that they knew about an idol that I didn't know. ㅇㅇ ATEEZ was supposed to hold a concert in England this year but it was cancelled due to pandemic. Anyway, I think they are internationally very famous.

7. [+44, -1] Their song Wave is very good
8. [+40, 0] Yunho cried over the first win..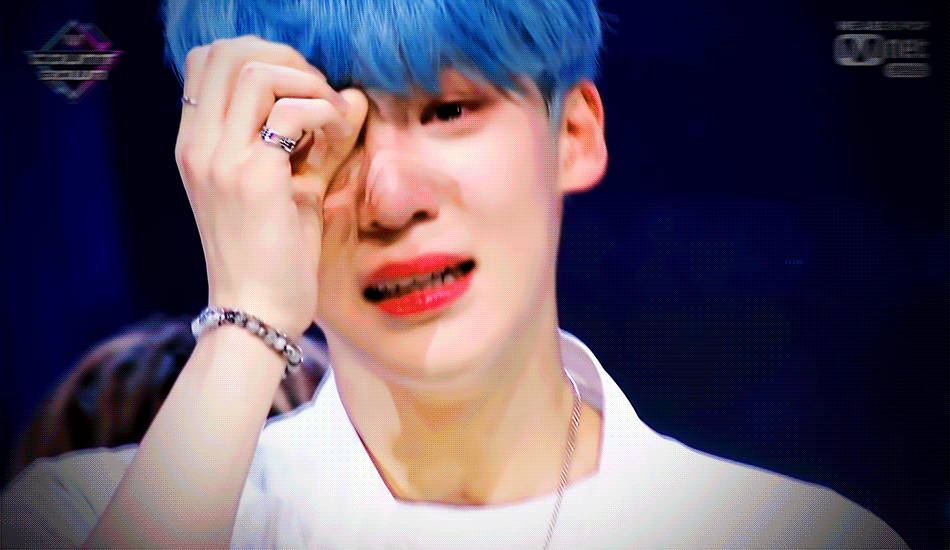 9. [+38, 0] ㅆㅂI was listening to Wave and then I watched the fancams and listened to the other songs of them. I like all the title songs but Answer and Wave are my favorites. And most of all, Choi San is my perfect ideal type ㅅㅂ ㅈㄴ I like him ㅜㅜㅜ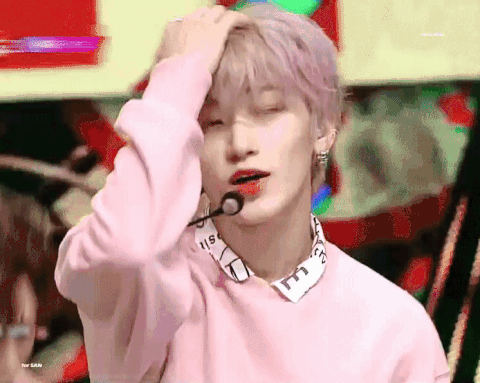 10. [+35, 0] San-i ♥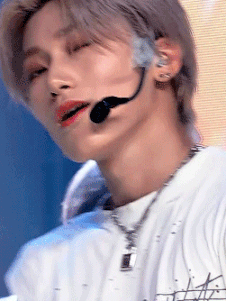 11. [+29, 0] Park Seonghwa is super handsome ㅅㅂ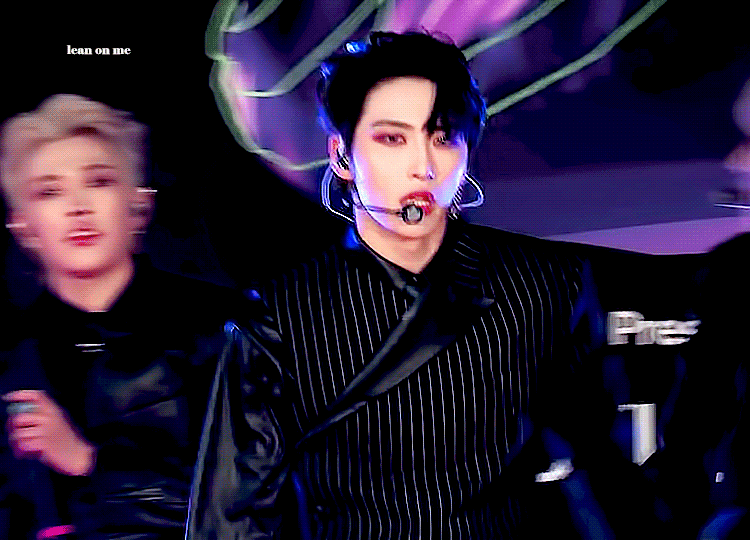 12. [+26, -2] If ATEEZ attends Kingdom, other groups will seem boring. That's how talented ATEEZ is

13. [+25, 0] They are very popular overseas

14. [+23, 0] Master of facial expressions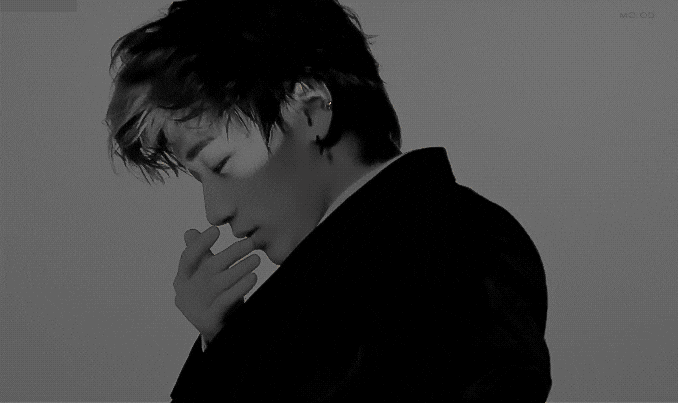 15. [+22, 0] Kim Hongjoong, when will you dye your hair red again?