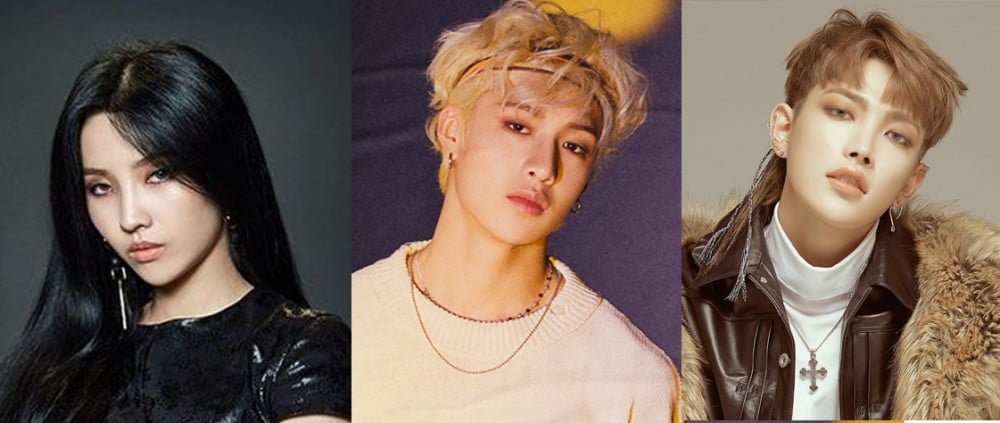 Soyeon
Name: Jeon Soyeon
Group: (G)I-DLE (Debut: January, 2018)
Position: Leader, Main Rapper, Lead Dancer, Vocalist, Center
Birthday: August 26, 1998
Nationality: Korean
* She did ballet when she was a child, but after she realize her music dream left the ballet. She also danced as a street performer before joining Cube in 2016 as a trainee. She was trained in the company for 1.5 years.

* She participated in Produce 101's first season and Unpretty Rapstar's third season. Soyeon rankedin 20th place inProduce 101 and proved herself as a rapper by completing a difficult show like Unpretty Rapstar in 3rd place.

* She made a solo debut in 2017 with her self-written songs. Soon, at the beginning of 2018, Cube re-debuted her as the leader of the new girl group (G)I-DLE.

* (G)I-DLE's title songs Latata, Hann, Uh Oh and Lion; CLC's No and many more songs were written and composed by Soyeon. She takes part in the production of all the songs of (G)I-DLE, and she has 31 copyrighted songs under her name in KOMCA for now.

* She was involved in SM Station X's girl group project and League of Legends' group K/DA.

* Not only rap, but also surprised people about her vocal. As a rapper, vocalist and songwriter she was called as "Triple Threat".

====
Bang Chan
Name: Christopher Bang
Group: Stray Kids (Debut: March, 2018)
Position: Leader, Lead Vocalist, Lead Dancer, Rapper, Producer
Birthday: October 3, 1997
Nationality: Korean
* He grew up in Australia and returned to South Korea after passing the JYP audition in 2010. Trained in JYP for 7 years.

* Before Stray Kids' debut they established the 3RACHA sub-unit with Changbin and Jisung.

* He speaks English, Korean, Japanese and some Chinese.

* He took ballet and modern dance lessons at a young age.

* He's good at both rap and vocal.

* All group songs are produced by 3RACHA. Bang Chan has 47 copyrighted songs under his name in KOMCA for now.
====
Hongjoong
Name: Kim Hongjoong
Group: ATEEZ (Debut: October, 2018)
Position: Leader, Lead Rapper, Vocalist, Center, Composer
Birthday: November 7th, 1998
Nationality: Korea
* He participated in the MIXNINE survival show.

* He takes part in the production of all the songs of ATEEZ, and he is also a songwriter for EDEN's 3 Things. Hongjoong has 27 copyrighted songs under his name in KOMCA for now. It is known that he had written 40 songs before his debut. He had planned to become a song producer if he had not made his debut as an idol; he said his youth was spent in a studio rather than a school.

*He can speak English.
====
These three rookie groups, who spent their first years in the industry very productively, have 3 monster leaders who take in charge the burden. I don't wanna call them rookie leader because they are not like rookies, of course there are many ways to go, but it seems that they know where to go and what they want. Don't you think these leaders, who succeeded in proving themselves from their pre-debuts, are they like monsters?


Source: Korezin

(*The content on the source website is also mine.)