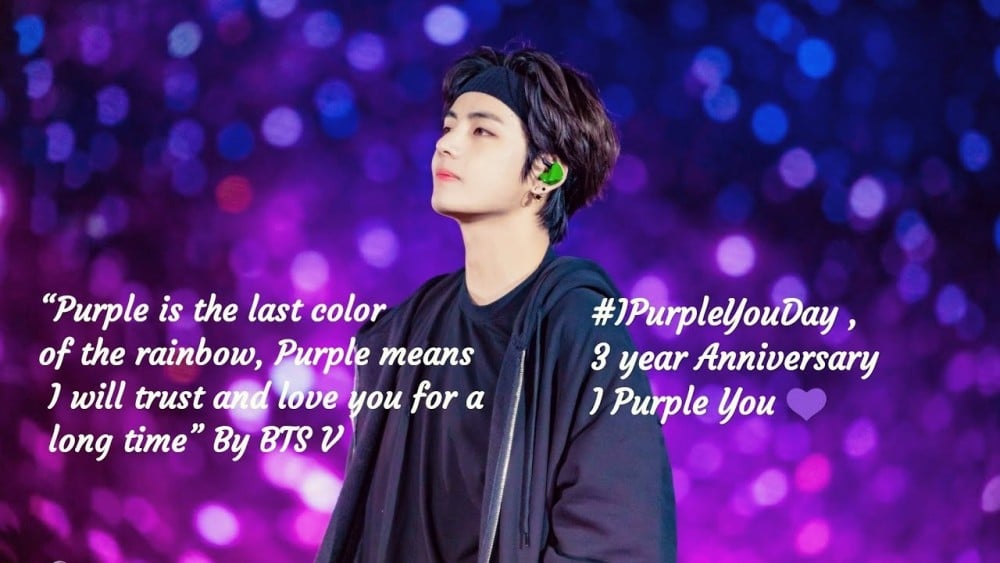 On November 13, 2016 at BTS' 3rd Muster, in front of thousands of ARMY, BTS V poured out his heart by dedicating the color Purple to the fandom. When he asked if they know about its significance, BTS V further explained that Purple is the last color of the rainbow and therefore, it means love and trust that will last for a long time- an expression of love and gratitude to the fans. Little did he know, his phrase became a revolution- a trademark of BTS, that fans and the whole world will never forget.
3 years after, ARMY again celebrated the iconic phrase by trending the hashtag #IPurpleYouDay or fondly called "Borahae" both internationally and in their home front South Korea. Fans reminisce its importance and the impact it has made around the world. The first to pioneer the celebration is the Latin American Media, TNTLA, followed by fans in South Korea until it prospered with international fans joining in, showing gratitude to BTS V's warmth and affection. Twitter was filled memories, fan arts and even poems for BTS V.
There were even fan made videos uploaded on You Tube to commemorate the event.


Such ardent display of dedication resulted for #IPurpleYouDay to occupy the top spot in Twitter trends, both Worldwide and in South Korea.

Even Twitter Espanol joined the celebration and added it to their Twitter Moments.



One thing's for sure, BTS V's iconic phrase will always be remembered by both fans and Global Superstars BTS; a symbol of love and a wave of support by ARMY as they continue to carry out the group's monumental success, and will forever go down in history books as the brainchild (among others) of BTS V, whose brilliance and creativity never fail to amaze us.