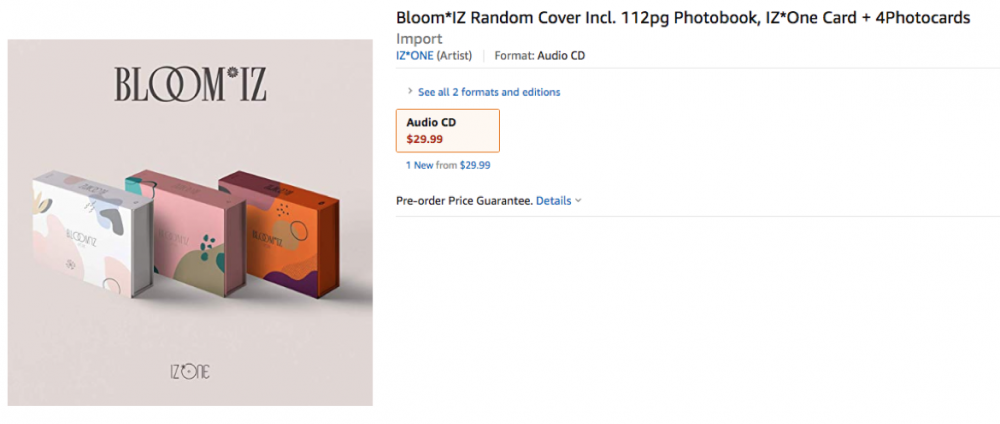 Netizens and fans alike are sharing their confusion as Amazon lists IZ*ONE's album 'BLOOM*IZ' for preorder on their website.
While some are excited for the prospect of the album being released andIZ*ONE potentially making their comeback, most are skeptic of the circumstances.
It's unknown what the circumstances are that led to this, but there has been no official announcement from Off The Record Entertainment as to if the album is still being released and sold.
Regardless, it is best to err on the side of caution. It's not recommended to purchase the preorder since it is not known if the album will be released.
See some fan's statements below:
"too good to be true"
"If it's true that they will release it on 22nd, wouldn't we have had a confirmation by now? idk it just feels too good to be true but fingers crossed."
"there's another site as well ... i doubt it's fake, but could be fraud as well."

"So here is what i think is happening. OTR or who ever, pushed the info to Amazon on release and when to display pre order listing. Meaning Amazon was going to start selling it on the 22nd even if it was released on the 11th. The data was sent to Amazon, who knows could have been months ago. In the data there is a promote day which is normally 7 days before release. which would be today.
Amazon has not been notified by OTR or whoever is behind the release, that the album has been delayed. So the promo still went out.
I do sincerely hope i am wrong on this ,but just don't get your hopes up.
The only saving grace could be that Amazon has already received the product in they're distribution center and says screw it if they are not going to inform us to put a hold on it we are selling according to the original Data sent."