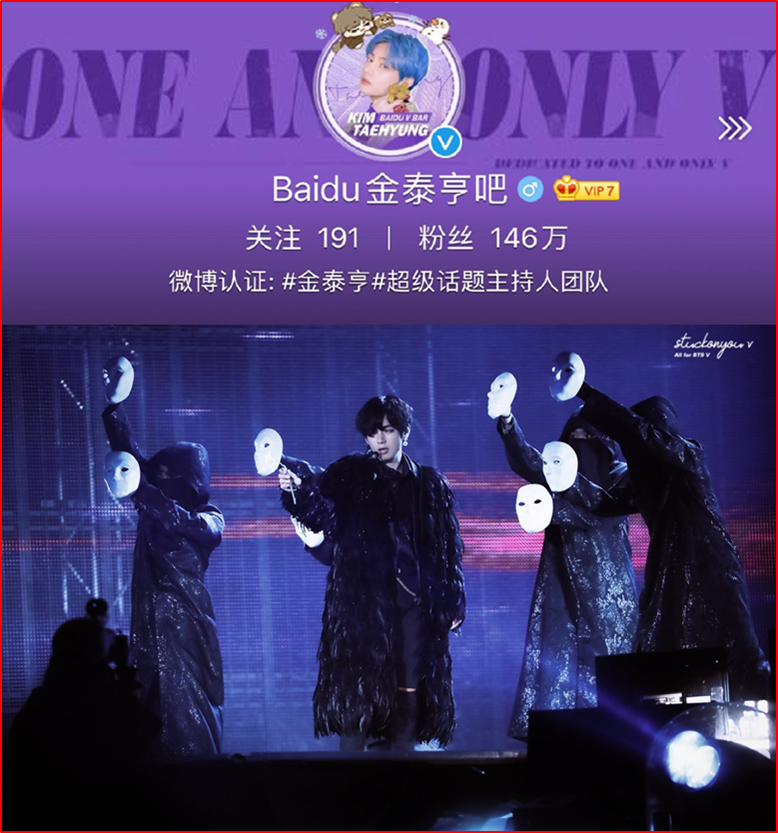 @KIMTAEHYUNGBAR_· fondly called asBaidu V Bar is no stranger in breaking records. This time, the most powerful and dedicated fansite of BTS V achieved the 43rd spot in the TOP 100 sites of Sina Weibo's "Hot Social Media Ranking"; the ONLY fan site that made it on the list among popular and influential accounts, including the official news account of World Superstars BTS.

Sina Weibo, or Weibo, is a micro-blogging platform in China released in 2009. Weibo is one of the most popular sites in China and is often considered to be a combination of Chinese Facebook & Twitter. @KIMTAEHYUNGBAR_ sits on the throne among other BTS fan sites, and has the most followers or fans accumulating to a whopping 1.46M.



Baidu V Bar has proven their purchasing power through buying 170,000 copies of MOTS: Persona albums amounting to 2.6 billion won and was named #1 TOP Chinese fan base of a Male KPOP Idol buying the most albums in 2019. Earlier this year, for BTS V's birthday fund raising event Project Vionysus, collected a chart busting 2M Yuan in the shortest period of time.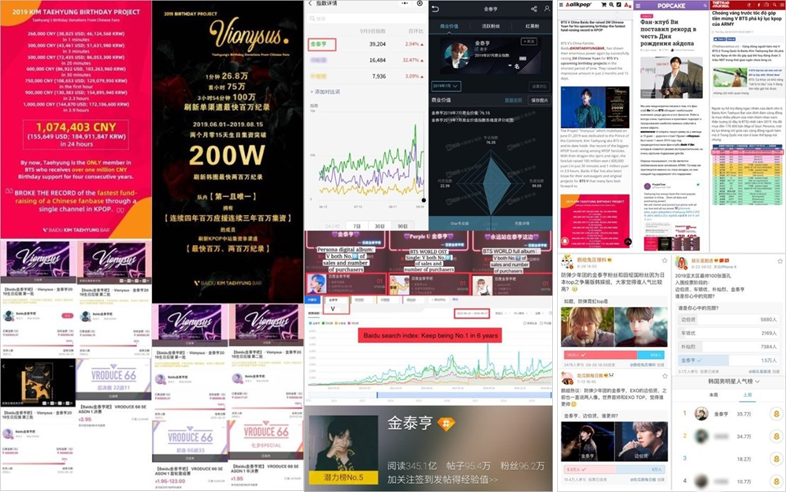 As they say, the best is yet to come. After months of preparation, Baidu V Bar announced yesterday The Part I of Project Vionysus for BTS V's birthday with the theme, 'Mark of the Golden Age'. For the first time in the world, 13 million copies of 25 authoritative Korean print media news papers with a FULL-PAGE BTS V birthday wish will be distributed all over Korea-and will even reach The Blue House.

"Mark of the Golden Age" kicks off the series of luxurious and meaningful birthday projects of Baidu V Bar for BTS V, whose birthday is just 43 days away. With this already extravagant start for the most awaited event of the year, we are filled with anticipation of what else is yet to come. One thing's for sure, with @KIMTAEHYUNGBAR's well known originality and creativity, the icing on the cake will surely make our jaws drop.