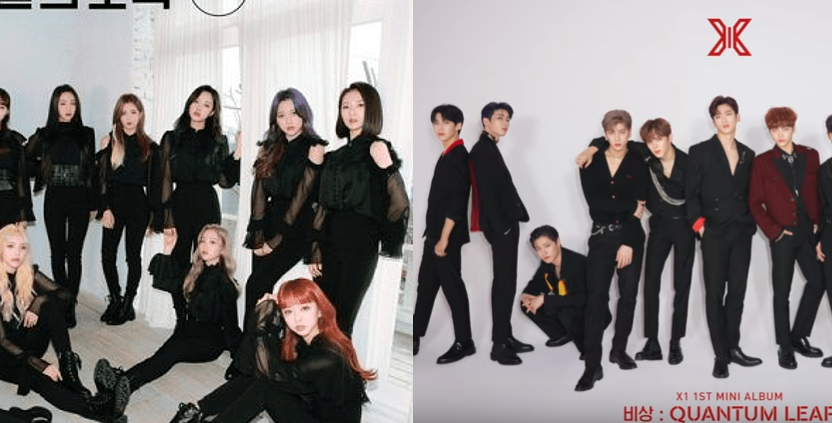 DISCLAIMER: This article is not made with the purpose to hate on X1 or LOONA. They are both talented groups.

Since pop culture have been created, taking inspiration from others is a normal path. However,sometimes inspiration turns into plagiarism. The debut of the Produce X 101 have been surrended by thevote-rigging scandalbut now there are more evidence against MNET (X1's company but the group is managed by Swing Entertainment) alleging they have copied LOONA's X X album concept and NCT's videos.

Fans have found out LOONA have been the first artist to introduce a concept which gathers together "X" as a "Butterfly" as one concept. The "X" symbolizes the body of the butterfly, each side of the "X" is the wings of the insect. LOONA's concept for their album "X X" and song "Butterfly" is about flying higher like a butterfly in order to reach your dreams, transform you into a better version of yourself and empowering people all over the world.

By the dates of each release, it seems LOONA concept was created long time ago since 2016, and the debut of X1 was rushed one month after the show ended. This situation have created speculations about MNET rushing a concept for their new group and searching for ideas.

The similiarities goes from teaser releases dates, choreographies, videos to even the fandom name. LOONA's fandom is Orbit meanwhile X1's fandom name is OneIt. Both fandom names sound extremely similar phonetically in korean. In addiction, X1 also uses duality, galaxy and quantum physics as a concept, something LOONA or groups as EXO have used, but the girl group gathers all together in the complex lore of the LOONAVERSE (the world where LOONA's plot takes places through their almost 40 MVs).

Other point fans are finding out it's an allegally savagote LOONA could be going through by MNET since by their last release "Butterfly". A few situations lead people to suspect why the group was being taking out from Spotify, being uploaded their comeback stage later to MNET's Youtube (which could make LOONA won the next week and being their 1st Win), taking down the girl group's album from Itunes, unstocking their physical album, etc. At that moment, fans didn't understand why LOONA was facing these problems and now they are concluding it was in order to avoid attention to the concept other company could like to use for a debut group. However, these are just speculations and there aren't any proof at the moment.

In other hand, it has been exposed the similarities between NCT and X1. The coincidence goes to a serie of videos NCT released called "NCTmentary", the pattern and aesthetics are highly similar to what X1 has released for their intro performance videos. However, fans point out it's normal for groups to make intro videos for their performances but the similitiries can't be denied.

If you want to know more about this case, check the video by @Bchilli on the platform of Youtube to understand better what have been find out:



What do you think about the specatulations? Let us know in the comment section below.

Please, have on mind LOONA fandom doesn't hate X1 and X1's fandom doesn't hate the girl group, these are just facts people have found out and want the best for each group since each group has really talented members.