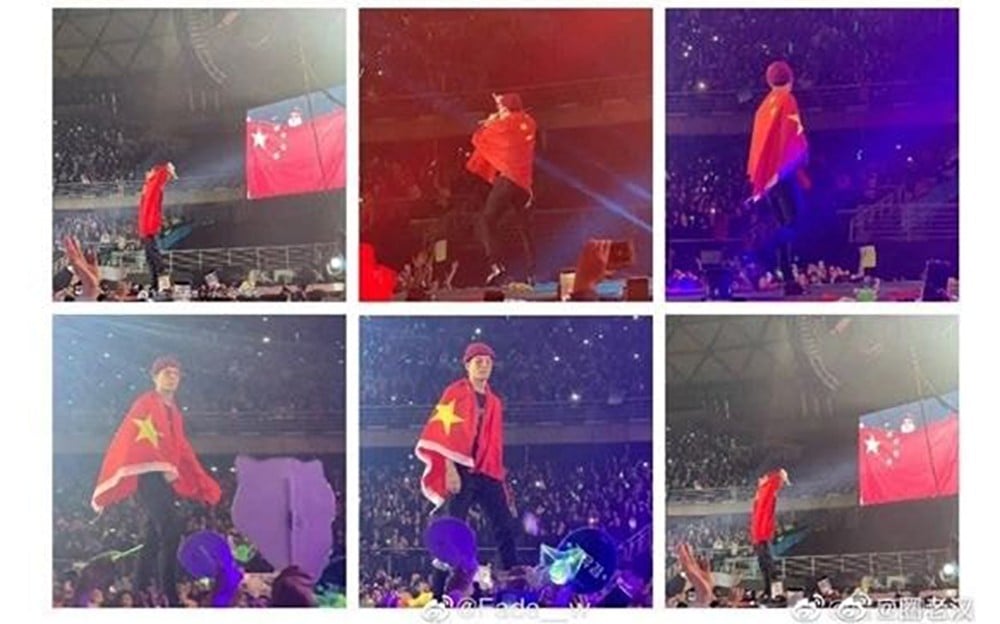 In light of the ongoing controversy surrounding K-Pop idol stars and their support of the "One-China Policy", netizens noticed and reacted to photos of GOT7 member Jackson carrying the national flag of China on various stops during their world tour.
[Disclaimer: The below content/comments only reflect the opinions of a few individuals.]
Caption: "This is the red flag of 5 stars that GOT7's Jackson brought during the group's world tour; he did it during shows in the U.S. and in Chile. The Chinese people all praised him for doing this and told him to bring the flag to other countries to show.. You'd think that GOT7 is a C-Pop group or something."


And recently:

(Original post here)

Netizen comments:
1. Abandoning his nationalityㅋㅋㅋ Money sure is scary

2. Sh*tting everywhere during GOT7's world tour you mean...

3. He was all about Hong Kong when he just debuted but now that he's eaten the money from China he sure has changedㅋㅋㅋㅋㅋㅋㅋㅋㅋㅋ

4. I always thought that Jackson was really cuteㅜㅜ But now I'm scared

5. Isn't his nickname WangKong? I still remember watching the program with Jung Hyungdon and Defconn and they were calling him WangKong all the time, why did he become like this?

6. Wow I hope he's not planning to do this in Korea too...

7. I wonder if money changed him, or he's just a f*cker who was going to reveal himself all this time

8. Ha he used to be the only idol I likedㅜㅜㅜㅜㅜㅜㅜ

9. Jackson you're really enjoying that China money don't you? ^^

10. Will he really suffer a big consequence if he didn't do it so China is pressuring him? I seriously don't see why he would purposefully act like that