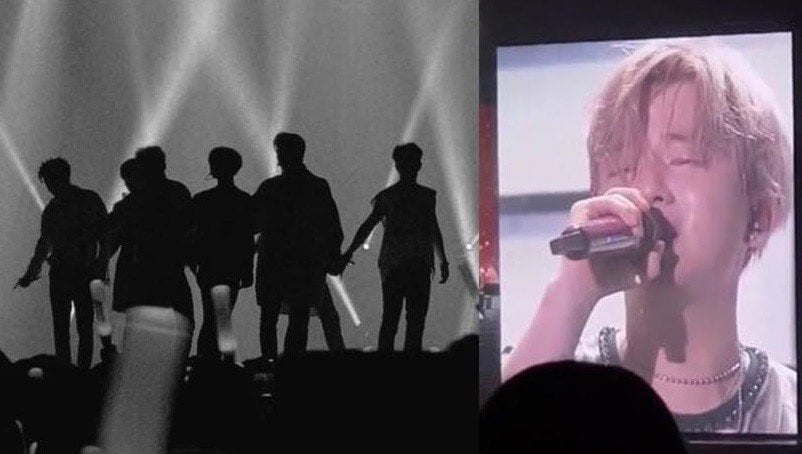 iKON held their first concert without their leader B.I.
On July 27, they started their 2019 Japan Tour in Fukuoka. After the scandal and B.I's leaving iKON, the group performed for the first time as 6 members.
Fans started hashtags to show their support to iKON. #頑張ってiKON (#GoodluckiKON) was trending #1 for hours worldwide and entered the trends list on USA, Germany, Canada, India, Indonesia, and more.

On Twitter, fans expressed their heartbreaking feelings with updates of the concert and appreciated the members for trying to be strong and doing their best. Also thousands of fans in the venue burst into tears during the concert.
B.I's parts have been removed from most of the songs. But for the rest of the songs, Bobby rapped B.I's lines, Chanwoo joined him in some parts too and Junhoe, Yunhyeong, Donghyuk sang B.I's singing parts.
Before they sing their last song Jinhwan couldn't hold himself and said "Sorry for worrying you all, thank you for supporting us" then started to cry. At that moment, the whole venue was filled with crying sounds from the live audio streaming and everybody started to cry with the last song "Wait For Me".
(Ps. Some fans claimed that Jinhwan said 'I think about B.I' e/n: I heard this from audio too but I may be wrong. Some claim he didn't mention about B.I)


From all the expressions and strict song line up, it was obvious that the members weren't allowed the show their emotions and thoughts freely. Bobby also said, "I want to express my feelings but... (returned to the Japanese script) because I had to continue to speak according to the script)."
They were probably told to follow the script and not mention B.I. They all had a hard time not to show their feelings while singing and speaking.
Especially Bobby was always about to cry and his facial expression were angry and he was rapping angrily during the encore stages. While he was reading the lines from the script screen, his expression wasn't usual and looked mad: "Thank you all for coming to see us. We will be the cool iKON that you'll be proud of. Please take good care of us."-Bobby

A fan from the venue said this, "Bobby was too angry in the concert, his voice was unusual. Also in the end of the concert he leave fast while in the past he used to stay with iKONICs".

Fans think that this concert tour is torture for the members and it should be stopped. Previously, it was revealed that YG forced B.I to leave iKON. And B.I wasn't just like a usual member of iKON. He made iKON and B.I's got the biggest effort on them rather than YG. He trained them in every sense and led them. He was the producer, composer, lyricist, choreographer, leader and like a father and real brother for iKON. That's why fans claim that this is mental abuse to iKON, members are all emotionally unstable.