Fans of NCT and WayVcan't get over Ten and Winwin's mesmerizing contemporary dance performance video. Ten and Winwin personally planned out the story, chose the song, choreographed, planned the video's concept, setting and outfits themselves as part of their Rainbow V Season 1 project, and the result was an absolutely amazingdance performance video. It is no surprise that Khalid, who sang 'Lovely' with Billie Eilish, thinks so too. On Twitter, one fan showed this video to Khalid and this is how he responded to the tweet: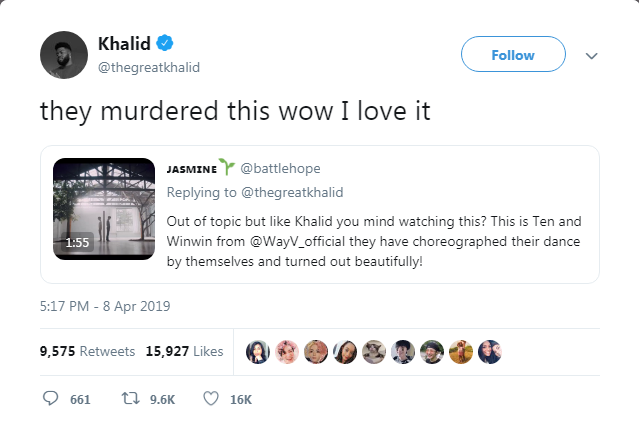 Later, Khalid personally visited WayV's official Twitter page, @WayV_official, and re-posted their tweet of the video with another praise.
Check out Ten and Winwin's contemporary dance performance video below.
Khalid mentioned that he likes NCT and their music in an interview and the NCT and WayV members have expressed their love for Khalid numerous times. We can already imagine the amount of fanboying going on in their dorms over this recognition. Congratulations, boys!
https://twitter.com/thegreatkh...