Blue House petition link for the ones who don't feel like reading everything, though I do recommend it!
This is going to be long and will likely get confusing as a lot of false information was spread about this case in the beginning, articles were mysteriously deleted, statements contradict each other and a lot of aspects about this case have never been confirmed. This article will also not include every single bit of information, even though I try to be as thorough as possible, there is simply too much.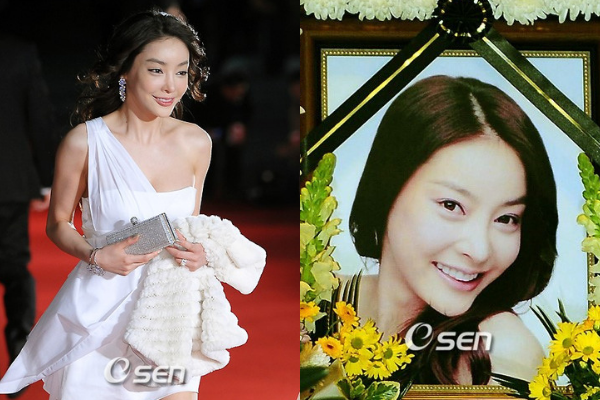 So what happened in this case so far?
On the 7th of March, 2009, Ja Yeon had planned to go on a trip with the lead singer of 'Two Two' and 'Duke' Kim Ji Hoon and his (at the time) wife Lee Jong Eun to Jeju.

During their appearance on MBC's 'Good Day' a couple of days after Ja Yeon's suicide, Jong Eun talked about the plans they had made.
'We were originally supposed to go together, but we only got to the plane at 2:30 pm. So I told Jayeon "Take the evening flight".'
At 3:15 pm, Jong Eun received a reply.
'I'll think about it for five more minutes.'
Here the first contradiction comes into play. One article mentions how Ja Yeon sent a text to the couple saying she was going to stay at home and rest because she was tired and that she would go with them next time. Another article says Ja Yeon didn't go on the trip since she couldn't get a ticket.


Kim Ji Hoon and Lee Jong Eun
Whatever the reason was, Ja Yeon never went.The same day, she was found deceased, hanging from the banister of the stairwayby her older sister. She had allegedlybeen living with her since their parent's died in a road accident back in 1999.

The Korea Times reported she had called her older sister at around 3:30 pm that day saying she was overwhelmed with stress and wanted to die. She is believed to have killed herself about an hour later, around 4:30 pm. Her sister discovered her around 7:30 pm.


On March 11th,Chosun Ilboreporteda friend had revealed that the actress had left a lengthy suicide note.
"Ja-yeon would feel sad if she knew people consider her as a mere depression patient who died without even leaving a will. I decided to reveal some part of her writing dotted with thumbprints to pay respect to what she had in mind. Even though the note includes details of how she has been hurt since she started working in show business to become an actress, I won't reveal it all because that could cause unwitting damage to others."
They also reported that the cause for her suicide was unknown and people speculated it was because her depression got to her. Her friends' doubted that was the case, since she had just gotten succesful with her role in 'Boys Over Flowers'. A representative from an agency outside her own known as Yoo wrote on his website that people in the entertainment industry knew why she killed herself. Ja Yeon had reportedly confided in him about her problems and he had seen her suicide note.
A Mr. Yoo Jang Ho later claimed Ja Yeon had come to him two weeks before her death and had told him everything (which contradicts a statement made by the police saying Ja Yeon's sister had given him the document). Yoo Jang Ho was Ja Yeon's former manager, who had left her representing agency in 2008 to start his own.
Yoo Jang Ho
In early released articles it was suggested Yoo had obtained Ja Yeon's note through her sister and had made copies. One of the copies he sent to KBS 'News at 9' and the other was sent to Chosun Ilbo. Yoo, however, claimed to have burned the suicide note to ashes in front of her family on the 12th of March, something not only her family backed up, but was also mentioned by Jong Eun on 'Good Day' and even confirmed by the police. But a KBS staff member claimed to have found the note on March 13 in a trash can nearby Yoo's office, torn and partially burned.

Whether Yoo had distributed the note or if the media really got their hands on it through finding it in the trash seemed to have become a big issue for the police. On March 26, police had yet to start investigating the names mentioned by Ja Yeon in the note. They were investigating why and how Ja Yeon had written the note and how it got leaked to the press. They questioned Yoo for 10 hours, but said he did not answer many of their questions since he couldn't remember.

He did confess to showing parts of the document to two reporters on the 8th of March and to having made copies. He also said he had dumped the copies in the trash after destroying them and that it was possible the KBS staff could have gotten them from the garbage. According to him, Ja Yeon drew up the note to know if the head of her company, Kim Sung Hoon, could be legally punished and asked him to get legal counsel on her behalf. He also said he had no other copies of the document anymore and denied having leaked the note before her death.
In the very beginning the National Police Agency shared that Ja Yeon had named 10 prominent public and media officials with accusation of sexual coercion, rape and battery. They also announced the suicide note was made up of 4 A4 pages. These four pages included Ja Yeon's fingerprints and her family seal. (An informant at The Korea Times who wanted to stay anonymous later claimed the original note was 7 pages long and a source at the Bundang Police Department agreed to this theory by saying they were in possession of a 7 page version as well. Yoo was later claimed to have been the one to say it.)
After verifying the authenticity of the notes, the police announced they had found evidence of possible "extortion, assault, abuse of authority and bribery charges". As a follow-up, the police conducted a raid of the bulding that served as the agency's office until December 2008. They revealed they had confiscated 201 items, including computers and artists' contracts.
Company head Kim bought the building in August 2005 and at the time, it had two stories. The first floor served as a bar, while the office seemed to be located on the second floor. But Kim also added a third level in October of 2007. On this level, a single bed and shower were found. Police collected five DNA samples from 4 men and 1 woman.


Kim fled the country in March after Ja Yeon's death. In April, a warrant for his arrest was issued. 10 days later an extradiction request was made by the South Korean government to the Japanese Ministry of Justice. The Bundagn Police refused to comment on whether this request had been made. On the 24th of June, Kim was eventually arrested in Tokyo on ground of overstaying his visa.
After interrogating Kim, the police voiced out they wanted indict 5 out of the 7 men in the case. But not any of the men accused of sexual abuse by Ja Yeon.
Between April and May, the police dropped all charges and suspicion against the influential men investigated. Some of these men were not questioned until 2 days before the police handed over all the documents relating to the case to the South Korean State Prosecution.
In the end, only the head of Ja Yeon's agency Kim and manager Yoo were arrested. Kim was charged with fraud, fleeing and assualt, while Yoo was charged for defamation of Kim (Kim had earlier accused Yoo of fabricating the suicide note out of spite, since Kim had filed 4 criminal and civil lawsuits against him. While the fabricating was proven to be false, the police did issue a statement saying Yoo had insulted Kim by ordering Ja Yeon to write down the treatment she had received at the hands of Kim at the agency. This was suspected to be linked to another lawsuit against Kim from a male model, also for sexual assualt.)
Both were sentenced to 2 years of suspended jail time and 160 hours of community service.

Who the other five men were the police wanted to indict was never revealed.

A positive outcome of this case at the time was the Fair Trade Commission announcing on the 15th of March they were planing to supply agencies with standardized contracts in the first half of the year since Ja Yeon's note raised concerns about the unfairness of artists' contracts.
The case disappeared for awhile. Until on March 8th, 2011, SBS reported they had gotten a hold of several (number ranging from 23 to 50) letters contaning hundreds of pages written by Ja Yeon to a 31-year-old inmate by the surname Jeon, who was a supposed childhood friend. (At the time police said they wouldn't reveal for what crime Jeon was serving time, but it was later announced Jeon was serving time for rape.)
The letters were supposedly sent between 2005 and 2009 and talked about how Ja Yeon was forced to entertain 31 VIPs (referred to as devils) over 100 times. She also pleaded Jeon to help her get revenge.

"Whenever I was asked to change into a new dress, it indicated that I was meeting another devil. I served drinks, entertained them in karaokes and room salons in Gangnam and even in Suwon."

Whether the letters are real or forged is still not clear after all of these years.
SBS revealed they had a handwriting analyst look at the letters and the analyst confirmed the handwriting to be Ja Yeon's. This was brought in to question when three days later a forensics team said the letters spread by SBS and/or in possesion of the police showed signs of tampering and doctoring. Parts of the envelopes were removed with a sharp object. According to the investigator this was done by Jeon to conceal where the letters were sent from.

The inmate also had some interesting decoration in his cell. Apparently he had cuttings of news reports of the case partially covering the wall and the forensic team suggested the words 'I will never leave your death worthless' had been written on a piece on the wall.
The senders of letters to the Gwangju Prison, where Jeon was serving his sentence, where also checked and out of the 2439 letters sent between November 2003 and March 2010, none where signed off by Jang Ja Yeon.
On March 10th, the National Institute of Scientific Investigation officially stated they were suspicious the letter's were not from Ja Yeon. And on March 16, they were backed up by Yang Hoo Yeol, Chief of the National Foresensics Service. After comparing Ja Yeon's handwriting with that of Jeon's and the letters, he concluded many of the grammatical errors in the letters were in line with the errors made by Jeon in his personal letter. He announced they believed the letters were fabricated by Jeon. Which contradicts the earlier statement.
When asked whether Ja Yeon's DNA and fingerprints were found on the letters, the NSF gave a rather perplexing reply.

"That is not our job, it is up to the police."
Somewhat unannounced the same day, police informed the press that neither Ja Yeon's DNA nor fingerprints were found on the letters, that Jeon had told his brother-in-law he had composed the letters from information available on the internet (but he denies fabricating the letters) and that he was in possession of 300 news clipings. They also pointed out Jeon suffered from mental illness and schizophrenia and claimed Ja Yeon also suffered from mental illness, even though this was never publicly proven.

The problem with theory of Jeon fabricating all these letters is that he needed access to the internet and more specifically the websites that published the leaked list. These websites were shut down very early on in 2009. It is illegal for any South Korea News or Press Service to publish the list.
It also isn't clear who found the letters. It was claimed SBS got hold of the letters, but it was also claimed a employee of the prison found the letters and that a police officer was the one who found the letters.
Whether or not the letters are real, the media still went with it and multiple stories were created. Whereas public and private sections first only spoke about the original 10 men from the suicide note, they were now speaking about 31 men out of whom either 9 were prosecuted or where all acquited. No one asked when the other 21 men had become suspects and were questioned, or how they were linked to the case without the letters.
The case was closed again without any actual answers being found and everything went quiet again.
Though not completely. In 2013, two stories shed some light on her case again.
On April 18th, 2013, the movie NORIGAE was released. The movie does state in the beginning it wasn't based on a real life story, but the story does sound very similar to what Ja Yeon went through and the media compared the two stories in their reviews.

A young actress, Jung Ji Hee, commits suicide, and the media responds by lashing out at the rampant sexual exploitation of struggling performers in the entertainment industry. It is revealed that the actress had been brutally taken advantage of by a newspaper mogul, a film director and a broadcast producer. Without the testimony of the deceased victim, the accused stand in court without an accuser, and the courtroom is in a bind when no one dares to testify. Lee Jang-ho, once a hotshot journalist, now a washed-up web newscaster, engages in search of conclusive evidence to prove the guilt of the perpetrators: the actress' diary. Can he bring the truth to light and the accused to justice?
On the 12th of December, Ji Hoon was found to have commited suicide in the hotel he was staying at. He was one of the people who wanted the truth to be revealed and was one of the people Ja Yeon had confided in, as was revealed on the 'Good Day' episode as well. When the reporter of the show asked him if was true Ja Yeon was called to an 'undesirable' spot, he answered yes and recalled an incident from when Ja Yeon was staying at the couple's house and told them about once such occurence.
"I heard a story like this while we were drinking soju together. She asked me 'Is this right?' and I answered 'It is ridiculous. How do you represent such stories?' It doesn't make sense. I remember telling her not go."
He followed up by stating his feelings regarding the situation.
"I hope that the people involved know what they did to Ja Yeon was wrong and that they have a heart and feel sorry."

The big change this case was waiting for, came in May, 2018, when a special independent department of the Ministery of Justice adviced a special investigation to be opened for Ja Yeon's case. Before the statute of limitations ran out for one the suspects (journalist-turned-politican 'Cho').The sexual assualt case was officially re-opened and led by chief prosecutor Hong Jong Hee at the Seoul Central District's Court Office.
In June, a former colleague of Ja Yeon came forward with her witness statement in 'News Room'. Identified as Yoon, the actress spoke about a birthday party she and Ja Yeon both attended. The birthday party was held for a major shareholder in the company and Ja Yeon had to attend on demand of her CEO. Yoon revealed she and Ja Yeon both had to dance with the attendees, something she didn't like herself. When she made a comment about it to Ja Yeon, she just responded by saying Yoon was naive and didn't know half of the things she did.
She also recalled an incident of that night where Ja Yeon came back from dancing and was then pulled down by Cho to sit on his lap.

"Nine years have passed since the incident. I still remember clearly what happened on that day. As a rookie actress, it was the first time for me to see what 'serving drinks' meant. It was my first time seeing Cho, and my first time seeing Jang being sexually abused."
(...)

"It was forceful. I remember, Jang tried to stand up multiple times, but was forced to sit down again and again. Meanwhile, he touched where he shouldn't."

(...)

"I thought it was strange, they seemed to believe Cho, who was pointed to as an assailant. I was just over 20, unable to judge the situation well, but even for me, it was strange. After the investigation, I learned that Cho's wife was a prosecutor."

The current investigations team revealed that they had found out one of the senior prosecutors had indeed been asked to give special treatment to Cho since his wife was a prosecutor back in 2009.
On June 26th, it was revealed that Cho (now identified as Cho Jae Joon) had been indicted without detention. The police booked him on charges of sexual abuse against Ja Yeon.
In the original investigation, Cho had refuted the claims made by Yoon of forcing himself on Ja Yeon and had told the police another man had forced himself on her. When the man Cho identified as being the perpetrator was established to not have been present at the party, the case was sent to the prosecutor. The Suwon District's Prosecutor took over his case, but cleared him due to lack of credible evidence.
The re-investigation revealed that witness statements had been consistent and had found a lack of conduct on the side of investigators. In one part of the investigation, the investigators checked on Ja Yeon's financial records for possible deposists from sexual exploiters. One of the deposists was linked to Cho, but the investgators accepted Cho's claims of this being some 'pocket change to help with a difficult situation'.


On the episode of 'News Room' Yoon also revealed Ja Yeon had been struggling with financial difficulties after rejecting 'offers' from one of the repesentatives of the company.
She also mentioned how she had been a witness in the case since the beginning and had given police evidence to support Ja Yeon's case, but the police wouldn't listen to her. She testified 13 times, but none of the statements were recorded or documented.
On the 31st of July, an episode of 'PD Note' spoke to some of the investigators who were put on the case back in 2009. Former chief of Gyeonggi police Cho Hyun Oh revealed he was contacted by Chosun Ilbo back in the original investigation.

"I personally felt insulted and also a great deal of shame. I remember Chosun Ilbo vigorously protesting. Mentioning political power, it threatened me. It requested not to mention Chosun Ilbo CEO Bang Sang-hoon's name."

Another officer also revealed how one of the editors from the news outlet visisted him two or three times, saying Bang was innnocent and that it would do more damage than good to have him come to the police station to be investigated. As a result, Bang was questioned in his company's meeting room for 35 minutes.
Legislator Lee Jong Kul was also requested to not mention Bang's name publicly, a request he denied. Chosun Ilbo later informed him they would be taking legal action against him.
Chosun Ilbo, however, denies having done all this and said they didn't have the means to influence the inestigation.
In December of 2018, the special investigation team announced they were investigating former justice minister Kwon Jae Jin, head of Korea's leading liquor maker 'Hintro' Park Moon Deok and Koreana Hotel CEO Bang Yong Hoon. The three met with Ja Yeon at dinner back in 2008. Kwon had allegedly been invited to the dinner by Park and the invetigation team wanted to know why he was at the dinner. They also wanted to know if he had intervened in the original investigation, as none of the influential figures named by Ja Yeon were prosecuted.
In the same month, they also started investigating former CEO of TV Chosun Bang Jeong Oh. On the 12th of December, Bang refuted claims he had spoken and met with Ja Yeon on several occasions and that he planned to take legal actions against any related reports.
In 2009, Bang admitted to having been to a drinking party where Ja Yeon was present as well, but he sticks with the stance he had then as well: he left after an hour. After that, he hadn't spoken to or met with Ja Yeon.


In August of 2018, a Bluehouse petition was created, demanding the government would ensure Yoon's safety. Yoon, now known to be actress Yoon Ji Oh, previously didn't come forward to the press, as the police woul not provide her with protection. After she testified for the first time, she said she couldn't live a normal life anymore. She had to move many times and directors wouldn't cast her anymore. She even heard one director say her name was taken of the casting list due to her testifying in Ja Yeon's case. She revealed this was the reason she moved to Canada.

On March 5th of this year, Yoon released 'The 13th Statement'. It talks about the suspicion of the investigation process of the list at the time and the aftermath of Ja Yeon's death.

"This is a record of truth for me and her. It is a record of things that should never happen again and the regret of how we couldn't go on with our dreams".

"I felt guilty that I didn't see, didn't realize the hand that she was giving me, and made the thirteenth statement. All these years I put my silence in order, and I put my thoughts in order. Now I only wish and hope that the truth will be revealed".

She also confirmed she had seen four of the pages from Ja Yeon's suicide note and the names that had been listed. She revealed she seen the names of three journalist from the same news outlets with the same surname and the name of a lawmaker with a very unique surname. She also mentioned these names to the investigation team on the 12th of March, when she was brought in for questioning.

On the 13th of March, the prosecution revealed Yoon would be provided with safety measures. Yoon took to her Instagram to reveal she is staying in a hostel provided by the Ministery of Gender Equality and Family. The police would start their special watch program to ensure the safety of the actress a day later.
She also vented her frustration about Ja Yeon's case being overlooked due to other provocative cases each time her case comes up. Right now, it's the case with the Burning Sun and JJY scandal burying news about progress made in the case.


On March 16, Yoon uploaded to her Instagram to explain why she didn't reveal the names of the people on Ja Yeon's list.
"You said people come first, so am I not a person? I'm sure many of you already know that I came out with a risk.
It's easier to tell a secret than to keep it. For ten years, I've only spoken to legal police prosecutors, and I've been cautious about mentioning the name of the deceased. I've never avoided the 13, no 14 this time, investigations, and I will continue to not avoid the investigations that are about to come.
The figures mentioned in the list that many people and the media are focused on. The reason why I didn't reveal them wasn't because I was trying to protect them. It was to prepare for more testimonies to come as well as the long-term fight that may end anytime.
If I sue them for libel, they will quickly turn me, a witness, into a defamation suspect, and they have the power to do so. And I don't want to spend a single cent for them in vain. They've been extorting and exploiting money so much, so why should I do that?
I'm sure the press is always the same. Who is it? Who is it mentioned on the list? Can you bear the weight of my life instead and make a sacrifice? I despise some media outlets and some reporters who are obsessed with the number of clicks with sensational and more stimulating reports rather than factually reporting the situation.
It is not the witness who should reveal the person on the list. It is only appropriate to reflect on and re-investigate the wrong investigation that was found through the investigation process and could not be revealed.
It's true that I also needed to use the media, which doesn't care about my safety or my responsibility. Why? It's the story the perpetrators have to look at, and now they have to hide and evade because of the truth they've hid till now. It wasn't an easy decision for me either. I've told many people who ask me about my nationality many times on the air. I am a citizen of the Republic of Korea.
My family obtained foreign citizenship. But my older brother volunteered to join Korean Augmentation To the United States Army, although he doesn't have to go to the military. Why? Because his root is Korean. My father once said that a man in Korea should go to the army and my brother agreed.
It probably wasn't an easy decision to make at such a young age, and it strengthened my belief to live my life by looking up to my mom and dad who helped form such mindsets as they helped us grow up. As a woman, I had a lot of things that wouldn't matter even if I got my citizenship. I would get a lot of benefits, but doing this was my last pride in wanting to live as a Korean. In my loving homeland, I find this unfortunate reality of being ostracized really ridiculous."
And now?
The Supreme Prosecutor's Office has stated they would like to extend the time of their investigation to do justice to Jan Jayeon's case and two other cases, but the Justice Department has shown opposition. According to them, it is difficult to extend the activities of investigative teams for yet another time. The investigation was originally supposed to end on the 30th of June, 2018, but regulations allowed a single 3-month extension. These regulations were revised, which allowed the investigation to be operated until the end of 2018. In December, the team requested more time, which they got.
The only hope now is that public opinion will sway them and a Blue House petition was opened. At the time this article was published, the petition had gathered over 544K signatures. The petition is still open and can be signed here.
The current deadline for the prosecution is set on the 31st of March.
*Edit: It is important to mention this is the last chance she has for justice. If this case gets closed on the 31st, it will be for good.
Signing the petition can be done by simply clicking on the blue button next to the comment box (which will become available after signing). You can sign with your Twitter, Facebook or KKT talk account.