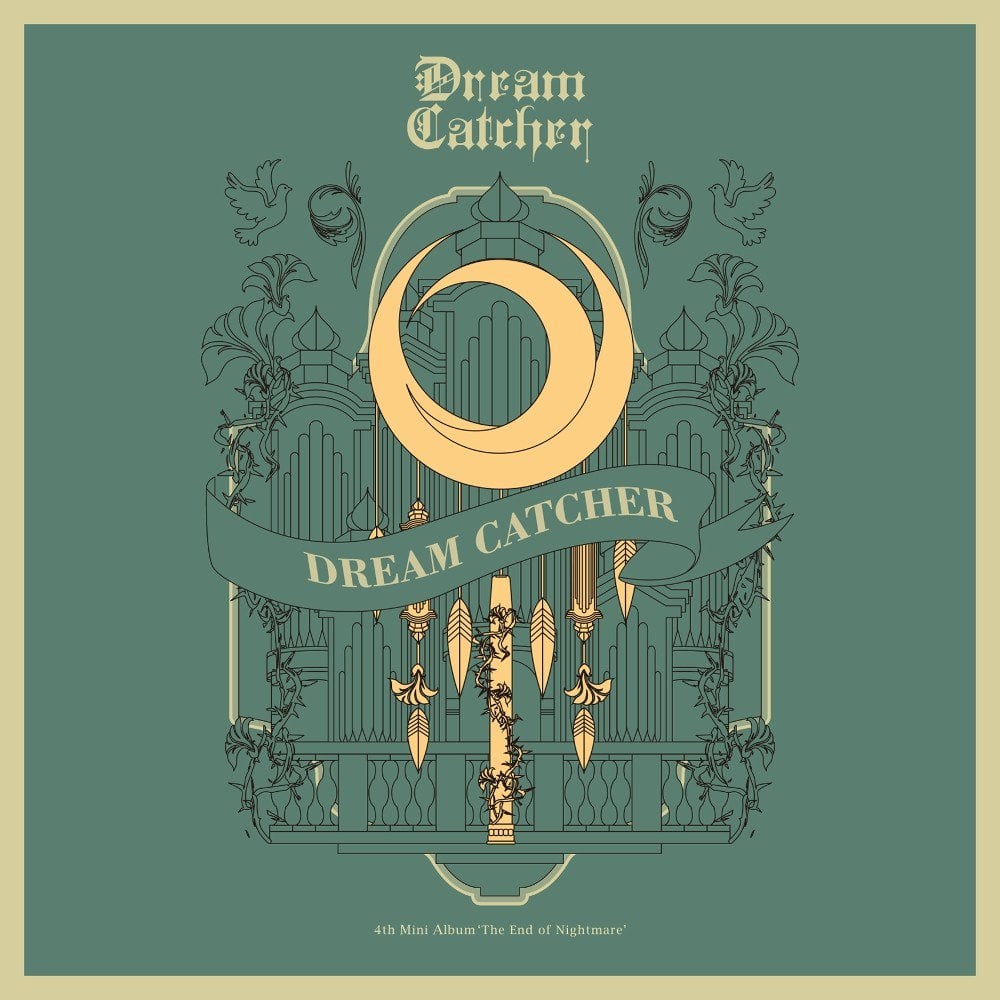 DREAM CATCHER – 'THE END OF NIGHTMARE'
---
Track List:
1. Intro
2. PIRI

3. Diamond
4. And There Was No One Left
5. Daydream
6. PIRI (Inst.)
Dream Catcher is ready to declare 'The End of Nightmare' with their newest EP. The septet unveil five new tracks, including the instrumental of their title track "PIRI." They released two sets of teaser pics, as well, labeled 'stability' and 'instability.' Now I'm really curious about the MV.
Dream Catcher's "Intro" track helps set the tone for the album. It's ominous, mysterious, and fits right in with the horror theme they've used since their inception. It starts with an orchestral score, then leans heavy on the guitars, launching into an EDM finish. I'm already amped. "PIRI" is the title track, and it starts out with a foreboding blast from a guitar, and then is dominated by electric guitars and a persistent flute throughout. A "piri" is a double reed pipe, so that's the meaning of the repetitive lyric "blow the piri." Of course, there's the English fail ("I know what you want to me.") It should have been "want me to do," or "want of me," but I digress. The same fierce vocals that they're known for really next-level this tune. It is definitely the next jewel in Dream Catcher's crown.
"Diamond" is a little mysterious, but it's a slow burn. It picks up quickly but takes a bit to build up to the chorus. These are the kind of bold, powerful vocals that made Dream Catcher a household name, together with some of their harmonies, sharp and yet pretty at the same time. I love this tune. "And There Was No One Left" is a little innocent. It's unassuming, but it's during the bridges when you get the sense that not all is okay in the world this song paints. Of course, given that the jig is up, the second verse has a little heavier bass. I like this. It feels stripped down and minimal, and somehow that works in its favor. And "Daydream" is where we leave the world of nightmare behind, both sonically and thematically. Essentially it's a love song, done in ballad form. And it's done straight. There's no evil intent there, and it's a very stripped down, beautiful tune. The fact that these girls can kill a song whether hard or soft shows some serious skill.
It's an interesting denouement, that ballad. After some absolutely rocking tracks, we're left with a pretty, hopeful message. I like that. There's only so much darkness you can handle at once, so this is a nice change. A shift of gears. We're on the edge of winter, waiting for spring, so that's a nice way to end the album. The rest of the tracks are dazzling, heavy, and definitely worth the price of admission.
MV REVIEW
By now, you know what to expect from Dream Catcher as far as MVs go. "PIRI" is no exception.
The environments are certainly astonishing and just scream danger. Empty rooms, a piri falling to the floor with black ichor spilling out, a strange maze with arms reaching out through the gaps, a wall filled with clocks, gothic archways, rooms lit with candelabras, and another wall with all manner of phones mounted on it. And that's just the start.
A lacy veil is stripped away to reveal a clone, and she runs through a room where all sorts of lamps sit on tables, doing little to illuminate the scene. And she runs straight into a room chock full of evil dolls. The whole thing is rather striking.
The MV is set up to resemble a nightmare, one scene having little relevance to the next. And her hand over her mouth tells you just how scared she is. Well done, and definitely something to watch again as you try to make sense of it (or just cuz you like the song -- I'm not picky).
And yeah, in the spirit of Dream Catcher's previous MVs, the camera is your window into a world that's not so brightly lit. There's always this aura of menace in their videos, even if that danger is just implied. And frankly, that's what I prefer. And they seem to be highly original, despite imitators (and I've seen a few concepts like that). Yes, it's another impressive MV from this band.
Score
MV Relevance...........9
MV Production..........9
MV Concept..............9
MV SCORE: 9.0
Album Production.....9
Album Concept.........9
Tracklisting...............9
ALBUM SCORE: 9.0
OVERALL................9.0