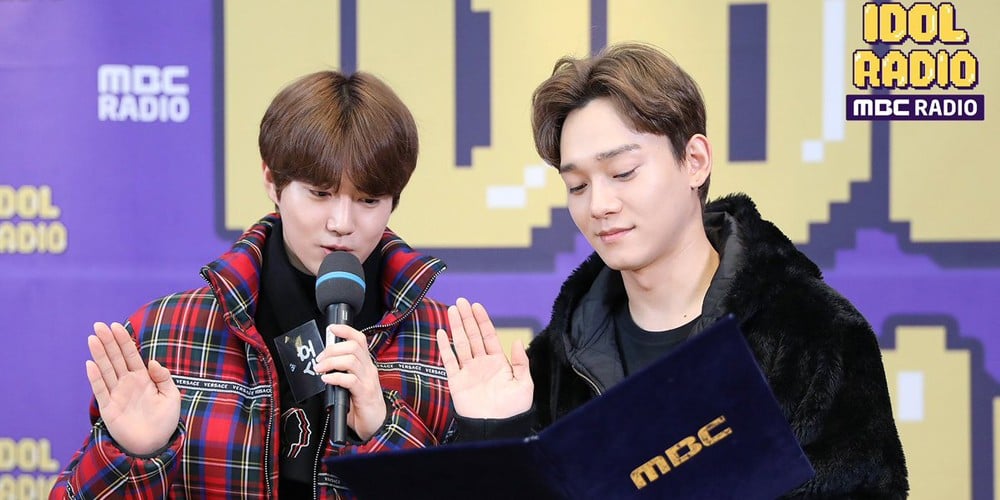 EXO's Suho and Chen guested on the December 20 airing of MBC's 'Idol Radio', chatting it up with DJ BTOB's Ilhoon!
During the radio, Suho and Chen had a chance to compliment each other, and Suho said, "[Chen] is the kindest person I know." Chen added on, "[Suho] is a man of passion. He is the most diligent person of anyone I know."
Chen then revealed that while preparing for EXO's comeback with "Love Shot", Suho also had to carry out schedules for two musicals. Later on, Suho thanked fellow EXO member Kai, as it turned out that Kai aided Suho with one-on-one lessons in order to perfect the "Love Shot" choreography. "I couldn't practice much because of my musicals, so Kai helped me a lot with personal lessons, and he even helped me plan for my own choreography part in the second verse. He is a dongsaeng I'm very thankful toward," Suho shared.
However, the leader then added a comical twist to the touching story, revealing, "He keeps telling me to buy him something in return. He keeps going, 'Don't I get a gift, it's Christmas and all.' Kai, rest assured, I will plan you the full course in secret, including a gift and a dinner on me."
Finally, Suho gave fans a spoiler for EXO's upcoming 'V Live' reality program! "It's our first full group reality in a while so all the members have very high tension. You can see a lot of D.O's very energetic side."
You can watch the full 'Idol Radio' with guests Suho and Chen, below.