INFINITE
's
Woohyun
shared a funny incident involving veteran actor
Woo Hyun
.
On the October 4 airing of KBS 2TV's 'Happy Together 3', MC Yoo Jae Suk asked Woohyun, "I heard Woohyun had a humiliating incident on portal sites?" Woohyun replied, "Not a humiliation but a mistake. A photo of actor Woo Hyun came up when you searched INFINITE on the portal site."
The MCs and fellow guests burst into laughter after seeing the screenshot of the profile mistake. Actor Woo Hyun is listed as the main vocalist of INFINITE.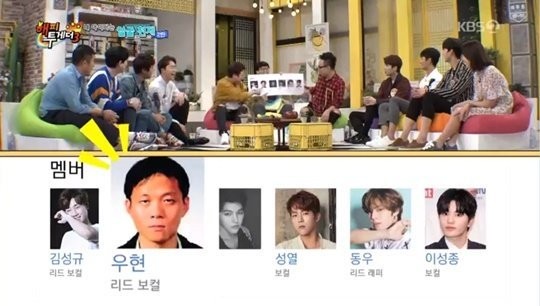 MC Yoo Jae Suk playfully commented, "Woo Hyun looks like a talented member." Nam Woo Hyun responded, "I also stared at it wondering if it's a bad photo of me."
The MC then asked if the photo has been revised. Woohyun replied, "Fortunately, my fans sent in requests (for a revision) so it's a photo of me now."