The age-old question for any male Idol group K-pop fan is "When are my favorites going into the army?" For all Korean males, there is a mandatory military service that they will have to complete, and although most K-pop Idols are able to push their service back, they will have to enter the military by the time they are about 28. While military serving time has already been reduced over the years, taking about 18- 24 months off their entertainment career will definitely still affect an idol and their group's popularity and media presence. So this begets the question, should K-pop idols actually serve in the military?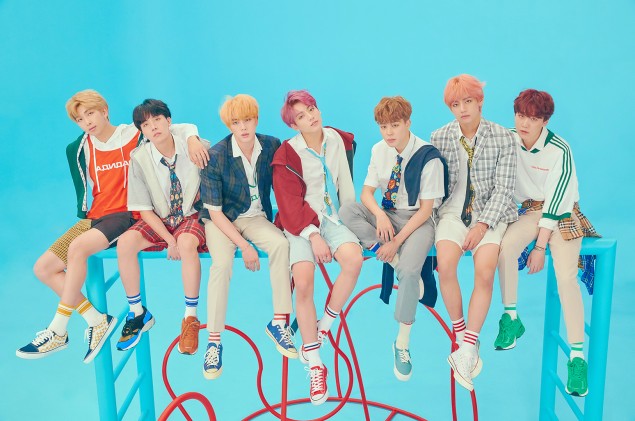 This question sparked a lot of debate when it was recently raised up by Ha Tae Kyung, a politician from the Bareun Mirae Party in South Korea, on whether BTS should be exempted from having to serve in the military. 
It is no doubt that BTS has been breaking down international barriers and moving onto a much wider, global market, opening the doors of K-pop for the future generations. Ha Tae Kyung went on to note how there are exemptions for people who excel in many different fields, such as violin, piano, and other classical music genre competitions and yet there have never been one for K-pop idols who not only clinch numerous awards but rake in millions of dollars for Korea each year through the sale of the beauty products they endorse and by attracting thousands of tourists to visit the country. 
Ha Tae Kyung makes a very logical argument on why there should be an exemption for certain K-pop idols and groups, stating that there need to be more policies put in place to cater for the younger generation. However, although Ha Tae Kyung makes a great point, there are some things to consider for this policy change. 
Firstly, serving in the military is a big deal in Korea. This military service is mandatory for all Korean males who are deemed physically and mentally fit and it is simply because South Korea needs a strong military group. South Korea is not large enough to count on its people to volunteer to serve the nation. Being a country with a relatively more complicated history and unstable political stance, South Korea is constantly in a state where they need to be militarily prepared. By training all the young men of their nation, they ensure a stronger, combat-ready army, in case a time calls for it. Military service not only bonds the males together as a shared common experience but it is also something people in South Korea take pride in. By exempting K-pop idols from having to serve in the military might be seen as something disrespectful to their nation. Also, if too many male idols are actually exempted, this could weaken South Korea's military strength in the long run as the number of military trained men in Korea will drop over time. 
The next thing to consider would be which groups and which idols should be exempted. To exempt every and all K-pop idols would be unrealistic as it will result in many people trying to enter the industry just for this reason. There has to be a benchmark that has to be put in place to decide which idols and which groups should receive an exemption. The problem with this is that it is hard to measure success and to select what criteria to look at. For example, BTS has tapped into a global market by winning at 'Billboard Music Awards' and by being the first K-pop group to perform on an American award show. Ha Tae Kyung mentions that perhaps a No.1 on Billboard should allow them to qualify for an exemption. However, if we set the criteria for an exemption to be something as precise as winning an esteemed American Music Award and therefore exempt BTS, this will definitely spark a lot of controversies because it does not take into account other incredibly successful K-pop idol groups that has brought pride to Korea. 
Take EXO for example, they performed at the closing ceremony of the '2018 Winter Olympics', became the first K-pop idol group to have their song played at the Dubai Fountain, and have won more than 300 awards since their debut. It would be unfair if the criteria are too specific and not inclusive of other achievements. It will be difficult to find a fair way to measure which groups should be exempted and which should not. Leaving this up to an album or song sales could result in chaotic outcomes where fans actually mass purchase their Idol's works to help their idols hit the target amount required for exemption, this will, in turn, result in a loss of musical integrity for the industry. Also, if a group has one extremely hit song, does that mean that they should be exempted despite it being just a one hit wonder? Should it then be based on popularity and voting? Or would this result in even more chaos within the K-pop fandom? There are many things to consider when setting the benchmark for exemption.
Lastly, what happens to the K-pop idols who are currently serving their military service. As of now, 4 out of 5 members of the idol group, Big Bang are serving in the military. In terms of awards, popularity, and sales, no one is able to deny that Big Bang is one of the top idol groups. What would actually happen to legends such as them? Do they just walk out without finishing their service? The policy has to be well thought out to be able to cater to the different scenarios and has to be regulated on a case by case basis. 
So, what is the outcome? Is it time for a change? It will be difficult to implement this policy because there will definitely be people who will be upset regardless of whether it is put in place or not. Right now, many international fans who are not as aware of the importance of military service for South Korea are living in dread of the day where their favorite idols have to enlist. For most Korean fans, despite understanding the situation well, also hope for a reform of policy where their biases will not have to leave the scene for years. While some people might be unhappy at this policy change due to the lack of respect they might have for K-pop as an industry, it cannot be denied that many K-pop groups have brought attention to Korea and have helped the Korean beauty industry and tourism industry bloom. We can only hope that there will be more people like Ha Tae Kyung to fight and root for this policy change in the few years to come. Til then, we will still root for our favorite male idols and support them whether they are on stage or serving their nation.