Do the names of the idol groups matter?
Netizens had a debate about the importance of idol groups' names. Personal preferences of each name differed among individuals; some preferred English names for "cooler", more international effects, while other suggested that Korean names would be more "unique" and memorable. 
Some netizens also expressed that the name does not matter at all.
The examples of the group names were: (originally Korean names of groups) TVXQ, Girls' Generation, BTS, G-Friend, MAMAMOO, Cosmic Girls, Gugudan, and more, versus (English names) EXO, TWICE, Big Bang, Black Pink, Wanna One, WINNER, iKON, NCT, Seventeen, Red Velvet, Lovelyz, and more.
Top comments shared were, "Back then, I used to prefer English names all the way, but that mindset changed after BTS (Bangtan Sonyeondan) and G-Friend (Yeoja Chingoo)." "Am I the only one who thinks the names EXO and TWICE are the prettiest of them all?" "I am okay with everything, except for Gugudan ('multiplication times tables')...That I do not understand how they chose to do that."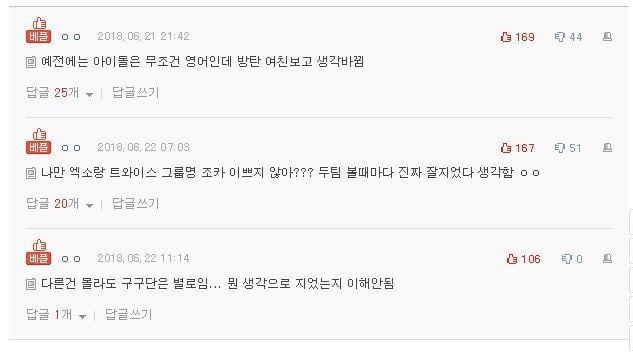 Share with us what you think below!