Nutrition columnist
Hwang Kyo Ik
dived further into the controversy of '
Food Diary
'.
On June 13 airing of tvN's 'Food Diary', columnist Hwang Kyo Ik talked about the issue and explained, "It's unpleasant to catch it yourself and eat it. That's why we make others do it for us. From a religious point of view, people who are in high positions of the hierarchy did not engage in slaughter. You eat it when someone cooks it for you. So in the past, people would catch (and slaughter) for one another. They used all kinds of methods to relieve the human needs."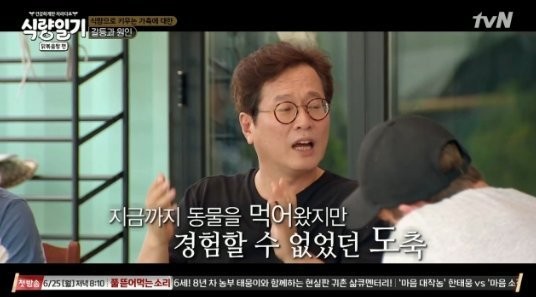 He continued, "In our current society, slaughtering has been pushed to one location. We made it as if it doesn't exist in our lives. I believe such reactions from netizens occurred because we've experienced eating animals but not catching and slaughtering them. So with that in mind, I believe the program is very meaningful."
Hwang Kyo Ik continued to share, "I've caught a chicken with my grandma before. My grandma cut off the chicken's neck and placed the chicken in my arms. I felt the chicken's life being taken away with my body. That experience was very helpful to me. You have to eat everything when you are eating chicken. We are taking away a life when eating meat."