BTS
' and ARMY, have been receiving racist comments from some fans of American singer-songwriter
Taylor Swift
.
As most are aware by now, BTS recently made a comeback with their new album '
Love Yourself ? - Tear
' and the title track "
Fake Love
". Since then, the MV for the title track has been racking up millions of views, garnering attention all across the world -
setting a new record
of most viewed K-Pop MV in the first 24 hours by any Korean artist. 
With this in mind, netizens and ARMY alike have been watching the video over and over again to break another record - the most viewed MV in 24 hours in any genre, which is still held by Taylor Swift's "Look What You Made Me Do" with the view count of 43 million whilst BTS' "Fake Love" was close at 41 million, unable to surpass the number set by the American artist.
While this challenge was going on, however, fans noticed some racist comments were being thrown towards BTS and their fandom, ARMY. In particular, tweets that are calling ARMY as "sushi stans".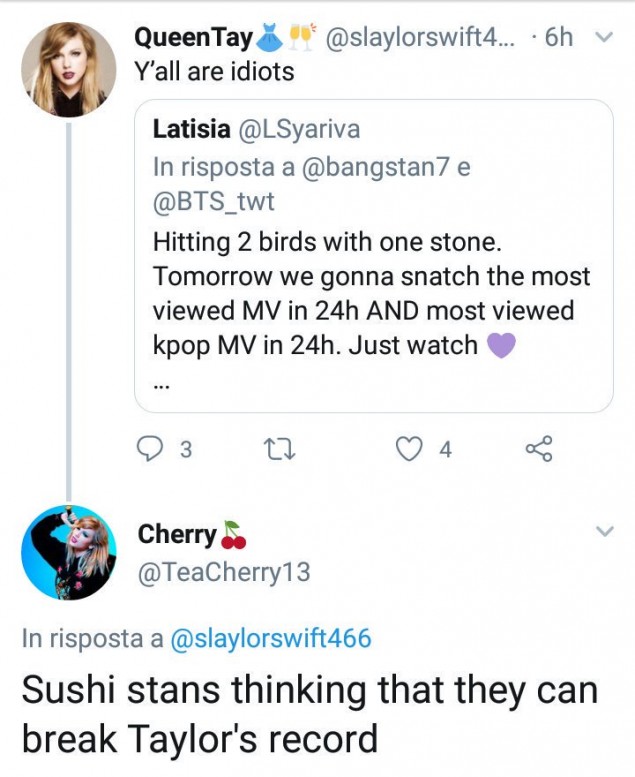 Since seeing the racist comment(s), ARMY took to social media to either fire back or laugh off the situation as can be seen below.
IM A SUSHI FAN FOR SUREE thats a cute name tbh so idk why they think we should be offended #iVoteBTSBBMAs

— ProudSushiStan (@swagful_min) May 19, 2018
Taylor swift fans called ARMYs "Sushi stans", which is racist af..

— Tenshi (??) (@Andrea_sweett) May 19, 2018
No it's something a lot of American fandoms(supposedly I've only seen a ts fan call someone a sushi stan) started calling bts fans because...racism in America towards Asians is still a huge thing

— alex (@boytoyjoon) May 19, 2018
fans of western artists are really out there calling kpop stans sushi rolls, like how nice, they're really out there calling us snacks pic.twitter.com/VaiWkivKEM

— Jo's magic shop (@mygstears) May 18, 2018



What do you think of the situation?