If you're in North America, you're in luck, because HWANG CHI-YEUL, EXID, AILEE and TAK JAE-HOON are coming to Las Vegas for 'K POP SUMMER NIGHTS'! As a special treat for our readers, we're holding a giveaway with The Tune Entertainment! And they're not just any tickets, they're the most expensive Gallery Box seat tickets ($288 value)!

Schedule
Doors open at 7 PM. Show
starts at 8:30 PM.
Tickets Giveaway
We're giving away 5 PAIR of Gallery Box (VIP) tickets! The tickets will come in pairs, so you will be able to attend the concert with the person of your choice.
Get the FULL experience of K POP SUMMER NIGHT and have guaranteed FIRST DIBS on the best spots to watch all those great perform your favorite songs!
How to Enter:
- Tell us in the comments section below why you want to attend (No spamming, if you spam you will be disqualified!) Also, include your social media account username(s). Facebook, Twitter, Instagram, Tumblr, etc.
- Share this article on social media with #allkpopkpopsummernightgiveaway and attach the following poster image to your post(s):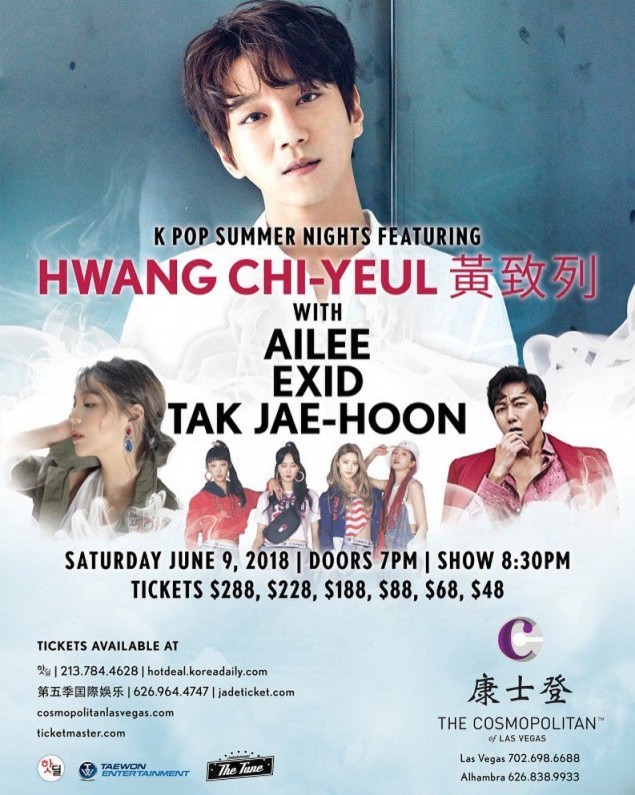 [SEEALSO]https://www.allkpop.com/article/2018/04/5-reasons-a-vacation-to-las-vegas-is-perfect-for-any-k-pop-fan[/SEEALSO]
UPDATED WINNERS:
Boom
hcy2000
elaine_kuh
sumisong
woselwin