BTOB
 fans are furious at
Tony Moly
's handling of their fansign.
Tony Moly hosted a fansign with BTOB recently. However, many fans are furious at how things were handled. Apparently, much of the 80 fans who had been chosen for the fansign were not present, so Tony Moly just let the fans who were around to watch the fansign in. BTOB also had a schedule right after the fansign, but they were asked for more autographs by the staff on-site, who had a list ready to receive multiple autographs. 
Fans commented, "We're not blaming the fans who were there for getting chosen. We're blaming Tony Moly for not having a back-up

list of people who actually bought the items and qualified for the

fansign." They also commented, "This wasn't a fansign, but an event for the employees," "There were employees that had a whole list ready on their phone to get autographs," and "This is a brand that plays around with the idol and their fans." Questions about the fairness of those chosen were also brought up.
Tony Moly had issued an apology on the day of the event, stating that because of the sudden heavy rain, many fans had not been able to attend, and that they had to unavoidably choose fans who were there to fill up the spot.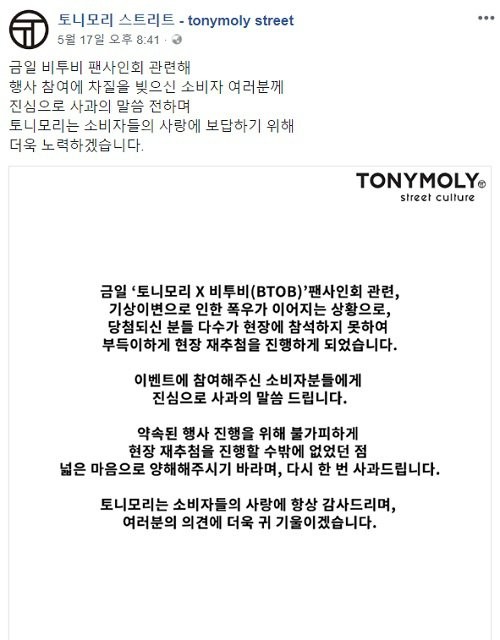 However, controversy continued, and in a phone call with Segye Ilbo, the company explained, "It's true that if you bought certain items, you had more of a chance to be chosen. If you fulfilled the requirements, one person could enter multiple times. All of the fans were chosen fairly through a program. Early on the day of the fansign, many fans said they could not attend. It was our first time where over half of those chosen could not come, so we were also surprised. But it's an exaggeration to say about 70 people were not there."
The company also explained, "The signatures were already agreed by the members to promote the brand. The members arrived very shortly before the fansign and we didn't have time, so we didn't have a choice but to get the signatures after the event was over."
On fans on-site being allowed in as substitutes, the company said, "It was hard for us to check everyone's purchase history. We just chose them on the spot. We are also sorry for causing so much concern to the fans."
What do you think about what happened?