A company that promotes its artists with creative, new promotion methods? Fans approve!
On April 2, Pentagon returned with their 6th mini album 'Positive', including their title track, "Shine". To celebrate Pentagon's comeback, Cube Entertainment is carrying out a promotional event on the subway! 
As you can see below, one subway car - Seoul's line 2, train 2415, car #5 - has become completely decked out, Pentagon-themed. From April 3 - 30, Cube will be carrying out an event where anyone can post unique photos taken inside Pentagon's subway car via their SNS, for a chance to win a special prize from the boys. 
[] ??? ??? ???? ??!
?? ??? ????? #?????? ????? ?? ?? ?? ??? ?????!
??? ????? ???? 10?? ??? ??? ???!
??? ????? ?? ?? ????

????: 4/3 ~ 4/30
????: ?? 2?? 2415? 5??? pic.twitter.com/J6VdMzkJGu

— PENTAGON·??? (@CUBE_PTG) April 3, 2018
This isn't the first time that Cube decorated a subway car for Pentagon's comeback. Back in November, the label decorated a subway car Pentagon-style for the group's 2nd mini album comeback with 'Demo 02' and "Runaway".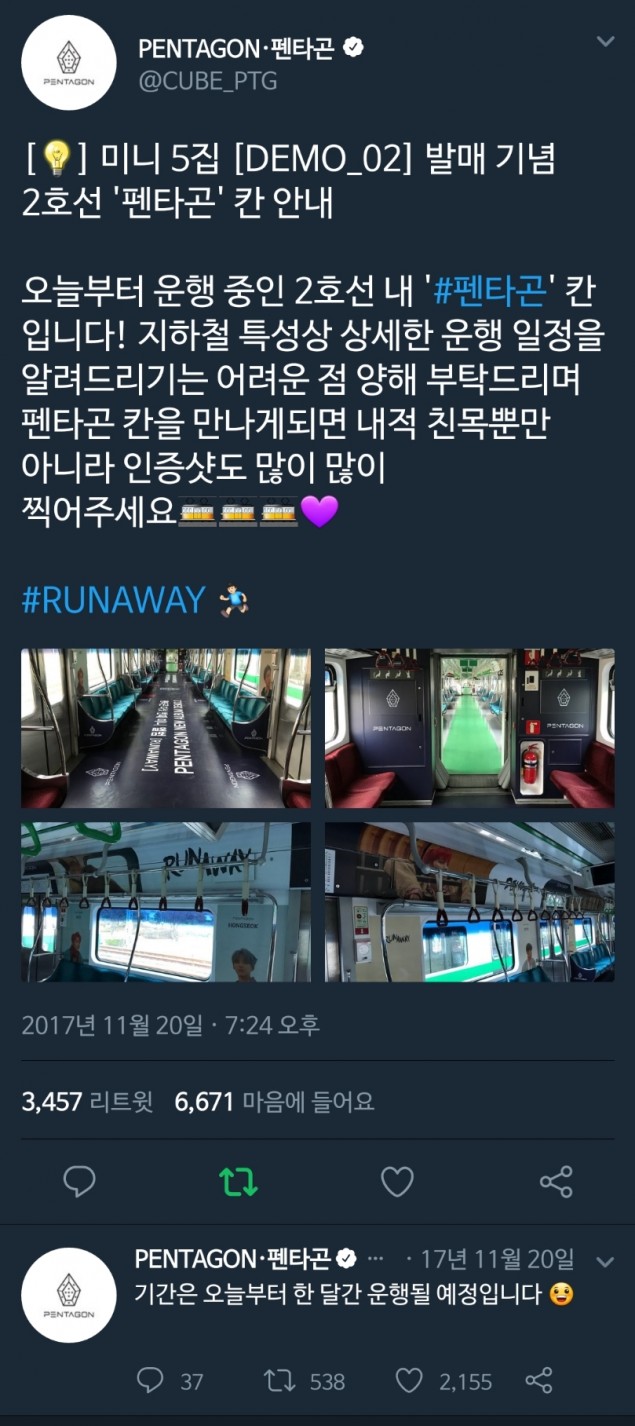 And now, it seems that domestic fans can also look forward to Pentagon's mysterious collaboration with cafe chain 'Dal.komm Coffee', coming soon this April 12 (as shown in SNS posts below)!
Meanwhile, Fans who saw photos of the Pentagon-themed subway commented, "Wow it's really pretty; Cube is working so hard these days", "Cube good job... but if you really go inside that subway car it probably feels like you're walking on clouds", "Envious...", "It's a surprise, seeing Cube working hard", "Heol, Cube is doing some good work for once??", "I saw them running a subway ad on the station screens too", and more. 
Do you want to ride a Pentagon-themed subway car?